I've driven by
Garzelli's
on Dixie Highway (just past Crestview Hills) many many times but never stopped. They are advertised as having "grinder" sandwiches and I just wasn't sure if I wanted to experience that.
But not for the reason you're probably thinking! You see – I had a true "Guinea Grinder" sandwich in Des Moines, Iowa (of all places) at a Mexican Bar/Grill called
Los Compadres
. While visiting an Italian Grocery store I asked where the best sandwich using their sausage was and they pointed me to Los Compadres. They were not joking! Here's a
photo
– it's just crazy amounts of food. This to-die-for crusty bread, ground beef & homemade italian sausage mixed together, peppers, onions, loads of cheese – then baked to perfection. This beast was crazy!
And after experiencing that on a few occasions, the thought of another grinder sandwich felt like I would be cheating on Los Compadres. But coworkers were hungry and Garzelli's it was…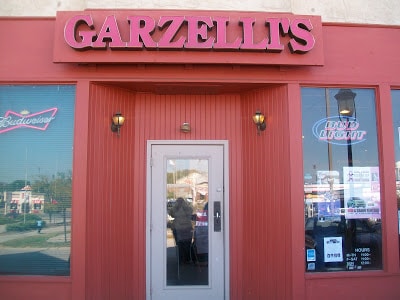 Garzelli's is in a strip mall right on Dixie Highway across from Dixie High School.
Numerous folks in our group ordered calzones – they were really good! Kelly was kind enough to let me try some of her vegetarian calzone and I was impressed. The crust was buttery and a little salty and the toppings/cheese were plentiful. The sauce was light and tomato-y. I liked it!
You could get the sandwiches with chips or fries so I went for curly fries. They were identical to Arby's – so much so we thought maybe they went to Arby's and bought them. They were fine though – nothing special.
I got the Sausage Supreme (Italian Sausage, Cheese, Marinara Sauce, Onions, Green Peppers and Banana Pepper Rings) – I think they were like $6-7 or so. My lunch with drink and fries was around $10.
So this is the Garzelli's Grinder. It's not really a grinder like Los Compadres – it's just a hoagie. The bread is thin and kinda crispy. Really – it was unoffensive. But it wasn't what I was hoping for. Me no likey.
Another coworker got a pizza grinder and it looked fine as well.
Why Should You Go? Well – if you're hoping for sandwich heaven – don't bother. If you're looking for an alternative to Subway, Quiznos, Jimmy Johns – I guess it's fine. The calzone was far better than the grinder – I will say that. But for a sandwich – I'd much rather have Quiznos.