I have to say – I have an addiction. It's pretty severe and hits without warning. It's an addiction to Tradewinds Sweet Tea!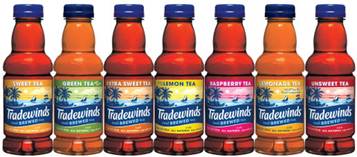 I tell ya – that stuff is MY FAVORITE!!! I buy those jugs of Sweet Tea every time I go to the grocery store! Well thankfully – the drink fairies of the world found my blog and delivered this for me on my front step!
Yes – four cases of Tradewinds Tea products! Sweet tea, Unsweetened tea, Green tea and Lemonade Tea. As I mentioned, I was already a fan of their
Sweet tea
. It's my favorite. I have to say – those 12 bottles were gone by the end of the week!
I hadn't tried the other three – so I was looking forward to it. The
Lemonade tea
is just like an
Arnold Palmer
in California – sweet, refreshing and a bit tangy. Good stuff! The Unsweetened – I knew I wasn't a fan – so I gifted that to a friend that had us over for dinner. She loves the stuff and had a big jug in her fridge when I got there.
The
Green tea
was a bit of a surprise – I was hesitant to try it and my sister messaged me and said to save it for her (she comes home in couple months! yeah!). Then one day – I was thirsty and it was in the fridge and I caved – I drank one. Turns out – I liked it!!!! I thought it would taste healthy (hahaha – what rationale is that? I have no idea.) It's flavored with honey and has a natural sweetness that isn't as sugary as the Sweet tea but definitely flavorful. And Green tea is supposed to be good for you and provide energy – I think I might have a new friend in this stuff! 🙂
I can definitely think of the day I met my husband was a real breath of fresh air!
This isn't the day we met – but it reminds me of that feeling. We were playing kickball with our coworkers and it was just so great to be there with him and just have a fun "boyfriend/girlfriend" moment. I was single for a LONG time before – so it was a really happy time.
You can share your story/photo on their
Facebook page
and you might appear as their cover story.
GIVEAWAY TIME!!!
So yes – I'm a huge fan of their Sweet Tea and now – their Green Tea! But now you can be too! The folks at Tradewinds were kind enough to provide me with some goodies for one of you! You can either choose to get a case of one flavor of tea or a bundle with a mix!
Let me know if you'd rather have one flavor or a mix and what flavor you're looking forward to trying in the comments ALONG WITH A WAY TO CONTACT YOU. Then next week – I'll draw a winner and BOOM! You get free tea!!!!
Happy Tea Time!