I took my good friend Scott to Morton's a few weeks ago for a free dinner so he decided to repay me by treating me to Trio! (He had a gift card – so it was really free for everybody!)
I'd been to Trio once before (with Scott actually) and enjoyed it but we just don't think about going back. There's a large veranda on the parking lot side…the windows were open and I said "Wouldn't it be fun if you yelled at me and we got into a fight?" I was just thinking how all the hoity toity Madeira folks would be shocked! He immediately proceeds to tell me to "Shut the F*** up!" It was just as good as I'd hoped!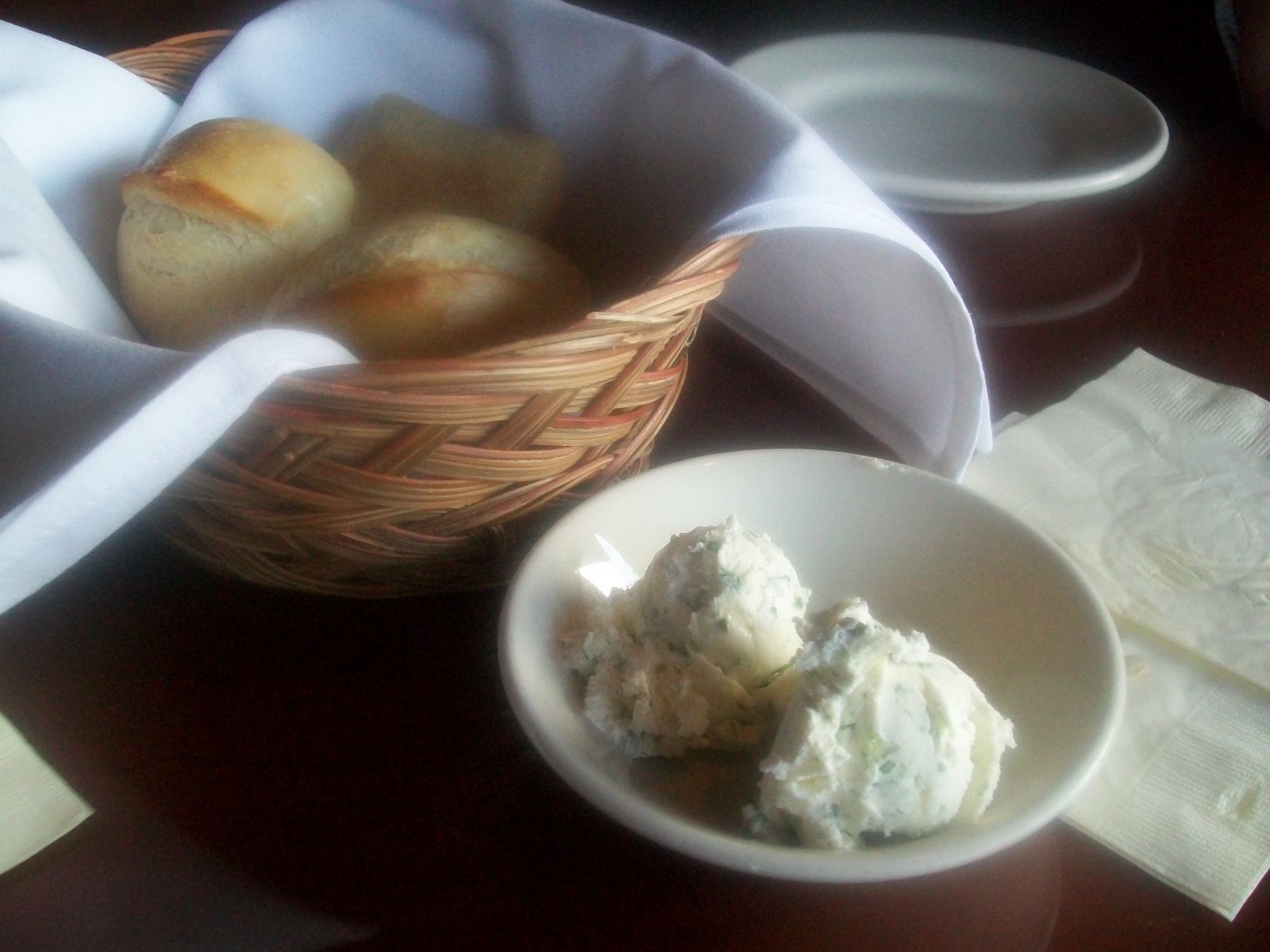 Once inside, we decided to not sit in the veranda. Once we were seated and ordered, we were brought a basket of warm rolls with perfectly temperatured butter (is that a word?). It was firm yet very easily spreadable and had some chives or something like that in it. The rolls were like Panera – crisp and thick outside, soft inside. Not my personal favorite but very good.
Since we had a $50 gift card we decided to share the dinner salad that came with my entree – we decided on the chopped salad and it was EXCELLENT! Perfectly dressed and full of interesting vegetables (we just don't get radishes enough). It was very large too for a "dinner salad".
GROUPER – CALIFORNIA STYLE
ARTICHOKE HEARTS, SPINACH, TOMATOES, GOAT CHEESE, GUACAMOLE $24.95
I chose the Grouper "California Style" and wow – was it great! The fish was cooked perfectly. Grouper is a thicker fish – ala halibut. There was a ton of vegetables (maybe a few too many artichoke hearts) and it was topped with guacamole and goat cheese. Yeah – BOTH! That's like telling me I have a date with Eminem AND Taylor Hicks at the same time. (tmi?)
Scott got the chicken pesto pizza (actually we shared both) and again – perfection! Scott likes Palomino's super-thin crust better but I like this far better. It's all preference. But the toppings were plentiful and yes – more goat cheese!
We wanted to make sure we used his full gift card and decided on a chocolate chip cookie – it was only $2. It wasn't very good…it's really the only part of the meal we didn't like. It was fine but nothing WOW for a cookie. I'd rather have Max & Erma's.
Overall we really really enjoyed the meal. Yeah – TWO really's! The prices are pretty steep – but it is good. Seafood ranged from $19.95-29.95. The pizzas were all $9-13. Meat dishes were $17.95-36.95 (meatloaf to steak oscar with chicken in between). Pastas $21.95-28.95 (that seems high).
It's a nice restaurant and has a good feeling – it is expensive though. But we were very pleased with our selections and would not hesitate to go back.