Sorry it's been a while since my last review – with being out of work for a month (now gainfully employed again!) and moving (oye) – it's been a bit cra-cra in the Johnson household!
But with a new job – downtown – comes new places for the Food Hussy to visit! We are in – as I like to refer to it – the "crotch" of downtown. No idea why I say that – but we're near where all the interstates collide and it is just crotch-like.
In this area – there are not a lot of restaurants in walking distance – like maybe 3. But that's okay – one is right across the street and is really yummy! It's
Deli seven20
! Now while their website doesn't seem like much – I do also like their
Facebook page
because they always have the daily specials there.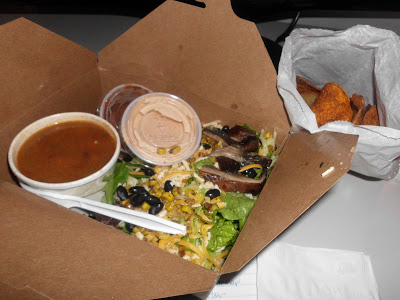 The first day I tried a combo for $8 with a cup of soup and a half-salad. I also got a bag of their homemade chips.
The salad I tried was "The Killer" and it is my favorite! It normally comes with either grilled chicken or tofu – but I asked for portabella mushrooms instead and they were happy to oblige. It comes with 2 dressings – a spicy ranch and salsa. My favorite thing by far about this salad is the roasted corn – it's soooo sweet and just bursts flavor in your mouth. I always get this!
I've tried a couple of the soups – the Fiesta Veggie Bean was just okay. Lacked salt and was too much just a vegetable soup. Meh. The Chicken Chili on the other hand was great! I figured it would be a white chili – but it was a red. Loved it.
The chips are pretty good – they're really well done – so pretty hard and crunchy – thick. Just an fyi – I didn't love them but I did appreciate them – if that makes any sense.
I also tried a sandwich special – it was fine…The "ring dang doo" is pretty popular from what I hear (roast pork loin, smoked gouda, roasted red peppers & sweet chili mayo on focacci). I like that everything is really fresh – but I'm not much of a cold-sandwich person…so I think I'll stick with either a large Killer or a combo with soup & salad.
Why Should You Go:
The price is $8-10 depending on if you get chips/soda/cookie/etc…so it's not cheap – but it's good and feels fairly healthy. Most of all – you can tell it's fresh – which I really like! I don't know that it's worth a trip downtown – but if you're in the P&G/Sawyer Point vicinity – it's a good option.
I also hear rumblings of a deli/salad bar in the "book building" across the street – I think I'll have to venture over there. The construction workers swear by it and say it's half the price. The girls here say it's not as good. Sounds like a job for the Food Hussy! 🙂