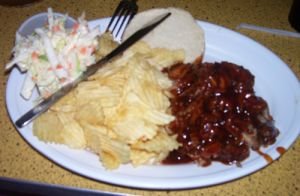 So I'm finally reviewing one of my favorite places in Cincinnati…The Friendly Stop! It's in Glendale and is located across the street from the mainstay of the area – the Grand Finale.
I was working the Glendale Art Fair with a friend of mine and was blessed with a fabulous Friendly Stop burger for lunch! They are so awesome and at the fair they were only $3! At the actual restaurant – I think they're $4 and that comes with chips. The burgers are sooo good! The meat is fresh and not frozen and is very tasty! It is truly a delightful burger at a bargain basement price.
Then after the fair was over we decided to have dinner – where else? The Friendly Stop!
Their menu is fairly broad for such a tiny restaurant/bar! You walk in and there are license plates hanging on all the walls and fun signs and decor. It's a very small bar at first glance…but then you'll find there is a back room behind the bar and there's a patio outside (although I haven't seen that yet).
The menu varies from "home cooked items" such as ribs, meatloaf and ribeye. The steak is $8 with 2 sides. EIGHT BUCKS. Did you hear me???? EIGHT BUCKS! The sandwich menu varies from ruebens and philly steak to burgers burgers burgers. The specialty of the house – a garlic burger! If you like garlic – get the garlic burger!
I always recommend their specials – the mac & cheese is homemade, soups and desserts are great, etc… The other item to note – they have a great black bean burger! So vegetarians are not left out!
The other big selling point of The Friendly Stop – the drinks! Beer is cheap! So what else could you want?
Oh – I should reference the photo – I had the whisky river BBQ sandwich. It was HUGE! I had to eat it with a fork. The sauce is very thick and dark and not that sweet. It's really good but definitely a dark sauce. I also recommend you get a side of the BBQ sauce to dip the chips into. So good! The cole slaw – also great!
We also ordered hot wings as an appetizer and man oh man! They were spicy and salty and just delicious. Fairly small wings but sooooo tasty!
The place was packed and yet we had fabulous FRIENDLY service (of course) and the bill for 3 people with 3 pitchers, hot wings and 3 entrees was $40. THAT IS A BARGAIN!
So next time you're around I-75 – hit the Sharon Rd exit and head for the Friendly Stop!
They definitely get the 4 star rating from me – great food and an even better price!
985 Congress Ave
Cincinnati, OH 45246
(513) 771-7427