So last week we had Valentine's Day and Larry's birthday all together – so we decided to go to his favorite place – Benihana. Strangely enough – I'd never been – I've been to fake Benihana's but never the real thing. So here we go…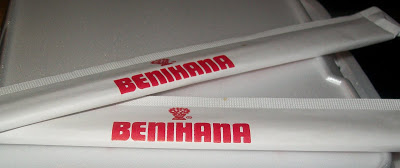 We went to the Benihana by Tri-County Mall…after we were seated we waited…
and waited…so I had time to take pictures…see I like the plates…and waited…and WAITED. (more on this at the end)
The Valentine's menu was separate (you could order from the regular if you like). Everything was $20+. We each chose something around $30 and that came with miso, salad, steamed rice, entree and ice cream. Fried rice was $4 extra per person (really????).
First some miso soup – it was fine. Chicken broth and some thinly sliced mushrooms…not much flavor but it was a cold night so tasted good.
Then a salad. I hated the dressing – it was very ginger-y. Most everyone at the table was commenting on how strong and overpowering it was. I've had better dressings at the other Japanese restaurants – this was NOT good.
My goodness we're cute and we're not afraid of bright colors either.
Our chef was fairly animated – and being Valentine's Day – he made the rice into a heart and then with the spatula – made it beat. AWWWWWWWW…
I got shrimp & steak – it was very good. I always dump all the sauce on that they give me to make it tastier but the steak was actually medium rare. I haven't typically had much luck with that at these places. I ate half and had half for leftovers a few days later. I never leave hungry!
Also with our dinner we got ice cream. There was some excuse about why so little – they ran out or it was too hard to scoop or something. But this was an extremely sad portion of chocolate ice cream if I do say so myself.
The real issue here was the service. We had 6:30 reservations and were seated at 6:50. We sat for a full 30 minutes before anyone even came and got our drink order. Turns out the hostess didn't tell the server she had another table so we waited. One couple actually left about 15 minutes in. After 30 minutes, Larry went and talked to them and then they came and hurried along as best they could.
But seriously – we waited far too long – and then for them to come back and give us half-servings of ice cream and no discount or anything. We all sort of expected a manager to come over and comp us something or a coupon for next time or SOMETHING!
They were CRAZY busy but still when you have a table full of people that you've clearly disappointed – make some type of effort other than just having your swamped server apologize once. Especially when your paying $30/person without drinks.
Why Should You Go? The food was good – except for the salad. But I would NEVER go on a busy night again.