Another blog from my trip to Kent – and this one includes a beautiful waterfall – which was a little rough to see close up because of the snow – so we're already planning to head back in the Spring!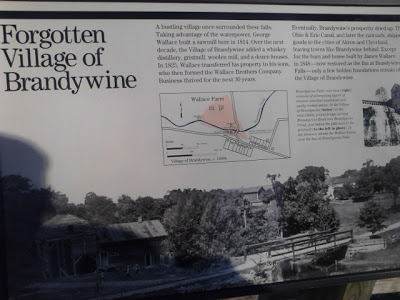 I don't always read these placards but this one was really informative. This village was on this waterfall and had a grist mill among other things – but as that industry died down, the village disappeared. The waterfall still remains.
And it was beautiful! It's part of the Cuyahoga Valley National Park. I love these hidden gems – I don't know what it is about waterfalls – I could just sit and stare at them for hours! Unfortunately – it was a bit cold for sitting and staring. It was more shivering and staring! It's an easy walk down (when it's not covered with snow) and we'll definitely be back!
After the waterfall, my sister told us of a place they call Stownuts! It's in the nearby town of Stow and they have Donuts – so there you get STOWNUTS!
It's not a big menu and not near as creative as
Mike's Place
but we were there in the morning so breakfast it was!
Sis was still a bit full from the night before so she just went for a breakfast sandwich – and it looked far better than the fast food junket!
I went for biscuits & gravy of course! This biscuit was better than Mike's but the gravy wasn't as good. The gravy was just more watery – not sure if it was skim milk or what – but the biscuit – THAT WAS A GOOD DAMN BISCUIT!
I also grabbed an egg and it was fine – bland as all get out – but hey – it's a plain egg.
Most importantly though – the donuts. Sis got a cherry fritter while I went for a frosted glazed. They were okay – but a little less than the hype I'd hoped for. I mean they were day glo 80s color – how could they not be great?! But they were a little dry and the frosting was thick.
Why Should You Go?
Well it's a cute little locally-owned diner but I didn't love the donuts. If you're interested in breakfast head to Mike's Place. But it's worth it just to say you've been there.