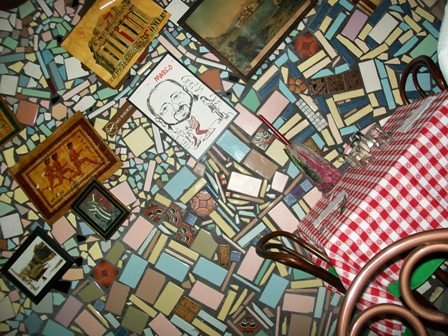 Well it was Fancy Lunch Day again at work and we had decided up on Scotti's Italian Restaurant. I hadn't been and it's a very traditional Cincinnati experience.
The restaurant itself is extremely quaint. As you can see by my artsy attempt photo – the entire place was tiled by hand and there are pictures everywhere. It's a dark restaurant but there's never a lack of something new to look at.
The lunch options on the menu are great! You can basically get any pasta with any sauce – and they have a lot of choices! You also get a side of sarcasm – which is always fun. My friend asked their specialty and they said "Sauerkraut and Egg Rolls".
I decided on the half/half with ravioli & spaghetti and then had a sauce I can't remember the name of (haha – what a terrible blogger i am). It was a dark sauce with meat sauce, meatballs and mushrooms…that's even how it's described…so you could just ask for that.
But the picture of my dish wasn't near as interesting as Jennifer's. I mean – come on – how phallic is that?! (In the original post – I misspelled phallic – I was so distracted – I couldn't focus on my spelling!) So I guess if that makes you hungry , then dig in. Somehow all I can think of is "that's what she said".
So the food did look good – but how did it taste? It was okay – the bread before the meal and the garlic bread was stale and hard…not good. The pasta and sauce was pretty good. It's a very dark sauce – for a dark sauce – it's good. I just happen to prefer the sweeter marinara type of sauce.
So – we all left – seemingly full. And on our way back to our cars – we notice Tom's Pot Pies just two doors down!
So after drooling on the window – Tom came out to greet us! He started describing his pie's to us – they sounded so good. Then we spotted something in the case – A DESSERT PIE!
Sure enough – it was an apple & cinnamon pot pie! One of our coworkers offered to treat – then realized he had no cash. A gracious Tom said "Oh – just pay when you come back!" and he was serious! Tom then pulled chairs up outside for the three of us to enjoy our pie in the fresh fall air…perfection!
The dessert pie was completely AMAZING! Warm and crispy and juicy – just so fabulous! The main dish pies are very affordable and only $6 – I really don't even know how much my apple pot pie was… Tom will even deliver if you have an order of 6 pies or more. So next time you and your coworkers are hungry – give Tom a call! 513-582-2575 (915 Vine St).
So honestly – next time I'm over that way – I'm heading to Tom's! I think Scotti's is great if you're looking for old school Italian – but I'm much more intrigued about Tom's Chicken Broccoli Alfredo Pot Pie that was staring at me longingly from the window.
All that said – Scotti's gets a 2.5 star and Tom's dessert pie gets a 4 star!!!
Scotti's Italian Restaurant
919 Vine St
Cincinnati, OH 45202
(513) 721-9484
Toms' Pot Pies
915 Vine St
Cincinnati, OH 45202
(513) 582-2575