A few days ago I was starving and it was late and I was driving by Steak & Shake in Oakley- thus I went. I'm not a big "chain" person any more but I love their chili and was starving…
Funny story about my history with S&S. As a kid – I went to S&S every year for my birthday. How ghetto is that? We didn't have one where I lived and I thought it was fun. Ah – I was so sheltered!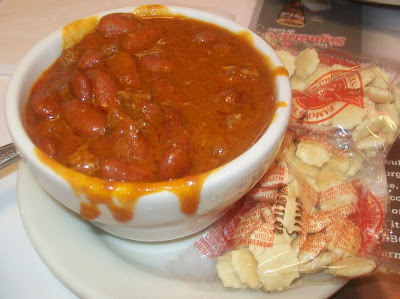 I do love their damn chili – it's not Cincinnati chili but it's amazing! It's thick and chunky and meaty and beany and I just love it! I don't think it's very healthy for you – which is too bad. At Wendy's, the chili is among the healthiest menu items…not so at S&S. It does taste great though and is among my favorite chili's ever.
They have these new "Shooters" sandwiches that are basically sliders. I got the A1 Thick & Hearty Shooters. They sucked! Whoever was cooking basically dumped salt all over them – I couldn't even eat them! They were salt sliders! (and I like salt – but this was even too much for me)
BF got the original double cheeseburger and fries…he ate it so I'm guessing it wasn't a salt burger.
I love their skinny fries…ala Zips.
I also got a junior-sized chocolate shake – it was really good too! So I'd go back for shakes for sure!