So since my 30's I've had a bit of an "issue" let's say with milk…anybody else? I've heard of A2 milk and the lactose free milk but really didn't know too much about it – and that they could potentially allow me to have my cake AND MY MILK without any "issues". Well my friend Casey – the owner of Batter Up Bakery in Leesburg, OH, was about to give me all my answers! And how?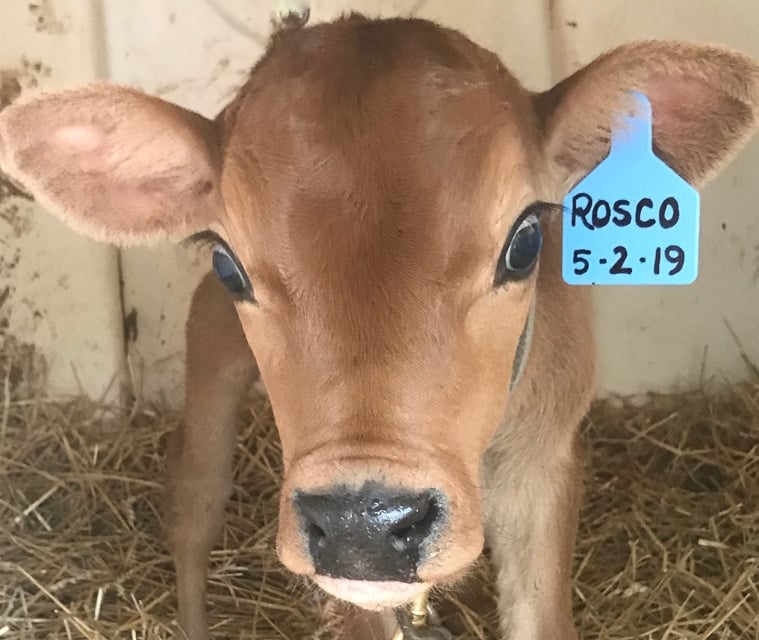 She showed me this face. Yeah – I was pretty much in like Flynn at that point! I mean look at him!!!! This is Rosco – and I got to meet him the day after he was born!!!

What's the Best Bakery near Cincinnati?
Before we get to the milk – let me tell you about something that goes great with milk!!!
Batter Up Bakery
! They're a small, locally-owned, woman-owned bakery in Leesburg (about 50 min north of Cinci) and
I love them
.
Batter Up Bakery is my FAVORITE bakery in the Cincinnati area (they're actually about an hour from Cincinnati, Dayton and Columbus). They do so many seasonal items and use the fruits that are fresh and ripe at the time – strawberry season is NOT to be missed! The whole bakery counter will be FULL of strawberry goodness! Long johns, fritters, oh my! And they're a SCRATCH bakery – everything from scratch!!!
They also do amazing cakes! And since it's the season for cakes (graduations & weddings are in abundance) – they did a cake tasting. $5 and you could taste all the cake you wanted! They had four specialty cakes, a wall of 9 different flavors of sheet cakes with 11 different fillings and frostings to try. That Triple Chocolate you see above was pretty much the best cake I've ever tasted!
In addition to wedding, party and graduation cakes – they have some creative bunnies that can make about anything you want. Someone wanted a smash cake for their baby's birthday — and they wanted it to look like a cheese coney. Boom. Done.
So what does that have to do with A2 milk? Well Casey (the owner of Batter Up) read a story about Swallow Hill Jersey Dairy in Jamestown, OH and the possibility they were going to close. And she – and a bunch of other people – didn't want that to happen! She went out and met with them and loved their products so much she started carrying them in her bakery. Now – not even six months later – they're going like gangbusters and even introducing new products (Strawberry Milk!).
What is A2 Milk?
A2 Milk is milk that lacks a form of beta-casein protein (A1) and is strong in A2 instead. The A2 gene is found in Jersey and Guernsey cows. These are some of the Jersey cows that make the A2 milk at Swallow Hill Dairy. They have 48 cows and they were so friendly! We walked into the barn and a lot of them were laying in their stalls (it was raining – so they were staying in the barn) and pretty soon they all started coming around to see who was visiting. They were so friendly and very interested in me! (Duh! Who isn't?)
So back to the milk – the difference between A1 and A2 is only one amino acid but that little difference can impact how humans digest their milk. The other thing to note – you might think you're lactose intolerant – but you might just have issues with the A1 protein! I've tried this A2 milk from Swallow Hill and NO ISSUES!
This is Larry – he and his son run the dairy and he showed us around and did a great job of telling us lots of info. They have six milking stalls and the cows just mosey in and get some food and the milking is done. Swallow Hill Dairy can milk all 48 cows in just over an hour! Pretty crazy!
What is the difference in low-heat and high-heat pasteurization?
At Swallow Hill they do a low-heat pasteurization. This keeps more of the good stuff in the milk! Low-heat pasteurization kills off the harmful bacteria – but allows the milk to retain a high percentage of the milk's natural enzymes and beneficial bacteria. Whereas high heat pasteurization pretty much kills all the bacteria: the good and the bad.
Why is milk homogenized?
The majority of milk in the United States is also homogenized. That is the process of breaking down the fat molecules so they stay suspended in the milk rather than separating to the top as cream. But – because the molecules are smaller – they bypass digestion – which can make them magnify the symptoms of lactose intolerance and milk allergies. This is why Swallow Hill chooses non-homogenized milk.
Each of the adult cows at Swallow Hill Dairy has one baby a year. The babies are kept in these big kennels for their safety and this allows them to be monitored very closely. Rosco is inside the kennel – but Lincoln is his guardian. He's so sweet – he's been guarding the calves for years. He won't leave their side! Awwww!
I also got to meet Lavender – a beautiful girl that was born a couple weeks ago. She was getting friendly with Timber. The calves were a little too nervous to touch – but they were adorable. They're about 50 pounds when they're born and so cute!
Timber kind of liked me too. He was ADORABLE and we played a lot! All the while – Larry was giving us the tour – Timber was leaving his toy at my feet – daring me to pick it up and throw it.
If you're interested in trying the amazing A2 milk from Swallow Hill Jersey Dairy – you can find them in rural Jamestown. They have a self serve milk shed where you can get a wide variety of products from milk (white, chocolate and strawberry) to yogurt and Artisano cheeses (I got some!). Sometimes they also have eggs and beef from their farm as well.
Oh and if you're wondering – the cows eat grass and non-GMO feed as well. There are also no hormones added to their products.
Seriously – I can't even with this girl! She's so cute! Look at those eyes!!
And don't forget to head over to Batter Up Bakery for some donuts and fritters and long johns and cake and everything else!!!! (They also sell Swallow Hill milk too!) Last summer, Batter Up Bakery even made my Mom's cobbler! Be sure to tell Casey you heard about them from the Food Hussy! Oooh they also teach classes on cake decorating and stuff like that! And pick me up some of that cake too while you're there. 🙂