So my friend Jen and I headed up to Lebanon, OH Friday night to see her fiance play at Doc's (right around the corner from the Golden Lamb). Since we were headed there, we decided to sample the food as well. We were very pleasantly surprised!!!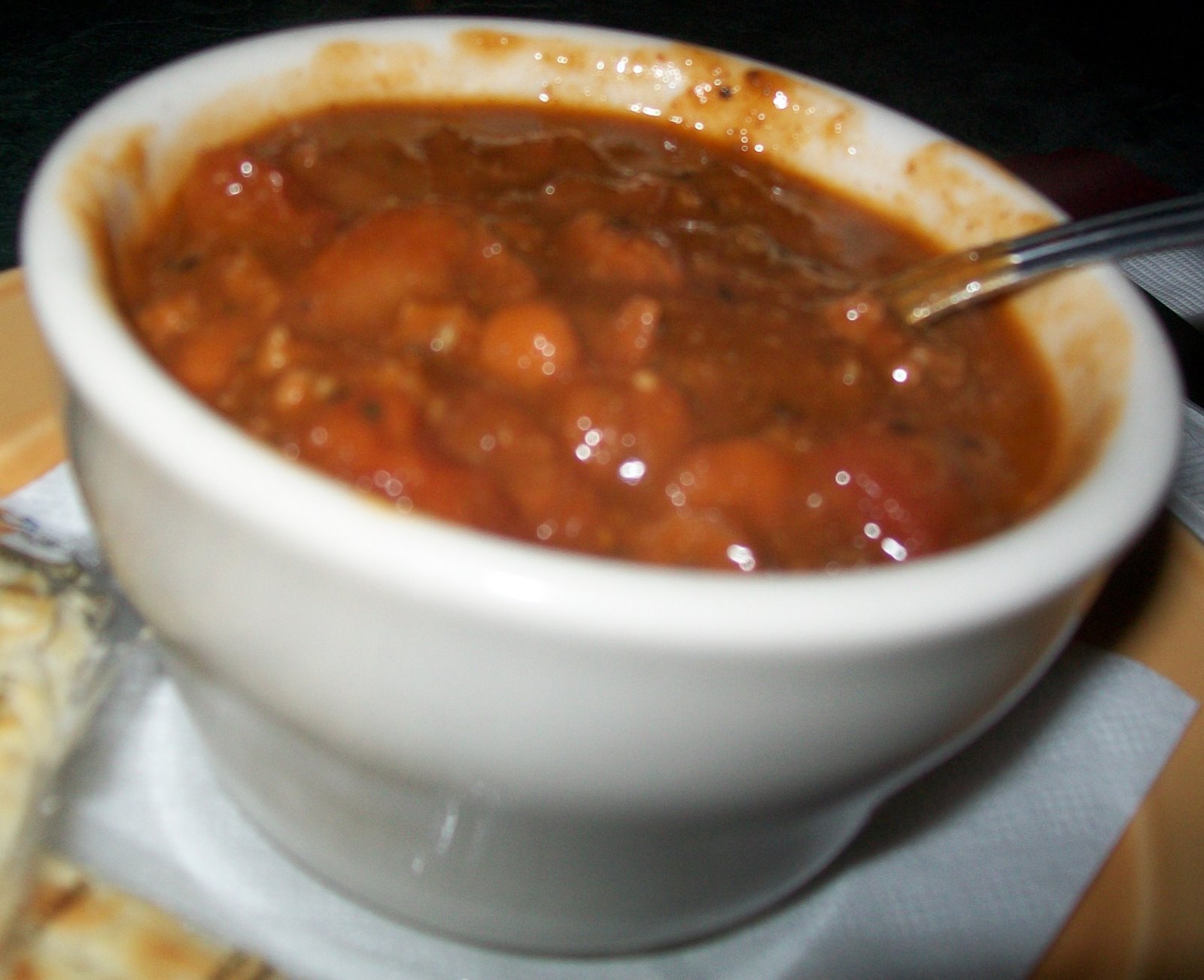 I was hungry and chose the Chicken Florentine pasta (info to come) which came with soup AND salad AND a breadstick! All for $12!!!! That right there is a deal!!!
First up, the chili…it was chunky, beany and spicy! A little tiny bit too spicy and it could have benefited from a garnish (shredded cheese, diced onion, sour cream, something). But – overall – good chili that definitely tasted homemade and not out of a can!
Next up – salad. It was nice. No iceberg lettuce (they must have read my last blog). It was topped with croutons, tomatoes, cucumbers, shredded cheese, and more! The dressing was a spicy honey mustard. Nice side salad…

Here's the star of the evening – well IMHO. Chicken Florentine pasta – linguine with shredded chicken, spinach leaves, portabello mushrooms and a chunky sweet marinara. First – the bowl is HUGE! I could barely eat 1/2! The marinara was nice – really tasty and a lot of it! The spinach could have been cooked just a TINY bit longer. The mushrooms – meh – I love mushrooms but these were tiny pieces. The chicken was the real star – it wasn't dry chunks of diced chicken (which was what I was expecting). It was a shredded chicken breast that was scattered throughout the dish and it was EXTREMELY moist and very tasty! I couldn't wait to gobble up the leftovers today for dinner! The breadstick had cheese baked on – it was okay.
My friend is vegetarian and she was happy with the choices – there were pasta and salad options but she chose the Gourmet Grilled Cheese (cheddar, provolone and bleu cheese) with a side of fries and a pickle. She said it was really good and hell – it was only $6!
Overall we both expected typical bland mediocre bar food – we came away very pleasantly suprised. The food was all really tasty and a deal! I definitely would go back!
I also need to mention the large menu! Besides appetizers (deep fried green beans – I wanted to try but wasn't that hungry), sandwiches, salads, soups (french leek – in Lebanon?), pasta and a full dinner menu (chateaubriand, steaks, chicken, salmon, catfish, shrimp and more!).
The chef came out and gave me a take-out menu so I could share some of these tidbits with you – they don't yet have a website.
Overall – we were very impressed with the service, the food and the atmosphere. It's a very cute little spot and has a lot of positives. I'm looking forward to heading back to Lebanon for a day of checking out the cute shops and heading back to Doc's for a burger (they looked really good too).
Doc's
12 West Mulberry
Lebanon, OH 45036
513-932-0287
Daily lunch specials. Live music Wed-Sat.