Way back when it was still winter and I wasn't wearing flip-flops as I am today, there was a PILE of snow on the ground and everybody was holed up in their homes – except us! I have four wheel drive and figure I might as well use it! So we headed out for a drive!
We ended up at the mall on Beechmont and found that Unos was open!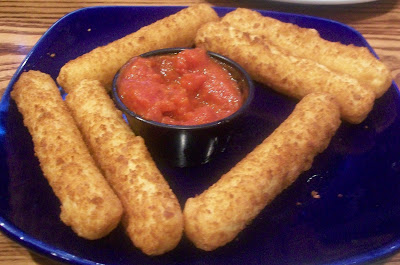 We were starved and dug into the mozzerella sticks before I could even take a picture! It was my fault – Larry always remembers "PICTURE FIRST!" but I was hungry.
They were fine – nothing special by any means.
We got a deep dish pizza – the Numero Uno to be exact:
NUMERO UNO®
THE ONE. THE BEST.
A 'works' pizza with sausage, pepperoni, onions, peppers, mushrooms and our unique chunky tomato sauce. Topped with mozzarella and grated Romano.
I love their deep dish pizza. I still miss Zoey's back home – but it's a pretty good replacement. I'd love to find a local place that makes the deep dish delights like I found at Zoey's. Anybody?
But for Uno's – there's not too much sauce, the crust is crisp and has a hint of sweetness to it and the toppings are plentiful. Plus – you'll ALWAYS have leftovers! Eyes are always bigger than the stomach.
Why Should You Go? Cuz deep-dish pizza is awesome. And if you're eating healthy – you can still go! They have a ton of healthy options and were named one of the Healthiest Options for Eating Out – who knew? Plus for Weight Watchers folks – all their nutritional info is online so you can "point" things before you go!