100% – Greek To Me! I absolutely love the place!
At my last job I worked with a Greek – we'll call him Taco (it's his nickname because of his crazy long last name that sounds like Savemesometacos) – took a group of us there to see his buddy that owns it. So glad he did! I love their gyros – just love love love!
Now – I don't work with Taco and I don't work nearby – but on one of our drives we were in the area so Larry and I stopped. Man – I won't wait a year to do that again!!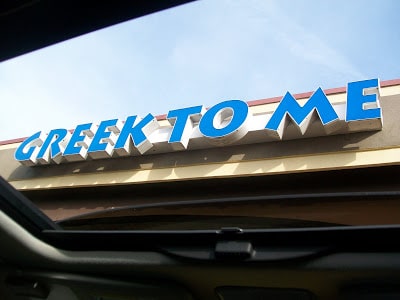 It's in a tiny strip mall on Dixie Highway – past Crestview Hills, past Margaritas, go under the train viaduct and it's on the left. There's a check cashing place and Greek To Me.
Inside – they've changed up the paint job since I was in – but it's a small cozy place with a big menu board. Most importantly – big hunks of meat behind the counter – YES!
I got what I always get – the gyro combo. Delicious. It's better than any I've had – don't know why – the meat just tastes better.
Then the fries – they have lemon herb Greek seasoning they throw on them and it's awesome. I always ask for extra!
When I first had one of these gyros I couldn't even finish half of it! My male coworkers mocked me until I finally was able to finish it. See that's what you get when you work with men vs. women. Women are dainty and only eat half. Men – well they make shit of you until you "finish the whole thing you pansy!"
After our bellies were full of Greek – we took the rest of our drive…here are the highlights:
I'm big on signs right now – I keep seeing funky signs from yesteryear. I love the man/woman symbols on this one. In case I wasn't sure if I was allowed to go in – now I know.
These two lovely gentlemen saw me clicking the picture at the stop sign and asked if they could be in the picture too – so sure! Here you go guys!
A while later we stumbled across (literally – we have no idea how) Big Bone Lick State Park. Come on – BIG BONE LICK – WTF? But in we went! (FYI – no cell reception – dropped a call to my BFF about 16 times!)
We saw some vultures but couldn't get close enough to them for a picture…
Ahhh – a stream.
So we saw this giant hill and decided to walk up it – if there's a hill and a walkway – there's gotta be some reason for it. Let me say – I was damn tired once we got to the top.

There was a beautiful lake at the top!!!! Lots of great spots for fishing…definitely will be back this summer!
Aw – aren't we cute?
And then somehow we stumbled further to Rabbit Hash, KY. I've heard of it but never been and didn't know why I knew of it – but there we were. It's a few shops and a few houses – I can imagine how packed it is in the summertime. But Rabbit Hash is best known for electing animals as their mayors.

This guy didn't win – but I do love the poster!
So there was our drive through KY – still not really sure how we got all those places and then got home – but the compass in the truck helps.
Why Should You Go? Greek To Me is my favorite gyro and it's a locally-owned family business – what more could you ask for? Big Bone Lick is a really pretty park not too far from "town" so that's a quick jaunt to peacefulness. Rabbit Hash – hell I don't know – but I bet there's a party there every day in the summer. And the views are great!