Last year I had a chocolate croissant and just haven't been able to forget it – I just now got back for another one. Where did I go? Cafe De Paris – it's on Garfield near the library.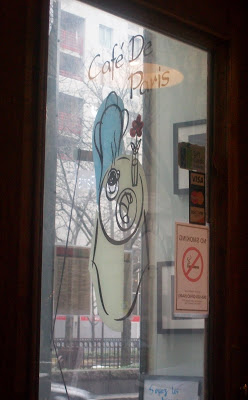 It's a very small little place with a nice diner counter and a handful of tables. During the spring/summer there are a couple of tables outside as well.
The artwork is really cool and a nice variety.
My friend got one of the "french" sandwiches – he was very happy with it. We did think it was odd it didn't come with a few chips or something. Lots of fresh veggies and unique toppings. I wish I had taken a photo of the menu! They don't have a website…
I decided on a veggie panini sandwich (yes an Italian sandwich at a French place – oh well – it sounded really good). It was delicious!!!! I also got a side of hummus that was equally as delicious and served as a nice dip for the sandwich.
Then for dessert – the chocolate croissant. Delicious! Fresh, warm and buttery – delicious!
It's a bit far of a walk from the other side of downtown where I work – but it's a definite delight when I get over there!
Why Should You Go? It's a very cute little place and so nice on a warm day – and those days are just around the corner! Plus – the hummus and croissant alone make a great lunch!