On the way to visit my sister – we were using our
History Here app
and decided to jump off the interstate quick to stop in Columbus at the
Camp Chase Confederate Cemetery
. I love any reason to get off the interstate and Larry likes anything historical – so it was perfect.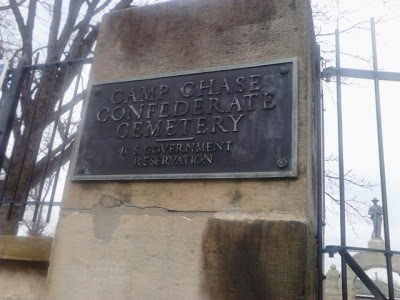 The cemetery is small but easy to find – there's no parking – so we just parked across the street and played Frogger to get across the street.
This was a POW camp during the civil war – it was so interesting looking at all the tombstones – there were soldiers as well as civilians.
It was a bit chilling just to see the rows and rows of headstones…
There was also a cannonball from a battle on display. If you're passing through Columbus – it's really close to the interstate and is a unique, quick stop.
Then two and a half hours later – we arrived in Kent! And we were hungry!
Sis said we had to go to
Mike's Place
– I remembered passing it on the way in – it had a plane of some sort in the parking lot – how can you miss it?! She said it's really good food, really cheap and they serve you BOWLS OF CHEESE SAUCE. Um – yes please!
Larry started with mozzarella sticks – as usual. These were good – they were square (not rounded) and battered – which is always my preference. (This was pre-Weight Watchers obviously.)
Larry went for a hot brown and enjoyed it – he said the gravy was great.
I had a hard time even making a choice! The menu is HUGE and CRAZY! I mean – do I want to try Lutz Lavishous Lust, The Dump Breakfast or The Attack of the Crabzilla? How do you choose when there are things like that on the menu?!
I went for the "The Veggie Scramble Got Sauced" ($6.59) – what the hell is that? 2 eggs on a bed of home fries with stir-fried broccoli, onions, peppers, mushrooms & tomatoes, topped with cheese sauce – served with toast.
Um – hell yeah! And you might be looking at the above and asking – well where's the cheese sauce? See the photo below:
Yeah – that's a big ol' bowl of cheese sauce and you might look and think it's small – like a side dish – no – those are more like "cup of soup" bowls – and one is FULL of cheese sauce!
I poured that cheese sauce over the veggie scramble and it was pure bliss! It was breakfast, lunch and dinner all wrapped up into one!
My sister couldn't decide what she wanted so she got eggs, potatoes…
and biscuits and gravy! I stole some gravy – because I've become quite the sausage gravy connoisseur. This was some good gravy. It wasn't the best I've had – but I did like it. I'm a big fan of the oil/flour/milk concoction but this had something darker in it – maybe bacon grease? It just had another layer in there and it was good. I definitely helped sis finish this off…The waitress tried to take it and I almost stabbed her with my fork!
Why Should You Go?
Well obviously I'm going to say you SHOULD go! The menu is huge – there's no way you couldn't find at least five things you're dying to try immediately. I'm still drooling over the Lost Amigo Rock Gut Omelette (and seriously – read the description). Head up to Kent – check out some history – and then eat your face off at Mike's Place. Enjoy!