I have just discovered that I've already reviewed El Rancho Grande two other times. Now one time I thought it was Los Portales and another I didn't even know the name until I left…but this time I knew going in that it was El Rancho Grande and still didn't realize that I'd already been to two of them! But with that said – here we go!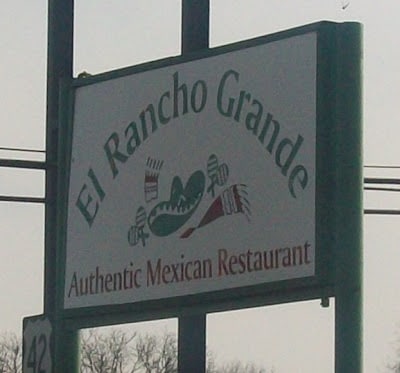 This time we were in Sharonville…we were at the one right off 275 at 42. It's next to a ghetto-looking hotel but the restaurant is not ghetto looking.
Chips and salsa – always great – crisp and salty with chunky salsa that I love!
Larry got the enchilada, taco and rice lunch special – he loved it. Basically most of the Mexican places have nearly the same menu and the same taste – but El Rancho Grande is quickly becoming my favorite. It's consistent and UBER-fast!
I got tacos, enchilada (cheese sauce instead of red) and it was supposed to be queso dip but was instead a tostada of some kind – all ground beef. Again – loved it. The shredded cheese is my favorite. Does anybody really know what kind of cheese it is? It's so soft and so delicious – almost salty. God I love it. If you know where I can get some – please let me know!
The interior is cute too – it's an awkward shot but it's all painted up to look like you're actually in Mexico. It's very cute.
The service was impeccable – our food was on our table about 3.5 minutes after we ordered it. The servers are also really friendly. This was probably the best experience of the 3 I've been to and I'd definitely recommend it again.