So my good friend Lou and I decided to get together for dinner and I was dying for fried chicken. Put that with Lou living in NKY – we chose the Greyhound Tavern as our dining spot! It's at Buttermilk & Dixie on the corner next to Huntington Bank…if you're not familiar.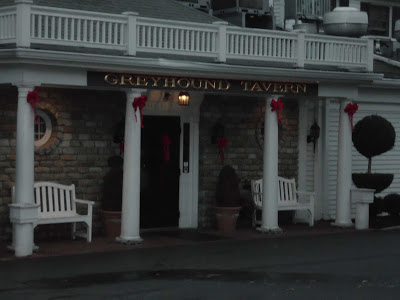 It's definitely an "old people" kinda place. If you're there at 430 – expect there to be a wait (I kid…kinda).
Started out with some bread…it wasn't memorable enough for me to even recall if I liked it or not.
I always like their salads – and there was no cheese! They have those sesame stick things on them – that's really the best part. And yes – ranch please!
Lou got the NY Strip ($24.75) – well done of course – and she was pretty happy with it. She's not much of a vegetable fan – so she went for fries and a baked potato. I love her! I tried a bite of the steak and I'm not a well-done fan but it was pretty good. I'm sure she would have a lot to say about the baked potato because she is a connoisseur but I'll just say she finished it.
I got the fried chicken ($15.95) and her onion ring. The onion ring wasn't good – it was bland and soggy. The fried chicken – well it was a mixed bag. The dark meat was really great and juicy. I should have stopped there. The breast was dry as a board! I like their fried chicken but there wasn't much flavor to the breading. I had some Lee's a few weeks back and that stuff was SPICY! Comparatively – this is very very bland – but they do cater to the old folks…so I'm guessing that's why. I guess I'd like to find some with a little seasoning.
Anybody have good fried chicken recommendations?
Why Should You Go? If you're over 65, you'll love it! I'm kidding. If you like bland food – or have a big family dinner you're trying to plan – it's a good spot. It's homey and the wait staff is good. I think the prices are a bit high but it's a perennial favorite of NKY folks…