Finally decided to make a return visit to Oriental Wok here in Ft Mitchell for lunch with coworkers. I went to the Wok in Hyde Park for dinner last Christmas…but since moving my work life back to NKY haven't made it across the street for another visit. Folks here think it's pricey.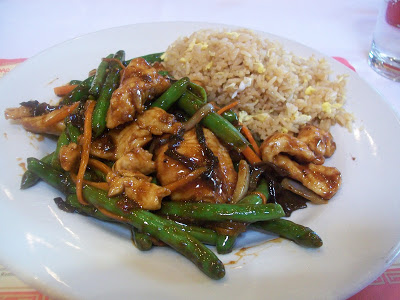 I chose the Szechuan Green Beans & Chicken ($8.50) from their lunch menu. It was fine – not that flavorful and nothing came with it (egg roll, etc…). I realize that I had something Szechuan from PF Changs that I loved and no other Szechuan is ever that good – it probably isn't very authentic and thus I just have to go back there to get it.
Service was pretty bad on this day – which is odd – it's a GIANT place and they weren't that crazy busy. And by service I just mean – the time it took to get seated, get orders in, etc… The actual server and staff were very friendly (always are).
Why Should You Go? If you're looking for Chinese and don't want the buffet – it's a great option. I like Suzie Wong's or the throngs of Thai offerings for that style of food more – but again – it's a good choice. Re: price – for a sit down lunch – it's about as pricey as anything is but I guess the portion sizes might be a bit smaller than some other places.