So yeah – it's confession time. I like
Olive Garden
. I tried to deny it – I haven't been for YEARS! It's the mockery of "Italian" food in the blogger/foodie world. This I know! But I just couldn't take it any longer – I had to go!
Photo Courtesy of Entertainment Weekly (ew.com)
6. Five words: "I like the Olive Garden"
Not sure why this has stayed with me or why we all thought it was so funny, but it was: During a particularly awkward dinner date in season 3, Amber asked Bachelor Andrew Firestone, "What's your favorite, like, restaurant chain? I like the Olive Garden!" It's true — when you're here, you're family!
I love that she thinks a billionaire would eat at Olive Garden…still makes me chuckle.
But anyway – I finally broke down last night and made Larry take me to Olive Garden…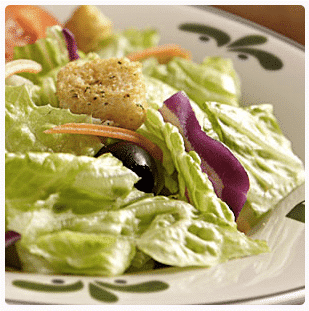 Photo courtesy of Olive Garden
We, of course, started with the salad. That's the best part of the OG is the big bowl of delicious and fresh salad. My love for the OG started here – my best friend and I used to go almost weekly – it was Kohl's and OG – and we both loved the salad. My favorite part was finding the olives – mmm!
We also had the breadsticks – which I couldn't find a pic of on their site. They're buttery, garlicky and salty – a great combo!
Photo courtesy of Olive Garden
A couple years into my visits, I found the soup and I have to say – I've never turned back. Last night I went for a bowl of Pasta e Fagioli. It's basically an Italian version of chili and sooo good! And you can find an awesome copycat recipe here – I've made it – it's dead on! I was in heaven eating this soup last night.
Photo courtesy of Olive Garden
For the entree – I went with my standby – I was so glad it was still on the menu – Chicken Scampi! I tried it back when it was a "new" item… #imold. It was pretty darned good again last night – a little less garlic than I remember – they used to have whole cloves all over the plate! Last night I couldn't find a one!
Photo courtesy of Andes/Tootsie.com
And then the topper – your Andes mint that accompanies your check. Larry didn't want his – so I got two!!!!
Why Should You Go?
Um – cuz it's awesome! I know – it's a chain – I know!!!! But I can't help it – it makes me feel like I'm back in Cedar Rapids with my bff putting myself in a food coma after a big day of shopping. Oh and the service was great too.
* I was not compensated in any way for this post – I just freakin loved it and had to share. I even left my camera in the car because I thought, "I don't need to blog about OG". And then I was dying over every bite and decided I had to share.