Who hasn't had a Zip Burger? Actually – I found someone this weekend that hadn't! My dear friend Julia – crazy thing – hadn't had a Zip Burger?!? Shocking isn't it?
Well – off we went – Zip's is in the heart of Mt. Lookout Square and is amazing. I know – everybody's all about Terry's Turf Club right now – and yes – it is my favorite – but for an institution of Cincinnati, an awesome burger and a great time – Zip's is THE place to be!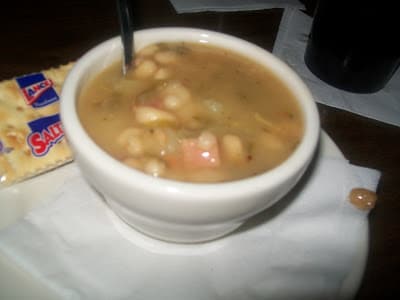 Bean with Ham Soup
I was rather hungry after 2 workouts and decided to go all out…started with the soup of the day – Bean with Ham. It was very good. Lots of vegetables – all it needed was a little bit of salt. All in all – loved it – they have great chili as well.
Double Zip – no cheese
Julia doesn't like skinny fries – they do not bring her joy – thus she decided to have double the burger and no fries. She was very happy with her burger and enjoyed her first experience.
Especially the CHOOCHOO – she was notified about the train inside by an adorable little boy outside while we were waiting.
Zip with cheese and cheese fries
I went with the classic – it's my standard order and I cannot deviate! I loved it as always. Just the right combo of toppings, burger, mayo, cheese – everything – DELECTABLE!
The cheese fries really are my favorite thing – the cheese is so smooth at first and then starts to harden (on the fries and in my arteries – yes I know!).
Sometimes – I just wanna Zips Burger and this was one of those nights and I still loved it! I think the bloggers forget about the places that made Cincinnati known for their awesome food choices!
Zip's Cafe
1036 Delta Ave.
Cincinnati, OH 45208
513-871-9876