A few weeks back I was invited to meet
Bruegger's Bagels Executive Chef Philip Smith
– and yeah – they have an Executive Chef! Who knew?! We were going to meet Philip, see some of the behind-the-scenes action and taste some bagels – sounds like a plan to me!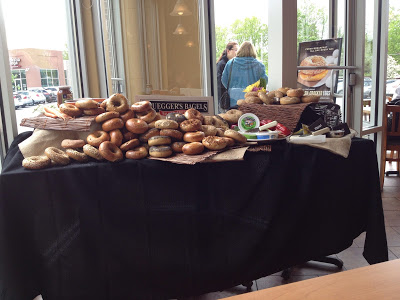 They had the spread out for us with piles of bagels and some of the ingredients that go into these delightful circles of dough.
I came to know Bruegger's in college at the University of Iowa. At the time I didn't like cream cheese (sacrilege?) but my BFF would bring me a hot Cinnamon Raisin with Butter nearly every morning to Chem 101. Let's just say – I was far more interested in the bagel!
First they brought out their brand new Morning Glory bagel! We were the first to try it and it was almost like carrot cake in a bagel chockful of carrots, sunflower seeds, apple, raisins, honey, apple butter and other good stuff!
I really didn't know if I would like it – seems like a lot of healthy stuff – but I really liked it. It paired great with the honey walnut cream cheese.
They also told us how they keep the veggies in the Garden Veggie crisp so you get that crunch when you bite in. Good stuff – one of my favorites!
Then – I have to say – Philip blew my mind…
He introduced me to the smoked salmon cream cheese. I had heard of it but was pretty much terrified to try it. I mean I love salmon but in my cream cheese??? It is amazing! I really had belief in Philip after this one – he said they wanted to find just the right balance and they sure did. It was salmon-y but still had enough cream cheese – I would love this on a sesame seed or salt bagel most definitely!
Philip explained a lot to us about the pride they take in the ingredients – for example they use the unhulled sesame seeds because they add more flavor to the product. We got to try both – and they really do have more flavor!
Also – there are a lot of "gluten-free" products out there now but you won't see them at Bruegger's. They tried and they just couldn't make them good – so – they don't make them!
Bruegger's is a fairly big chain but they pride themselves on behaving like your local bakery. Now when we were there every time a new tray of hot bagels came out – the crew yelled "HOT BAGELS!" That said, I've been to a lot of Bruegger's over a lot of years and never heard this before – maybe a little extra effort with the big dogs in town?
We got to go "backstage" and check out the process of making them – it's really a small area! They boil the bagels for 90 seconds…
and then bake them! The malt in the bagels adds the signature shine that their bagels have.
Now – what about day-old bagels – what can you do with them? Well Philip made us some Spicy Ham, Red Pepper and Sriracha Strata…
This was AMAZING!!!! We all had seconds – it was absolutely delicious! I didn't even know Bruegger's had recipes on their site! If this one is any indication – they are all awesome.
As we left, they gave each of us bagels, cream cheese and a free sample of their new Sriracha Egg Sandwich! A plain bagel with egg, sausage, cheddar cheese, fresh red peppers and Sriracha. This was really good – I saved mine for breakfast the next day and it was a great start to my day!
They also have a new coconut coffee which all the coffee drinkers tried and loved. I love coconut but not coffee. Bruegger's also has lots of great promotions during the year like their
bottomless mug
which you pay for at the beginning of the year and then get free coffee until New Years Eve that same year!
Why Should You Go?
Because it was my first bagel place – it has a special place in my heart/tummy. I love Brueggers – I didn't even have a chance to talk about my FAVORITE cream cheese – the Bacon Scallion – if you have had it – try it! I like that they have sandwiches for lunch as well – taking the bagel beyond breakfast! Enjoy!