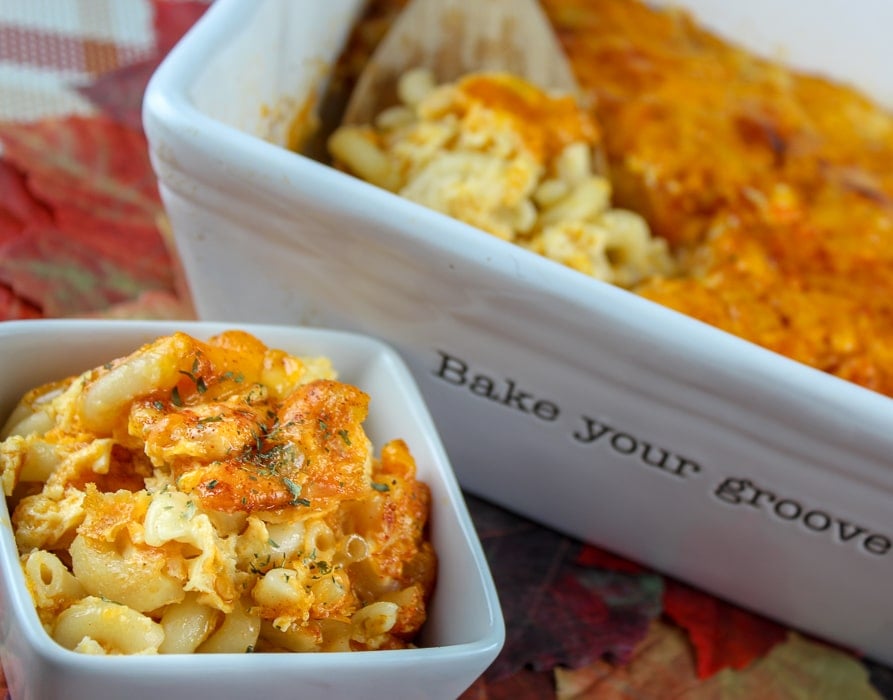 I love this recipe because it's simple and has just a few ingredients and you can have it in the oven in minutes! It's also one of their most sought-after recipes (along with their Tomato Pie).

How to make oven baked mac and cheese
This easy oven baked macaroni and cheese was only a few steps! Step 1: Boil the noodles. Step 2: Mix together eggs, evaporated milk, butter, hot sauce & seasonings. Step 3: Grate cheese. Step 4: Layer. Step 5: Bake! That's literally all there is too it! No fancy sauces or roux to make – you just layer and go.
This copycat recipe is a southern baked macaroni and cheese and I figure if you're going to make Mac & Cheese – you might as well do it right! Mary Mac's Tea Room is the place to go in Atlanta – everybody in Atlanta has been there – it's sort of an "old people" place but it's steeped in tradition. You fill out a little piece of paper with your order and they have like 30+ side dishes (I'm not kidding!). It's awesome!
Look at that cheese!!! This simple baked macaroni and cheese is made without flour and does have evaporated milk. I was curious about why evaporated milk? Because 60% of the water is removed the milk is creamier and thicker. You could also use heavy cream (1 cup for 1 cup), a combo of whole milk & half and half (1/2 cup of each = 1 cup EM) or even milk but add some butter to it (3/4 cup milk + 1/4 cup butter = 1 cup EM). Hmm – who knew?
Mary Mac's Tea Room Recipes
I've fallen in love with my cookbook and have made numerous recipes – the #1 is Mary Mac's Tomato Pie recipe. My personal favorite was their Chicken Fried Chicken though – it's so delicious! And you can't go wrong with homemade fresh creamed corn – you'll never eat the canned again.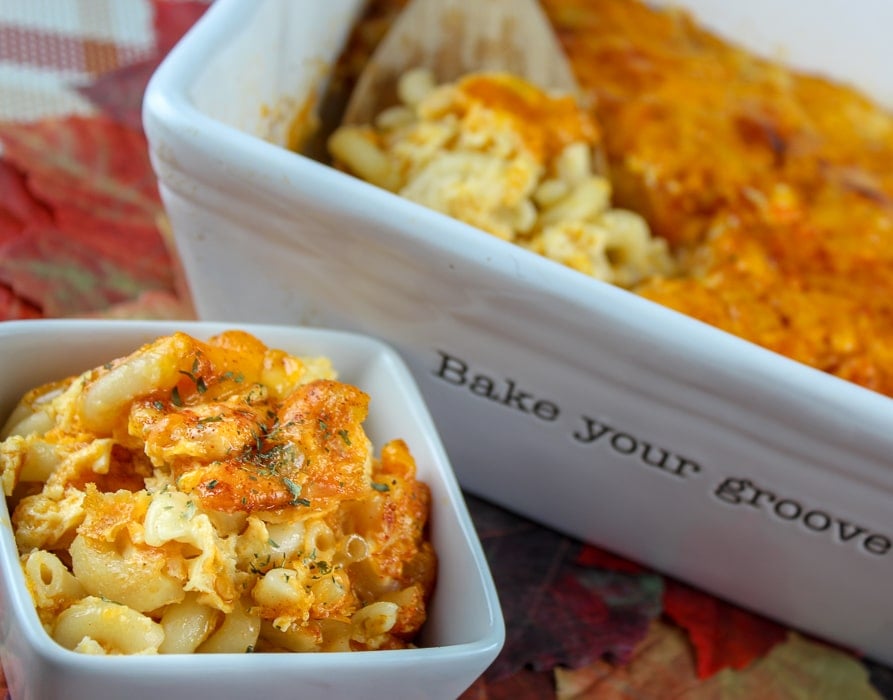 Copycat Mary Mac's Tea Room Macaroni & Cheese
prep time: 8 M
cook time: 35 M
total time: 43 M
Mary Mac's Tea Room is an institution in Atlanta and Flora has made this dish for 35 years! It's the gold standard for Southern baked macaroni and cheese – and luckiy – it's super quick and easy to make!
ingredients:
3 large eggs
2 cups evaporated milk
1/2 teaspoon salt
1/2 teaspoon white pepper
1 teaspoon sugar
2 Tablespoons salted butter, melted
1 teaspoon hot sauce
1/2 pound elbow macaroni, cooked according to package directions
2 cups shredded extra sharp Cheddar cheese
1/4 teaspoon sweet paprika
instructions:
How to cook Copycat Mary Mac's Tea Room Macaroni & Cheese
Preheat oven to 350
Spray square baking dish with non-stick spray
In large bowl, whisk the eggs.
Add evaporated milk, salt, pepper, sugar, butter and hot sauce to eggs and whisk
Spread half of macaroni in the baking dish
Pour half of the milk mixture on top of the noodles
Spread half of the cheese mixture on top.
Repeat the layers of noodles, milk and cheese – ending with the cheee.
Sprinkle paprika over the cheese
Bake for 35 minutes until set.
Recommended Products:
Mary Mac's Tea Room Cookbook
Cheese Grater
Mud Pie Bake Wear
Did you make this recipe?
Tag
@foodhussy
on instagram and hashtag it #foodhussyrecipe