Have you seen the new Olive Garden commercial featuring their oven baked pastas???? It's on all the time! I couldn't resist any more – I had to try it and…of course…make my own!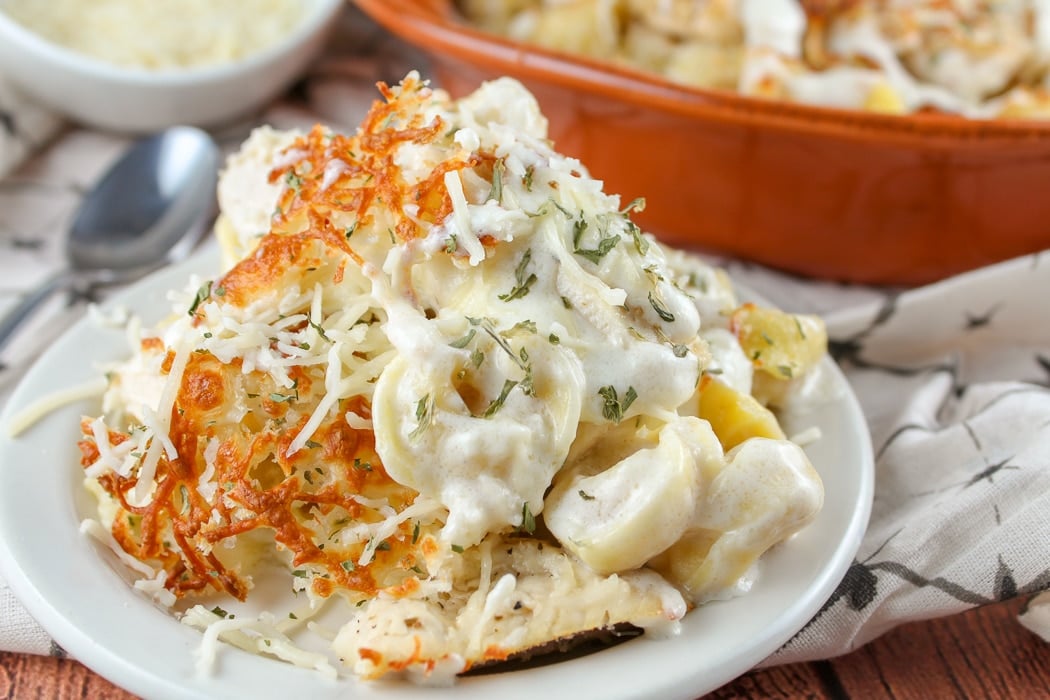 There are three new Oven Baked Pastas at Olive Garden – Smoked Mozzarella Shrimp Rigatoni, Four Meat Italian Mac & Cheese and Asiago Tortelloni Alfredo with Grilled Chicken. I really haven't seen the mac & cheese in the commercials so I asked my Instagram following which one I should make and you answered loudly! The Asiago Tortelloni with Grilled Chicken!
I have a long standing love of Olive Garden – growing up in Iowa – it was fancy (20 years ago) if we went to the OG! And I'm not ashamed to admit I still love it! The Olive Garden special has asiago tortelloni tossed in alfredo and then topped with breadcrumbs and grilled chicken.


The Olive Garden version has tortellONI – and I used tortellINI – so what's the difference? Tortellini is smaller and typically stuffed with meat. Tortelloni is larger and typically filled with cheese or vegetarian. But – you pretty much can't find tortellONI at a grocery store – so I just bought tortellINI. The difference is minimal at best.
How do you make Olive Garden Alfredo Sauce from scratch?
Olive Garden actually has recipes on their website and one of them is their Alfredo sauce! And let me tell you – it's spot on! Olive Garden Alfredo is made without cream cheese – so don't mistake it! It's very simple to make – melt butter and garlic – add a little flour and stir. Then add Parmesan, Romano, milk and heavy cream. That's it! It's so delicious – you can use a jarred sauce but this is easy enough – you shouldn't!
Is Olive Garden Alfredo Gluten Free?
Nope. It has flour.
Is Olive Garden Alfredo Vegan?
Nope. It has butter and cream.
Is Olive Garden Alfredo Keto?
Nope. It has flour and milk.
This Olive Garden oven baked pasta tortellini with chicken is so delicious!
How did I make Olive Garden's Cheese Tortellini Alfredo?
It's a bit of a juggling act – but it's on the table in 30 minutes! For the chicken, I just poured the marinade on the chicken and baked it for 25 minutes. While the chicken was baking – I boiled the tortellini. When the tortellini was about half done – I started the alfredo sauce. If you time it right, the chicken, pasta and alfredo are all ready at the same time. Pop the oven to broil – toss the alfredo and pasta together – lay the chicken on top – sprinkle with panko and Italian cheese and in the oven for 3-5 minutes.
I'm sold on the Olive Garden Oven Baked Pastas – they are delicious!


Here are other Olive Garden recipes and more:
– Olive Garden Giant Stuffed Shells
– Olive Garden Chicken Scampi
– Olive Garden Salad & Dressing
Do you have a favorite dish at Olive Garden? Let me know and I'll make it!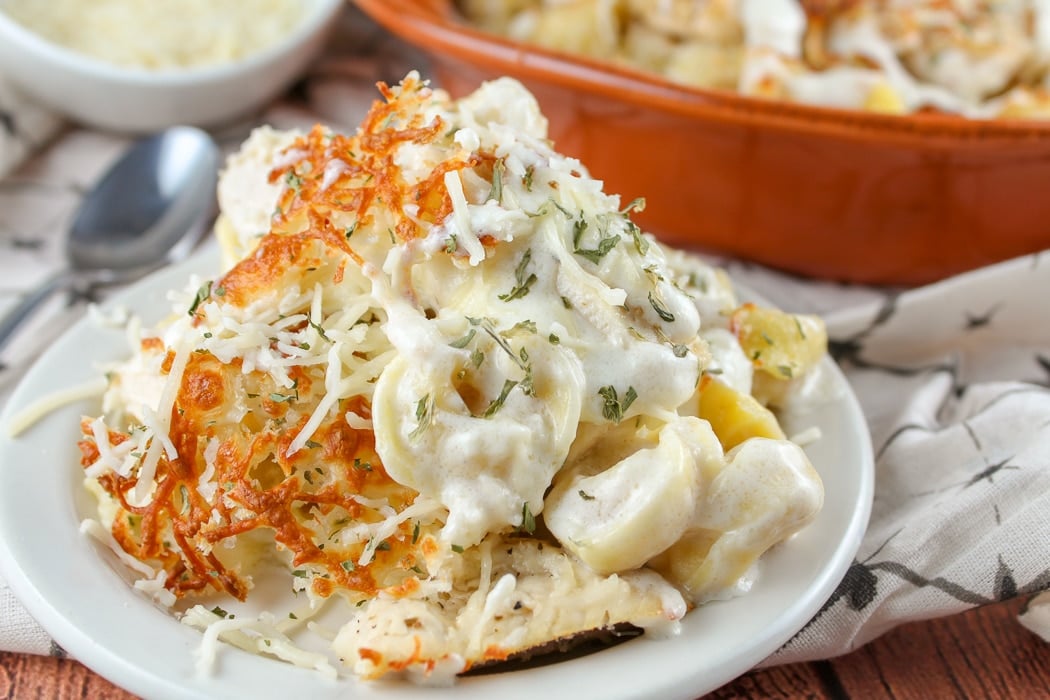 Copycat Olive Garden Oven Baked Tortellini Alfredo with Chicken
prep time: 5 M
cook time: 30 M
total time: 35 M
Olive Garden has done it again! They introduced their new Oven Baked Pastas and I had to make one! I chose the Tortellini Alfredo with Grilled Chicken. I even found the actual OG alfredo recipe and it's spot on! This recipe is so delicious and comforting! It's perfect for a chilly winter night!
ingredients:
2 chicken breast
1 bottle herb & garlic marinade
1 8 oz bag dried cheese tortellini, prepared according to package directions
3 oz butter (6 Tbsp)
1 TBSP Garlic
2 TBSP All Purpose Flour
1 1/2 cup milk
1 1/2 cup heavy cream
1/2 cup imported Parmesan cheese, grated
1/2 cup imported Romano cheese, grated
Salt and black pepper to taste
1/4 cup panko breadcrumbs
1/2 cup shredded mozzarella
instructions:
How to cook Copycat Olive Garden Oven Baked Tortellini Alfredo with Chicken
PREHEAT oven to 350
POUND chicken breasts to an even thickness
POUR the marinade over the chicken
BAKE chicken for 25 minutes
PREPARE tortellini according to package directions. I am using a dried tortellini, so when I put the chicken in the oven, I started my water boiling. Then I boiled the bag of dried tortellini according to package directions, drained and set aside. You can use fresh or frozen as well if you prefer.
When the pasta has about 4-5 minutes left, SAUTE the butter and garlic in a saucepan on medium heat. Cook for 1 minute, stirring occasionally.
ADD the ingredients from the flour to the Romano to saucepan and stir frequently until the sauce begins to simmer. Remove from heat.
In a large bowl, COMBINE drained pasta with most of the Alfredo and toss lightly. Set aside 1/2 cup of Alfredo to add after baking.
By now, your chicken should be ready! SLICE chicken breast and set aside.
CHANGE the oven to Broil-High
SPRAY a casserole dish with non-stick spray
POUR pasta and sauce into casserole dish. Top with sliced chicken, bread crumbs and mozzarella.
BROIL on high for 3-5 minutes or until cheese starts to brown and bubble. Watch closely!
SERVE!
Recommended Products:
Delallo Cheese Tortellini
Rachael Ray Baker
Mojo Criollo Marinade
Did you make this recipe?
Tag
@foodhussy
on instagram and hashtag it #foodhussyrecipe