My fabulous amazing wonderful boyfriend (not kissing up – just love him more today for some reason) loves to take drives. Saturdays have quickly become our designated "go for a drive" day. Last weekend he said, "Have you been on the ferry to Augusta?" Um – nope! Off we go!
First, you head down 52 for about an hour to Higginsport, OH. There you catch the ferry (there are signs – it's about a mile from the town) and head over the river to Augusta, KY. The ferry costs $5/car and it's a blast. I've never driven onto a ferry so it was an experience. I was a bit nervous – especially with my big yellow beast!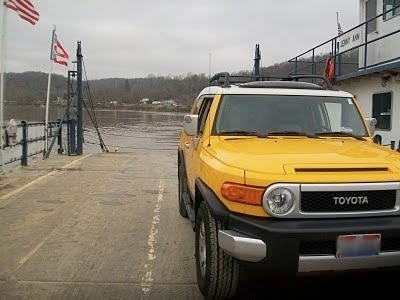 Once you're on – get out of your car and enjoy the ride across the river. It takes about 10-15 minutes. Nice and peaceful start to the day!
After driving off the Ferry we drove through Augusta. It was a chilly Saturday so not a lot was open. This is really a perfect drive in the spring/summer if you like to walk around, have lunch and shop a little. I hear the Beehive is excellent!
After driving through Augusta we headed south about 30 minutes to Maysville. Again – very quaint town with lots of dining and shops. Great visit for summer. We drove around town just more to take in the sites and make plans for a warmer-weather visit. Either Augusta or Maysville would be great stops for lunch or dinner!
Then we headed across the bridge at Maysville and back into Ohio. About 20 minutes north on the Ohio side we headed into Ripley. By this point we were starving! So first mission was FIND FOOD!
We headed to the Riverfront area (which is beautiful!) and found the Cohearts Riverhouse Restaurant. It's very "country" on the inside with knick knacks everywhere and a very friendly staff.
They started us out by telling us that the bread is in the oven but they could bring biscuits if we like. SURE! I love any bread-like substance! So we got 2 piping hot biscuits and a cup of the soup special – Southwestern Chicken with Black Bean.
The soup was really great – brothy and not thick (as I was sort of expecting) but really tasty. Definitely had flavor – wasn't just plain old broth with stuff floating in it. And the biscuits – well I ate them both. BF got a bite or two…
Then our adorable (probably 16 year old) server came out with the bread. OMG – it smelled HEAVENLY and tasted even better. (butter was soft – yeah!) This was definitely RIGHT out of the oven and was delicious! We polished it in about 4 minutes and she asked if we wanted more (which we did) but decided to say no since we still had lunch coming!
BF got the prize for "best order of the day" – he got the Riverhouse Burger with sweet potato fries. I don't eat hamburgers much anymore – typically go for turkey burgers but he said I had to try a bite. So glad I did – the smell of beef – it was amazing. A real hamburger just smells better – I love some cow meat. It was cooked perfectly and tasted fantastic!!!! The fries were also great. The price – not even $6 – craziness!
I got the special which was a turkey burger, chips and soup (I think $6 or something). It was good but paled in comparison to the hamburger I was drooling over not even a foot away!
By this point – we were stuffed but she mentioned dessert and I thought – sure why not! Then she mentioned Transparent Pie. I had no idea what this was and apparently, neither did the adorable server. She said, "well it's just sort of pie – it's not custard and it's not pie filling – I don't really know what it is – but it's really good."
Seriously – how can I not order something that someone can't even identify?! After looking at the link above – I see it's a Maysville/Augusta tradition and hey – if George Clooney likes it – I will too!
At the time – I had no idea – but I ordered a piece to go. And I agree – I really don't know what the hell it is! But it was good. It's sort of like custard but more firm. Lots of sugar and butter – I knew that much.
After lunch we stopped by an indoor farmers market around the corner. I picked up some tomatoes (fresh from someone's trip to Florida), locally made pasta sauce and a farm-raised frozen chicken. Always a treat when you stumble upon things like this!
The last stop on our day trip was just a few minutes away to the Rankin House. It's a historical landmark and Underground Railroad Station.
It sits high atop the hill and overlooks Ripley. It was closed but we walked around the grounds anyway – it's a beautiful view of the town. BF had been before so he was sharing some of the things he remembered from the official tour he'd been on before. It costs a couple bucks to go through in-season but he said it's most definitely worth it. The hiding spots are amazing.
Also behind the house there is a crazy long stairway that goes down through the woods. The slaves would swim across the Ohio and climb up the hill to safety. Pretty amazing.
And this is my favorite shot – look at the air that boy catches! He's quite a jumper!
Why Should You Go? It's a great drive…the scenery along the Ohio is beautiful, the Rankin House is a historic must-stop and the food at the Riverhouse was AWESOME!