Longhorn Steakhouse has the most amazing Spicy Crispy Brussels Sprouts and I'm going to share with you an amazing copycat recipe that makes them EVEN BETTER at home!
These are the best Brussels sprouts! They are so crispy and then they're tossed in sweet & spicy sauce you're going to want to pour on everything!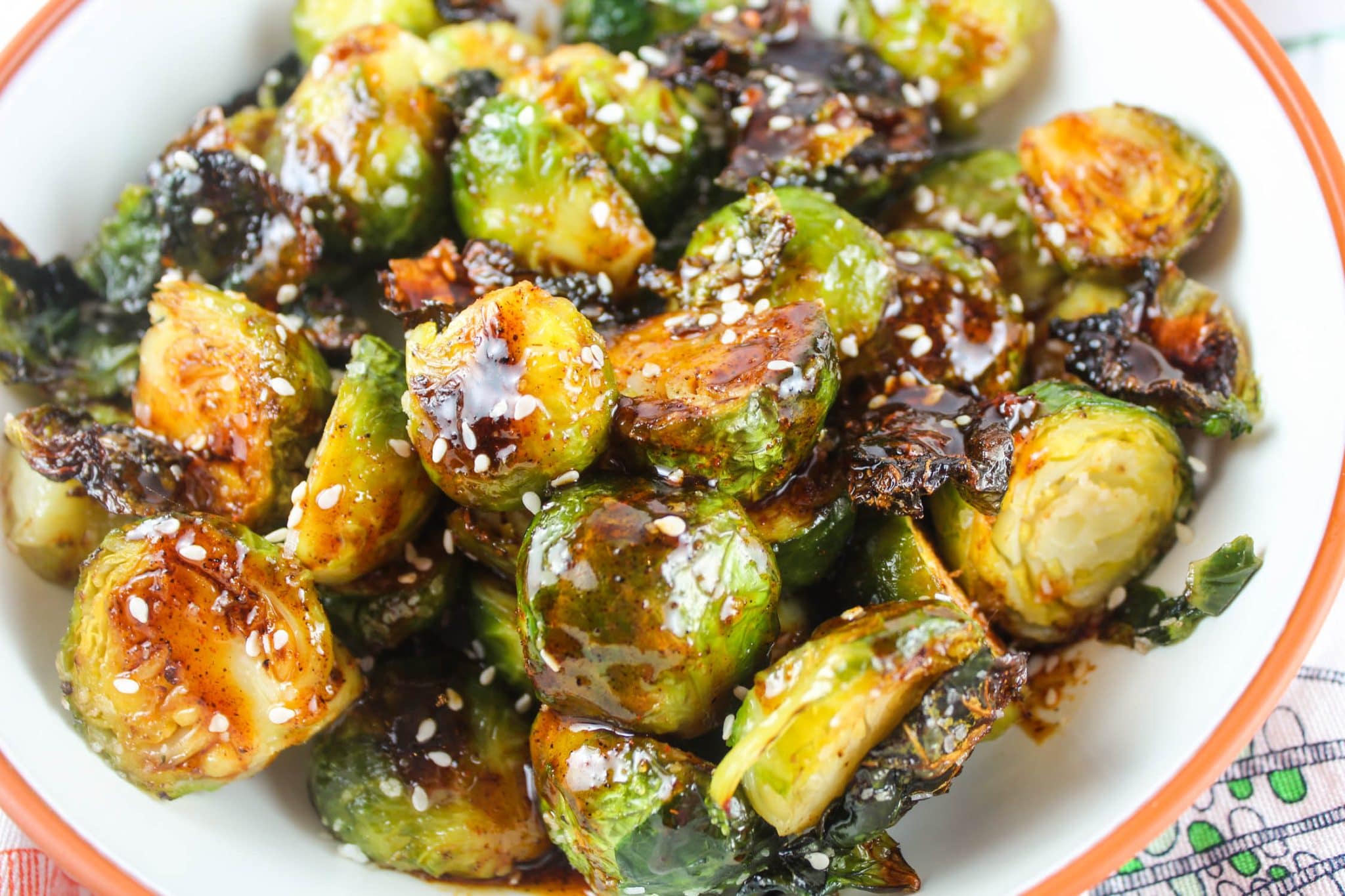 Brussels sprouts really are mini-cabbages that are packed with a nutritious punch! This super healthy food is low in calories and sugar but high in vitamins and minerals like Vitamin C, Calcium & Potassium!
Cruciferous vegetables can help stave off cancer. If you're a fan of Big Bang Theory – you'll know that they might also give you a little gas (haha) – I ate a whole pound of them though with no after effects!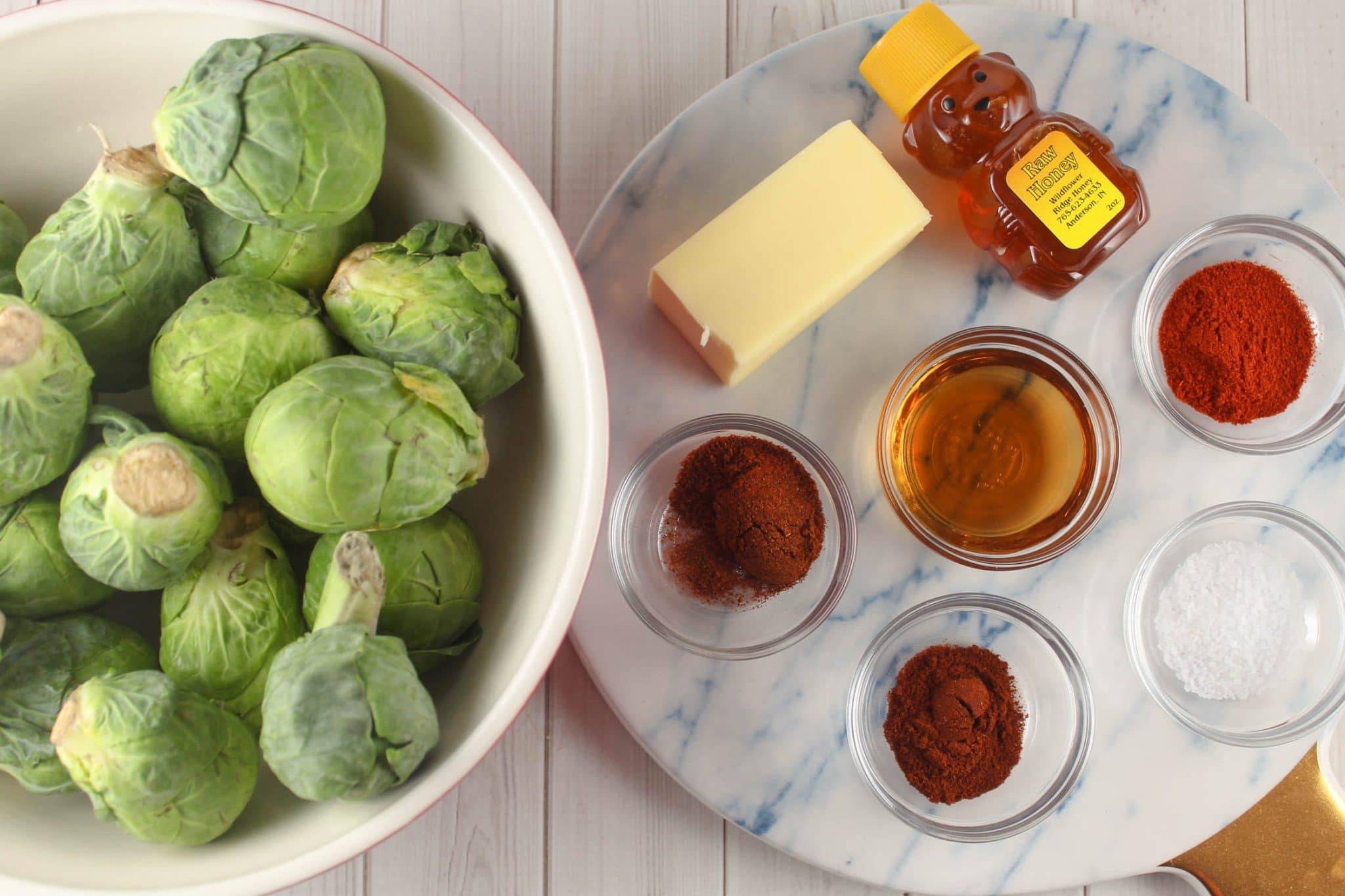 What's in Longhorn's Crispy Brussel Sprouts Recipe?
Longhorn Steakhouse Brussel sprouts recipe uses a Calabrian chili powder but guess what – most of us don't have that in our kitchen pantry! So I made a slight variation that still gives you a smoky sweet sauce with the same flavor – but using ingredients you already have!
Here's what you'll need:
Brussel Sprouts
Salt
Melted butter
Chili powder
Smoked paprika – this gives it that smoky flavor that the Calabrian chili rub adds
Chipotle chili powder – I find this to be much easier to find and work with than the canned chipotle in adobo
Red pepper flakes
Maple syrup
Honey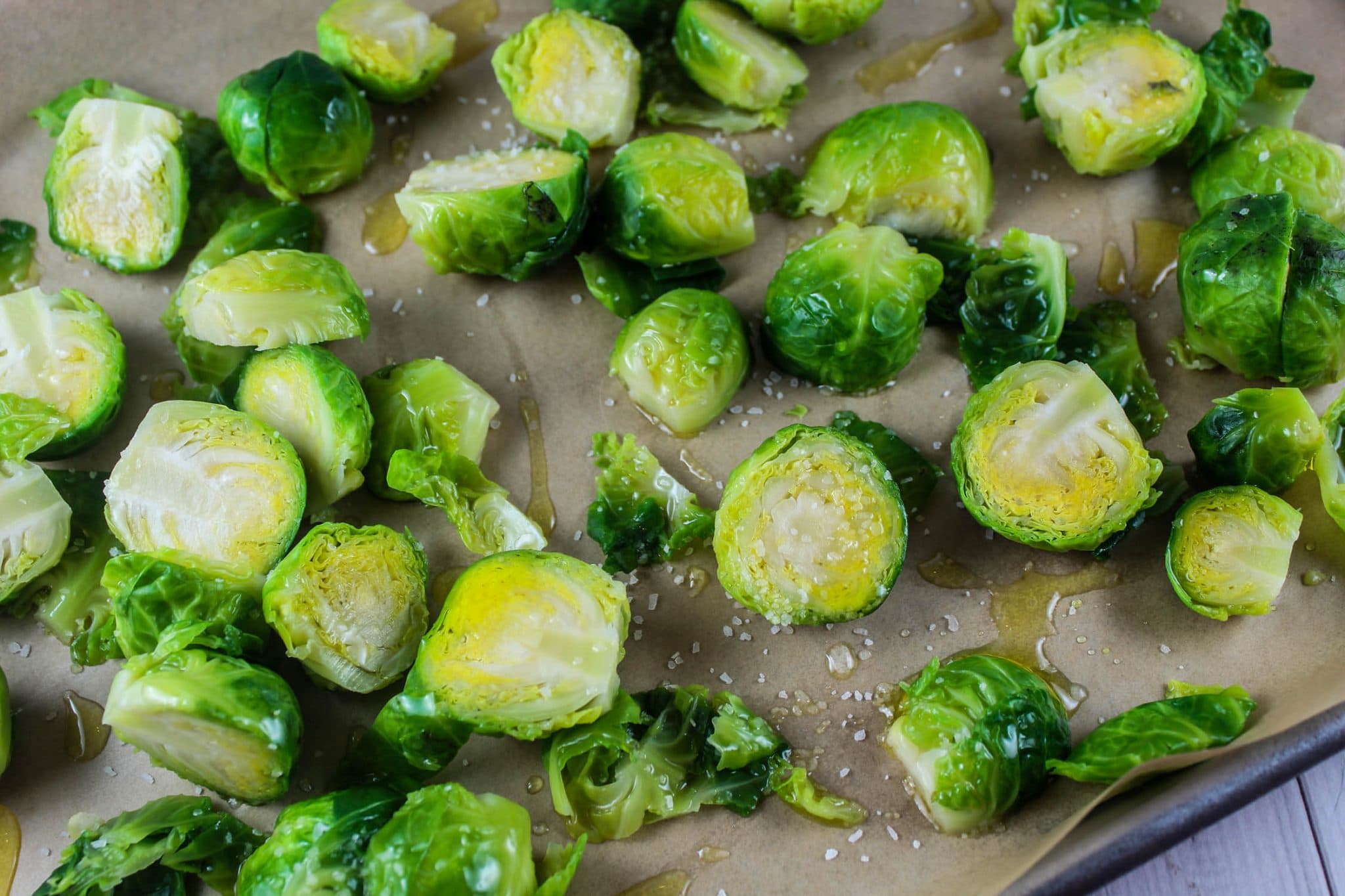 How do you make Crispy Brussels Sprouts?
While you're sprouts are roasting, you can make up this quick sweet & spicy sauce in no time! Next time – I'm making roast chicken or salmon at the same time – the heavenly flavors in this sauce would be a perfect match with either!
Here's how to make this Longhorn Steakhouse recipe:
Preheat oven to 400
Bring a large saucepan of water to a boil and add Brussels sprouts. Turn heat to simmer and simmer sprouts for 4 minutes.
Using a strainer – drain Brussels sprouts completely.
Place Brussels sprouts in an ice bath quickly for 30 seconds
Remove and place on cutting board. Lightly pat dry with paper towels
Slice brussels sprouts in half length-wise and place them into a rimmed baking tray
Be sure to keep the leaves that fall off – they get super crispy!
You can line the sheet pan with aluminum foil if you like
Sprinkle all sprouts lightly with olive oil.
Roast brussel sprouts in the oven for 25 minutes or until golden brown and crispy.
While sprouts are roasting, melt butter.
In a small bowl combine melted butter, chili powder, paprika, chipotle seasoning, salt, red pepper flakes, honey and syrup and whisk with a fork
You can put this together in a small sauce pan on the stovetop over medium heat – but I just microwaved the butter in a pint jar and then mixed in the rest of the ingredients
Remove sprouts from the oven
Place brussel sprouts in a large bowl and drizzle with sauce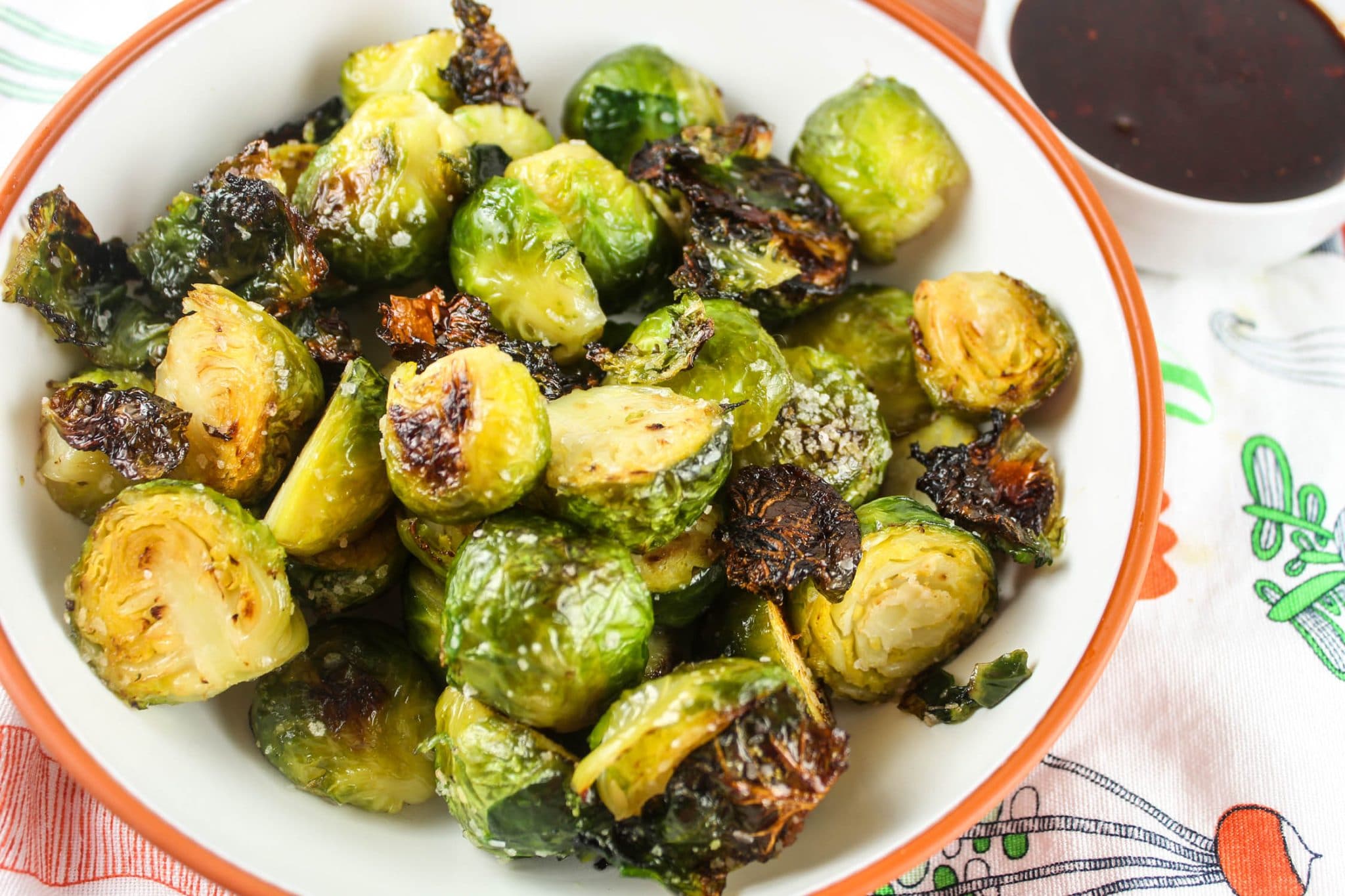 Why won't my Brussels sprouts get crispy?
You probably aren't roasting your sprouts at a high enough temperature or not close enough to the heat. Get your tray closer to the heat element and or turn the heat up 25-50 degrees. You could also broil them ON LOW for 2-3 minutes before you take them out. But watch the broil setting – it can burn quick.
Should I blanche Brussels sprouts before roasting them?
Blanching is typically done when you're freezing vegetables to cook them later – but in this case it's a very helpful cooking technique! Brussels sprouts are pretty hard little guys – and cooking them long enough so they're crispy on the outside and tender on the inside can give you a pan full of burned Brussels sprouts!
The best way to avoid this is by blanching your brussel sprouts. Blanching par-cooks your sprouts so they're done much quicker when roasting. That way you'll get that perfect crispy texture of the Longhorn brussel sprouts!
How do you store and reheat leftovers?
Roasted brussels sprouts are a great side and a pound usually makes enough for 2-3 people – unless you're me and decide to eat the whole pound at once all by yourself! If you do have leftover brussel sprouts, store in an airtight container and refrigerate up to a week – or freeze up to three months. Reheat in the air fryer for 3 minutes at 350 degrees.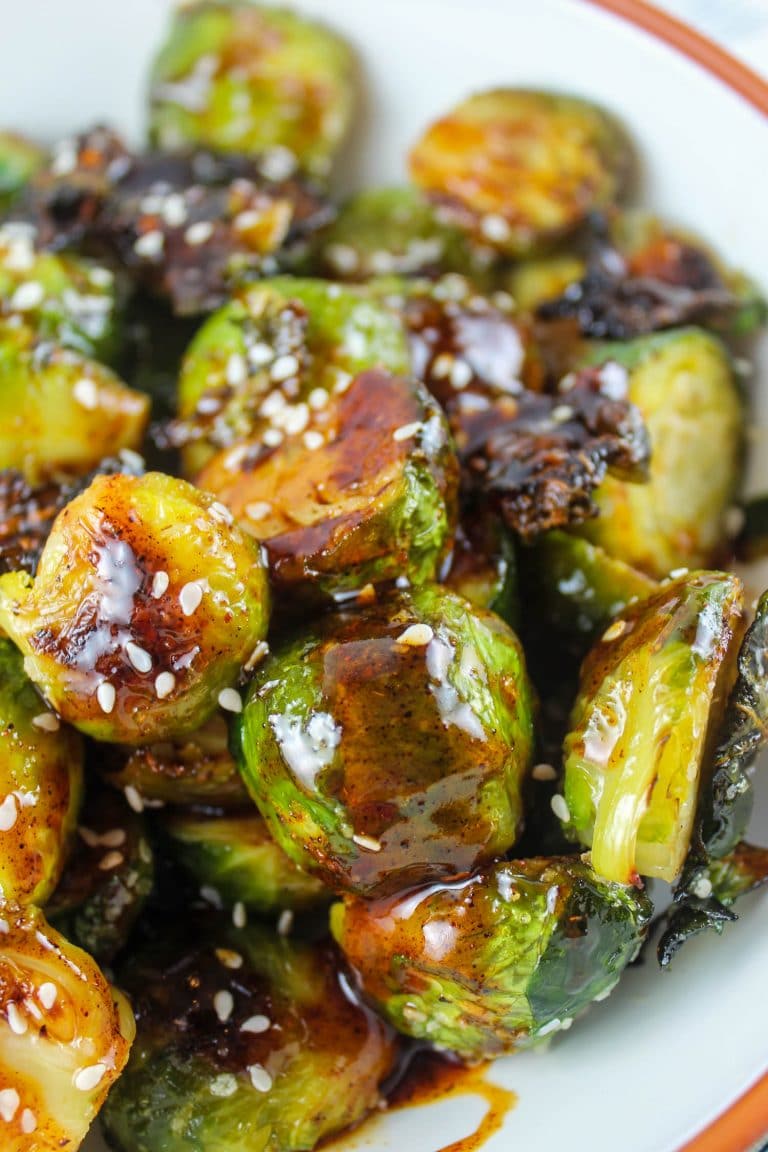 More Steakhouse Side Dishes
This is one great side dish – perfect for a holiday dinner! I'm a big fan of Longhorn Steakhouse – and Outback – and Texas Roadhouse – and all the rest!! They all have delicious side dishes for every family dinner. Here are my favorites:
Longhorn Steakhouse Recipes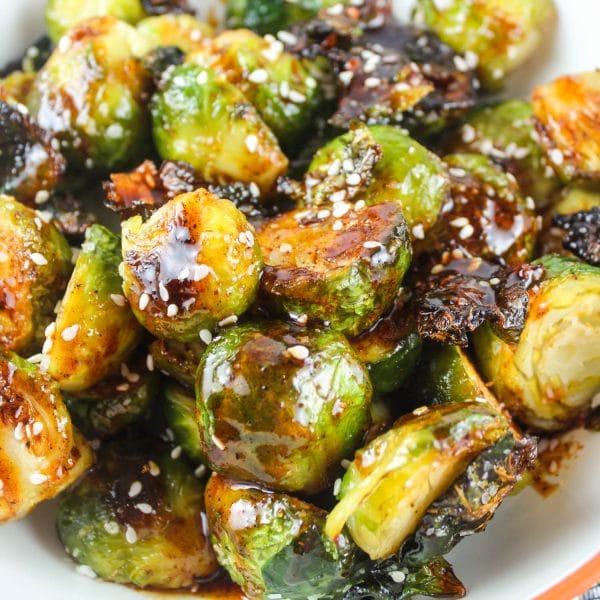 Longhorn Steakhouse Crispy Brussel Sprout Recipe
Longhorn Steakhouse has the most amazing Spicy Crispy Brussels Sprouts and I'm going to share with you an amazing copycat recipe that makes them EVEN BETTER at home!
Instructions
Bring a large saucepan of water to a boil and add Brussels sprouts. Turn heat to simmer and simmer sprouts for 4 minutes.

1 lb brussels sprouts,

1 tbsp table salt

Using a strainer – drain Brussels sprouts completely.

Place Brussels sprouts in an ice bath quickly for 30 seconds

Remove and place on cutting board. Lightly pat dry with paper towels

Slice brussels sprouts in half length-wise and place them into a rimmed baking tray

Be sure to keep the leaves that fall off – they get super crispy!

You can line the sheet pan with aluminum foil if you like

Sprinkle all sprouts lightly with olive oil.

Roast brussel sprouts in the oven for 25 minutes or until golden brown and crispy.

While sprouts are roasting, melt butter.

In a small bowl combine melted butter, chili powder, paprika, chipotle seasoning, salt, red pepper flakes, honey and syrup and whisk with a fork

1/2 tsp chili powder,

1/2 tsp smoked paprika,

1/2 tsp chipotle chili powder,

1/2 tsp coarse sea salt,

1/2 tsp red pepper flakes,

1 tsp maple syrup,

1 tbsp honey

Remove sprouts from the oven

Place brussels sprouts in a large bowl. Drizzle sauce over sprouts and toss lightly
Notes
**We are not dietitians and recommend you seek a nutritionist for exact nutritional information. The information in the nutrition box are calculated through a program and there is room for error. If you need an accurate count, I recommend running the ingredients through your favorite nutrition calculator.**
Nutrition
Serving:
0.5
lb
Calories:
305
kcal
Carbohydrates:
32.4
g
Protein:
8.1
g
Fat:
19.6
g
Saturated Fat:
8.6
g
Cholesterol:
31
mg
Sodium:
626
mg
Potassium:
931
mg
Fiber:
9.1
g
Sugar:
15.7
g
Calcium:
87
mg
Iron:
3
mg