My fantastic coworker Elvis…I mean Mark…has been hounding me about getting to Five Guys and finally – I made it happen! We decided to hit up the Rookwood spot for our trial date…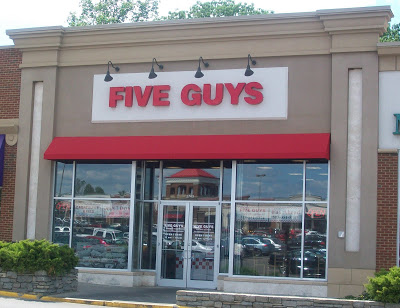 It's near Yagoot if you're trying to place the location…which is a great spot but would there be room for frozen goodness after a burger & fries from these Five Guys?
Walking in it sort of reminds you of Steak & Shake – red & white tile and very bright. The staff is super friendly and greets you instantly. There's a menu overhead – very simple – you order and then head to your seat. Also – you'll see it says "All Toppings Are Free" – that's awesome. They have a LOT of toppings!
There are also giant sacks of potatoes around the joint…I wonder if they really have potatoes in them or if it's just for show?
Ah peanuts…I was all polite and didn't throw the shells on the floor.
Larry got a cheeseburger as did I but with less toppings and we decided to split some fries. They are good fries…Very Penn-Stationish…
I got a burger with a bunch of toppings – American cheese, tomato, mushrooms, BBQ sauce and probably other stuff I can't remember. It was delicious!!!!! So good! I can't wait to go back and at least I don't have to plan my life around it – I love Terry's – but have been trying to go for WEEKS and can never get in for less than a 45 minute wait!
And we definitely did not have room for Yagoot 🙁 but we were happy to be full! Five Guys is great!
Why Should You Go? It's a great burger in Rookwood – which is definitely lacking on the excellent food options. Plus they have locations popping up all over the place – definitely a good stop!