There are so many new restaurants in Cincinnati it can definitely be overwhelming – especially downtown. I feel like I could eat somewhere new every day!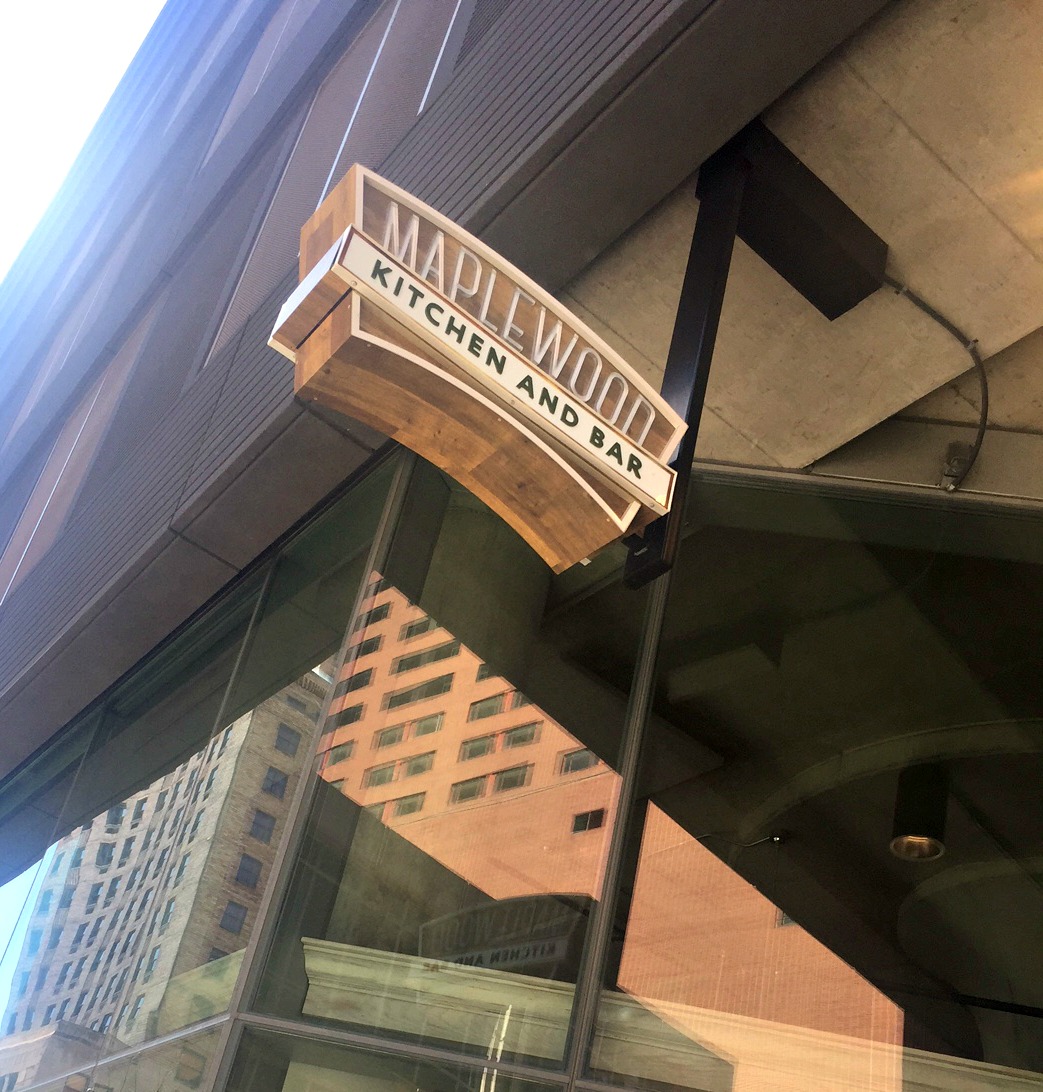 Some of my friends were talking up Maplewood Kitchen & Bar so we decided to try it for a group lunch. Maplewood comes from the folks at Thunderdome Restaurant Group (The Eagle, Bakersfield, Krueger's Tavern) so it's got quite a reputation to uphold.
It's a bit like a fancy First Watch – they're calling it a "fine casual" concept. It's very light and airy with lots of white furniture and ferns – it feels very upscale – but they focus on breakfast and lunch which is why I think of First Watch.
They have some baked goods at the front while you're waiting in line to order – they all looked very tasty for sure but we weren't up for $3 cookies.
They're also big on their fresh cold pressed juices – it's that kind of place – grass fed beef, organic this and that and cold pressed juice. They do have a wide variety and my friend Audrey was geeked about them – I think they're like $6 or $8 a bottle – so it seems ridiculous to me – but hey – I'm not the target.
Sweet Greens:
cucumbers, green apples, pears, lemon, kiwi, lime, spinach, celery
Audrey did get a bottle of the juice and said it was delicious – I would have liked to have tried it – but felt a little weird about asking for a drink of an $8 juice! There should be a class on why it's good where we get to try it.
With their fine casual dining – you actually order at the counter and then sit down and they bring the food to you. It gives you time to see the baked goods and juices. It seems a little pricey for ordering at the counter but again – I'm not the target.
There's even a choice of waters for free! Still, chilled and sparkling – oh so fancy! But I guess when you pay $8 for a juice – free water is a nice perk.
Chopped:
corn, haricot vert, purple cauliflower, local Lucky Penny Farm goat cheese, bacon, avocado, pecans, mission fig, roasted beets and house vinaigrette
Audrey – aka Cold Pressed Hussy – went for the Chopped Salad and really enjoyed it. They have a lot of ingredients in their salads which I really like – I hate to get something I could just as easily make at home. It's also served with a fresh slice of ciabatta bread.
Chicken Club:
pulled rotisserie chicken, bacon, avocado, havarti cheese, tomato, lettuce, house aioli, 16 Bricks ciabatta
Maplewood Burger:
ground chuck, short rib and tenderloin, Vermont white cheddar, house pickles, iceberg lettuce, grilled tomato, mayonnaise, 16 Bricks sesame bun
I got the burger and am really not sure I made the best choice. It was fine – but in a city of decadent burgers – it's not on the top of any list. I'm also not the biggest fan of grass fed beef. Grain = flavor. That said – I liked all the toppings and that they went all out with quality ingredients.
Provencal Potato Salad:
tri-color potato, grainy mustard, haricot vert, white wine, shaved fennel
For my side I chose the potato salad – I didn't want to just go with fries. When I think of potato salad – I do think of it cold but when I saw this – I almost expected it to be warm. It was a little too raw for me and seemed a little underseasoned.
Why Should You Go? If you like cold pressed juice and organic stuff – then definitely check it out. It just wasn't my kind of place – the food was fine – I just didn't love anything and it was a bit pricey. I do think it is better than Cheapside Cafe – which it sort of reminds me of.