I'm a big fan of
Noodles & Company
– I like that it's made fresh and has lots of vegetables as well as unique combinations that I wouldn't think to put together myself.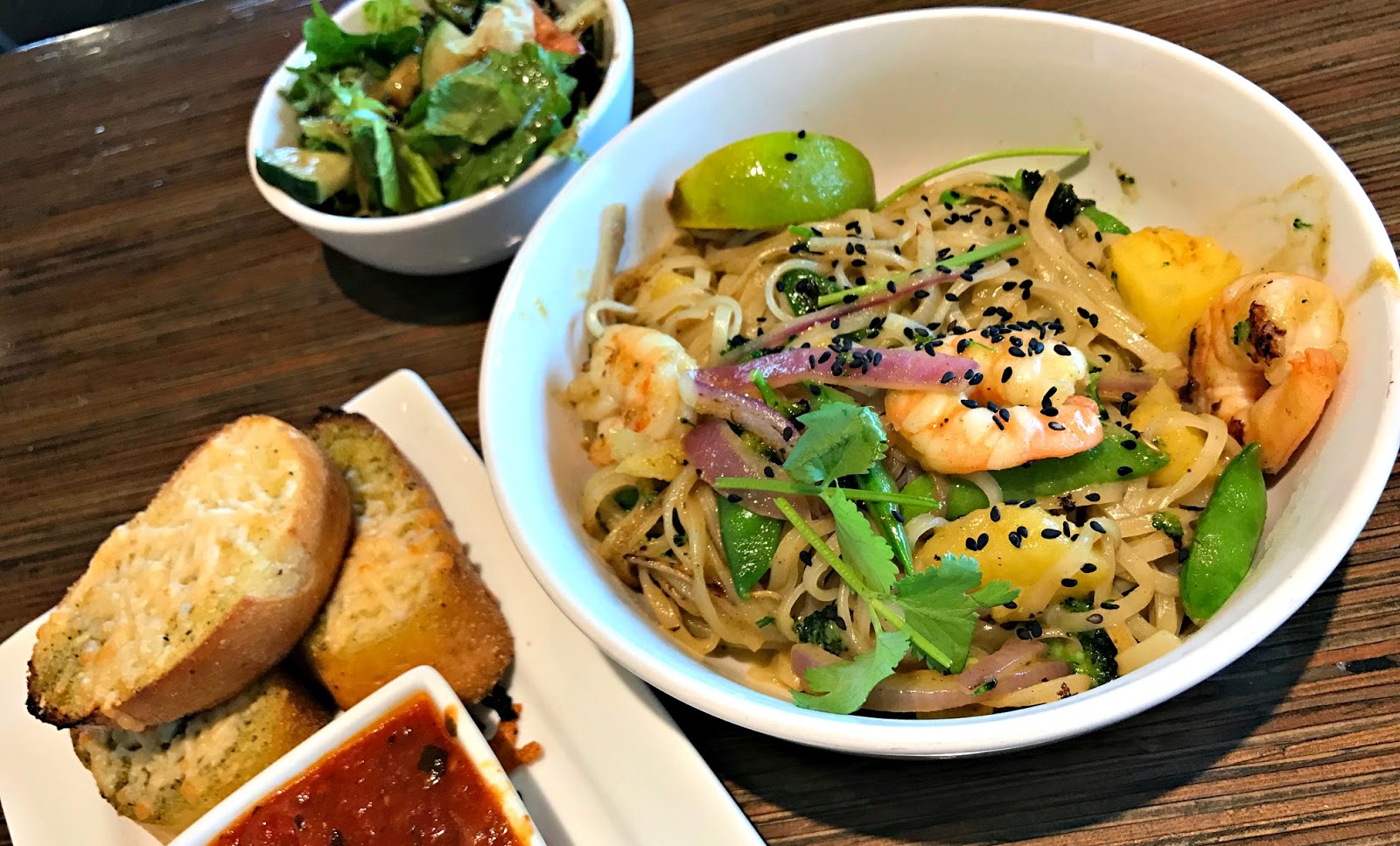 They sent me a gift card to try out two of their new dishes: Thai Green Curry and Pork Adobo! Sounds good – right?
Both have heat and spice – so if you're not a spicy fan – I would avoid both – but if you like a little spicy – then this is your jam!
The South Asian-inspired Thai Green Curry with Shrimp pairs a sweet and spicy coconut green curry sauce, rice noodles, pineapple, broccoli, red onion, snap peas, lime, black sesame seeds and cilantro with sautéed shrimp.



I was admittedly jealous once this came out – it looked amazing! Luckily my girl Audrey is a good friend and let me snag a bite and it was as good as it looked! It does have a kick to it as well. Look how healthy and zippy that looks?! Yes – I said zippy! That's what it looks like to me!
We had a decent gift certificate and I'm a sucker for their cheesy garlic bread – it's very good and just enough for sharing. Lots of garlic too! Yum!
The authentic Mexican influence of the Pork (or Chicken) Adobo starts with a cavatappi

noodle

base and adds smoky adobo sauce, red onions, roasted mushrooms, olives, sour cream, lime and cilantro topped with slow-braised pork (or grilled chicken).
This had even MORE of a kick – and it was a slow burn – I was good at first – then about three bites in I was super thankful for the sour cream and garlic bread! Whoooo! And – as always – the Coke Freestyle machine kept the Cherry Vanilla Coke Zero flowing!
I also snagged a side Caesar salad – again thankful for it to cool off my Pork Adobo. It was fine for a Caesar – nothing too exciting but good.
Be sure to check out Noodles & Company and try these two new dishes or any of their tried & true favorites like their Parmesan Chicken, Macaroni & Cheese or Med Salad! Yum!