Pinterest
can really come through in a pinch…I had tilapia and spinach in the fridge and knew there was a combo here but had no idea what to do with it. Quick search and whamm-o – a million ideas! The one that drew me in quickly was the
Greek Tilapia over Wilted Spinach
.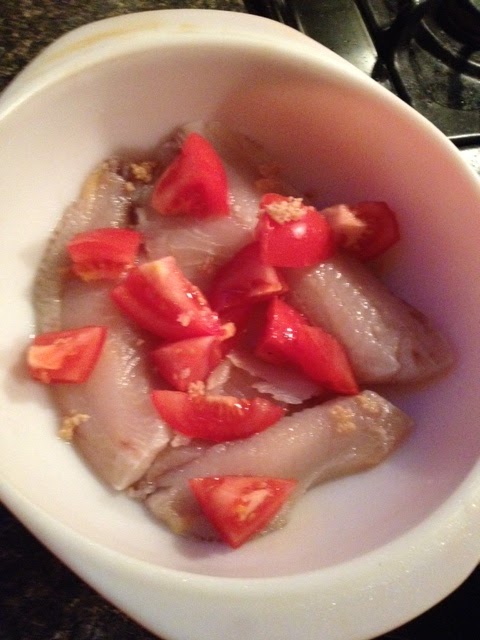 It's super simple – tilapia & tomato in a baking dish – top with garlic and lime juice – cover and pop it in the oven for 20 minutes.
While that's baking, saute a couple of shallots…
I pulled the fish out after 20 minutes and it wasn't cooked yet – so I decided to pop it in the sautee pan and just speed things up a bit. Then I took the fish out…
Threw in a load of spinach until it wilted…and dropped in a little feta just as it was finishing. The feta wasn't melted but it wasn't cold either…
Plate it up – fish & tomato topped with the spinach/shallot/feta mixture! It was really good. Larry's not a big spinach fan but even he thought it was good. I loved it!
Greek Tilapia Over Wilted Spinach
2
tilapia fillets (you can substitute haddock, cod or halibut)
1
medium tomato, large dice
1 tsp
garlic, (jarred)
3 Tbsp
fresh lime juice
2 lg
shallots, diced
1 Tbsp
olive oil
8 oz
baby spinach
1/3 c
fat free feta cheese, keep 1 tbsp reserved for garnish
Directions
Preheat oven 350F. Place fillets and tomatoes in a glass baking dish. Sprinkle garlic and parsley over top and finish with lime juice. Cover with foil and bake for 15 to 20 minutes, until fish is opaque and flakes easily with a fork.
In a skillet over medium-high heat, saute shallots in oil for 1 minute. Reduce heat to medium and add spinach, cooking until wilted, about 5 minutes. Stir in feta and heat until melted and evenly distributed.
To serve, place 3/4 cup spinach-feta mixture on each plate and lay 1 fillet over top, finishing with half of tomatoes. Garnish with fresh cracked black pepper, salt, a few pieces of fresh lemon zest and sprinkle on reserved feta.