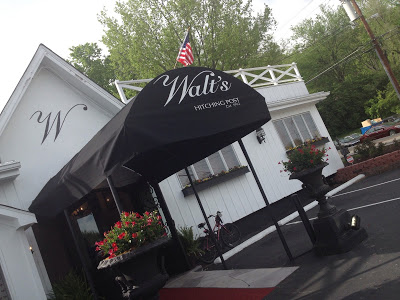 Walt's Hitching Post
is an institution in Northern Kentucky.
Known for their salted rye bread and their ribs, it was a sad day when they
closed three years ago. But now, new owners have purchased and renovated Walt's
and reopened in late April.
The part of this re-opening that I love the most is the
tribute that was paid to the man that owned Walt's for over 50 years – Billy
Melton. Billy and his wife purchased the property in 1958 and made quite an impact.
You can tell this as you walk through the newly-renovated Walt's! There are
homages to Billy everywhere – the bar is even named Billy's!
So who are these new owners? Bronson Trebbi and Donny
Arnsperger purchased Walt's in September 2012. I was lucky enough to chat with
Donny during my meal. Donny has a long history of quality steak in his past
after working for 19 years with Jeff Ruby – and it shows. Everything about
Walt's from the moment you come up the stairs says "fine dining" but it's also got
a great relaxed feel about it. They have completely renovated – but kept the
rustic look that doesn't make you feel too self-conscious as you lick your
fingers after gnawing on one of their signature BBQ ribs.
We were seated at the bar – because for the first month or
so they are seating with reservations-only in the main seating areas. There are
two bars with ample seating – and the bar area is very nice. Billy's has a
beautiful stone bar (with hooks underneath for purses – Hallelujah!) as well as
a leather wall with Billy Melton's name in studs. Dave the bartender (who has
his own secret talent of BBQ catering) took excellent care of us. He was bringing
us a great spread for dinner all the while managing customers and answering my
firing squad of questions!
We started with their signature salted, toasted rye bread.
This is like the cheddar biscuits at that fishy chain – it's one of the things
Walt's is known for! I was very happy that tradition did not disappear. While I
didn't love my bread as much as I remembered (it was a little too toasted
maybe) – the flavor was still there.
After bread, we quickly were brought house salads that
accompanied our entrees. I ordered mine with ranch and it passed the mustard.
If you weren't aware – I am a connoisseur of ranch. The salads were fine –
fresh and crunchy – but fairly typical of a house salad.
Then it was entree time! I went for their
signature ribs (half-rack) – which are smoked outside in a little smokehouse
for 30 minutes before they go on the grill – and a crab cake ($20).
The ribs were served with a baked potato and side of BBQ
sauce. The potato was baked really well and very soft and fluffy. For the most
part, I ate the ribs sans extra sauce and the rub is tasty. The meat wasn't
"fall of the bone" but it did have good flavor. When I pulled off a couple of
pieces and dipped them in the sauce – it was tasty. It was a thinner sauce but
sweet and tangy.
Now to my favorite part of my entree – the crab cake! I was
very curious as to whether I would get a preformed patty like you see at the
grocery store or something that was prepared with care and delight. I was very
happy to get the latter! The crab cake was wonderful! The crab was sweet and
the sauce was creamy but not overwhelming. I would order this again in a
minute!
At this point Chef Ryan came out to chat with us. Turns out
he too comes from the world of Ruby with a recent stint at Chart House in
Newport. I was quick to let him know how much I loved the crab cake! He was
pretty proud of it as well.
We also ordered a side of Mac & Cheese in a Skillet
($6.99) and didn't have too much room left for this – but I did try a few
bites. Made with thick fusilli pasta, the Mac & Cheese was creamy but not
overly cheesy. There was also a light layer of crisp breadcrumbs on the top. I
enjoyed this and will likely enjoy the leftovers in the morning for breakfast! (I apologize for the photo – it was dark – I had to go between flash & non.)
Lastly I wanted to tell you about my husband's entree – he ordered
B.T.'s Signature Strip ($30). Not surprisingly with all of the Ruby-background
filling up Walt's – this steak was something special. Donny shared with us that
the rub on this steak is his own secret recipe! The steak was fantastic! It was
seared on the outside with a wonderful crust and then when you cut inside –
perfectly medium rare/rare. My husband – while a big guy – doesn't often polish
off an entire 16-ounce steak. Let me tell you – the dogs were lucky to get a
doggie bag with a few bites leftover.
After all of this meat and potatoes – we left full and happy
for sure. While everything wasn't 100% perfection – this was a delicious
dinner. The high points were definitely the steak and the crab cake.
The service was also top-notch – obviously they were
attentive to us because they knew I was going to be writing my experience – but
even the rest of the staff we passed by were friendly and constantly busy. I
saw quite a few smiling faces as people headed home and mine was definitely one
of them.
I also have to call out the bathroom – Walt's Hitching Post is all Kentucky all the time and the bathroom is no different! The bourbon barrel sink was classic! Love it! Surprise and delight in the bathroom even!