This cookie fudge is so much fun – it's blooming with Easter colors and treats! There are 4 layers to this amazing dessert: Oreo cookie base + peanut butter fudge layer + caramel layer + candy topping!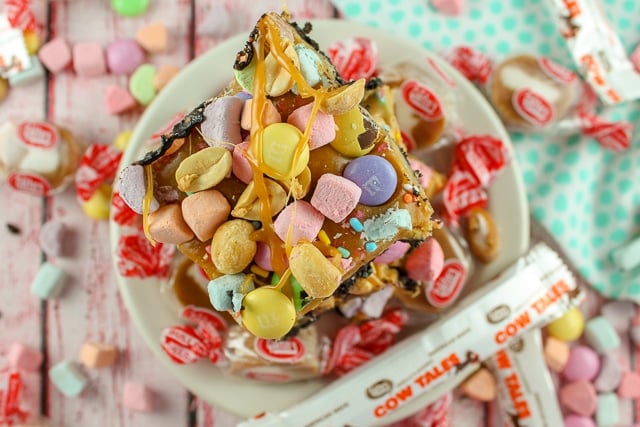 It's a perfect dessert for Easter or your Spring parties – it's bright and springy – crispy and chocolatey. This time around we added a caramel layer – it's so delicious and EASY!!!! This is definitely a no-bake recipe!
There's an Oreo layer topped with a peanut butter layer and then CARAMEL! The caramel layer is made easy by using Goetze's Caramel Creams – I always have a bag on hand! You can find these bullseye caramel creams at Walmart. They melt really easily if you just add a little cream to them.
After the caramel – you top it with all sorts of fun! I had Easter m&ms (pastel colors), found a bag of "cereal marshmallows" on an Amish store trip, peanuts and Cow Tales! You might as well add more caramel – right?
These Caramel Peanut Butter Cookie Fudge bars are so delicious and fun to decorate – you just sprinkle it all on top, pat it down a bit and then pop it in the fridge to set up a little. Dessert done! And it's no-bake and egg-free – woohoo!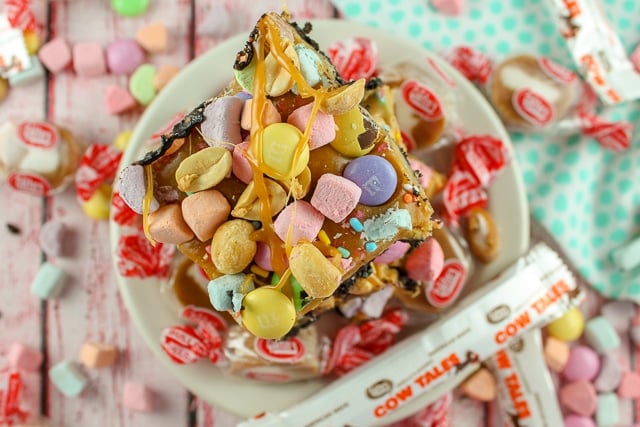 Easter Caramel Cookie Fudge
prep time: 30 M
cook time: 2 hour
total time: 2 H & 30 M
My original cookie fudge gets stepped up a notch (or 10) when you add caramel to the mix! I melted caramels and added a layer to the fudge in addition to popping some one top! #caramel #cookie #fudge #easter #peanutbutter
ingredients:
Base:
1 package Oreo double stuffs – separated cookies/filling
1/3 cup caramel creamer
Peanut Butter Layer:
3/4 cup peanut butter
Oreo fillings
Caramel Layer:
20 caramel creams
2 Tbsp caramel creamer
Topping:
easter M&Ms
colorful marshmallows from cereal (found at the amish store)
sprinkles
peanuts
2 mini cow tales – cut with scissor into little bites
instructions:
place Oreo cookies in a ziplock bag and break them up with a mallet
add caramel creamer and mush together until starts to stick together
bowl 1 – peanut butter and Oreo filling – microwave for 30 seconds and stir
microwave for another 30 seconds and stir – set aside
bowl 2 – caramel creams and 2 Tbsp creamer – microwave for 45 seconds and stir
microwave for another 30 seconds and stir – you'll need to stir for at least a minute to get the creamer and caramels mixed together – then it will come together and be the perfect caramel color
in your pan – line the pan with parchment – add Oreo mix to the bottom of the pan and spread out – it's sticky – use a flat hand to press it – or put some press & seal on your hand and press it down – spread across bottom of parchment to fill the bottom of the pan
get bowl 1 with peanut butter sauce – stir – if it's hardened – microwave for 15 seconds
pour peanut butter mix over top of oreo mix
get bowl 2 with caramel – if it's solidified a bit – microwave for 30 seconds and STIR
DRIZZLE the caramel over the peanut butter mixture – it doesn't really spread – so you want to pour it over the peanut butter mixture. pour it across the mixture to cover the peanut butter (you will have caramel left)
add your fun toppings! sprinkle with m&ms, marshmallows, peanuts, sprinkles, cow tales (cut them with scissors)
pat down with flat hand – press into the caramel layer so it sticks in
reheat leftover caramel mix and lightly drizzle over the top
place in refrigerator for two hours for everything to set up