This post is sponsored by Bob Evans but all opinions are my own.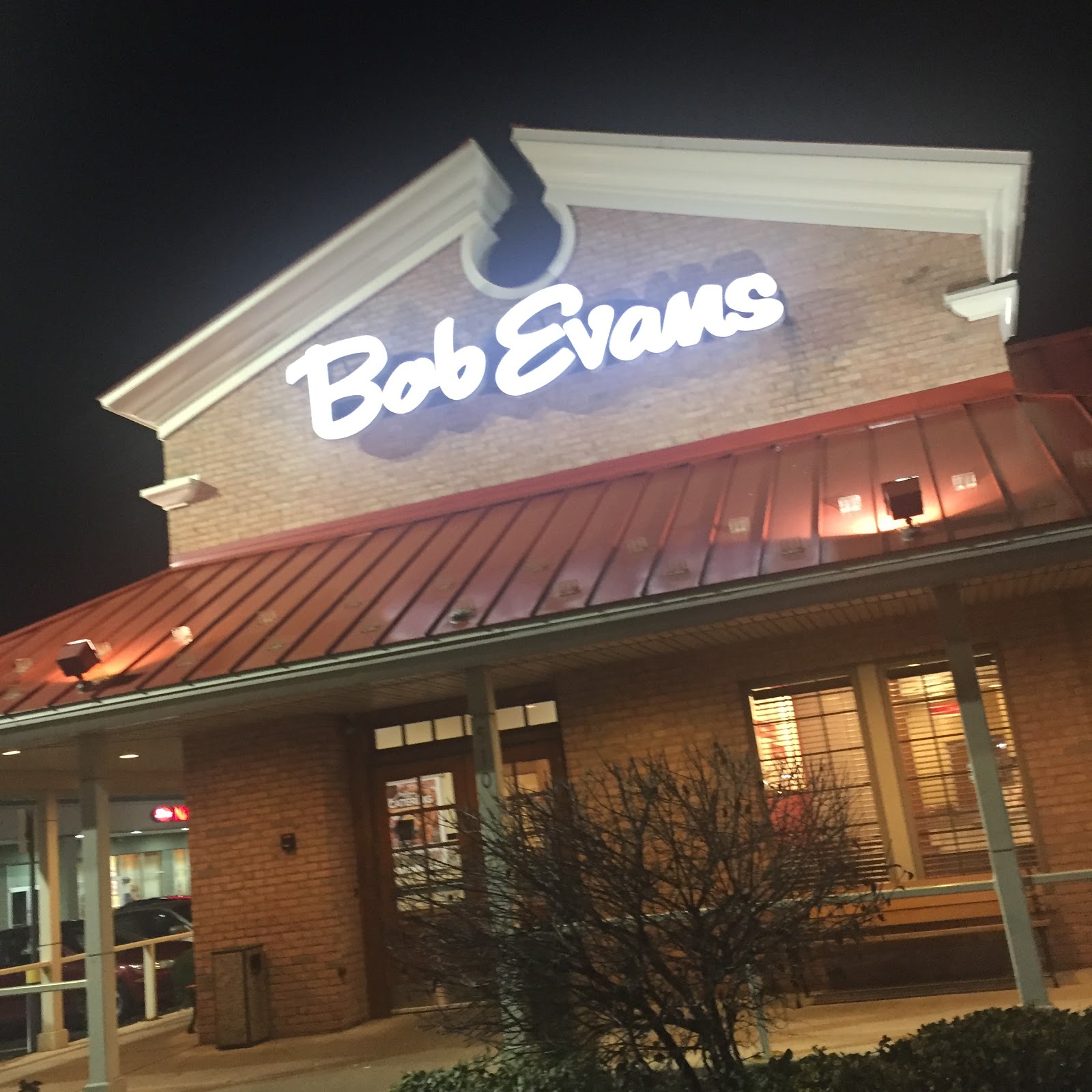 …Bob Evans – you think of BREAKFAST!!!! Finally I was going to get to have – BRINNER – it's the Breakfast 4 Dinner short name – so my high school buddy told me. (Thanks Mike)
I knew right away – I wanted eggs AND pancakes. I mean – that's cool right? If I'm going for breakfast, I might as well go all out! The Farmer's Choice Breakfast had everything – choice of crepe, hotcakes or French toast, two eggs, choice of hash browns, home fries or grits and choice of sausage, bacon or ham – all that for $8.99! Sign me up!
Poor hubby is allergic to eggs – so he went for the Classic but swapped out a cup of gravy for the eggs. I think he made out as the winner in that deal! The classic comes with your choice of hotcakes, French toast or biscuits, two eggs and your choice of bacon, sausage or ham.
We are a biscuits and gravy pair if there every was one and these Buttermilk Biscuits are baked fresh every day! On my last visit I sat at the diner bar and there was a continuous supply of fresh baked biscuits and rolls that kept flowing from the kitchen. I love when they're light, flaky and just have that slight salty flavor on top.
Luckily with a cup of gravy there was enough for me to try. I'm typically a big fan of the white gravy but Bob Evans is always fantastic – it's thick, creamy, salty and meaty! Yum!
My breakfast came out and I was instantly drooling! I'm kind of obsessed with over-easy eggs. I also got a side of white toast because I MUST have toast to put my egg on – I don't know why – but literally I can't eat an egg without toast. Bob Evans uses fresh-cracked eggs (no funky forms from them) and they're super fresh and collected daily from Midwestern farms.
I went for sausage links – I'm so particular here – but basically I only like my bacon – I like it underdone – so when I'm out I always get sausage. Secondly – we all know links over patties – right? Bob Evans is great because it's their original recipe and they're never frozen – so bomb diggity!
And then my hashbrowns – I get them one of two ways – topped with melty cheese or drenched in syrup! My mom always ate syrup on her hashbrowns – I have no idea why but if you haven't tried it – DO IT NOW! Or do what I did – get the cheese on top – then add syrup too. Bhahah!
And since hotcakes were an option – I went for it! See a coworker talked about making blueberry pancakes for his former coworkers – I totes felt gipped! I mean – am I not worthy of his hotcakes? (That sounds dirty – sorry.) Well back to the cakes – so all I've been thinking about all week were blueberries!
Thankfully – Bob Evans lets you add stuff to their already good hotcakes! You can add cinnamon chips, chocolate chips or my beloved blueberries. And let me tell you – when they put blueberries in – THEY PUT BLUEBERRIES IN! These were chock full – it was so good!
And – although I'm not a coffee fan – they have new Breakfast Blend Coffees and a signature Harvest Roast. Plus they have tons of those flavored creamers always on the table!
They also have new Apple Cinnamon Griddled Breakfasts! You can get the apple cinnamon accouterments including thick sliced cinnamon apples, baked streusel crumble, cream cheese icing, powdered sugar and whipped topping atop your choice of Brioche French toast, Hotcakes, Crepes or Waffles!
I went back and tried the French Toast and typically I'm a purist and stick with just syrup but the apples were pretty great! I actually loved the apples and was dipping them in the whipped topping!
So I tried just about everything Bob Evans has for breakfast – right? Nope – they have crepes & skillets & omelets too! I hope you enjoy your ventures to
Bob Evans
for breakfast, brunch or BRINNER!