Recently I was invited to have lunch at
Brio Tuscan Grille
and try out their new menu items and wanted to share them with you!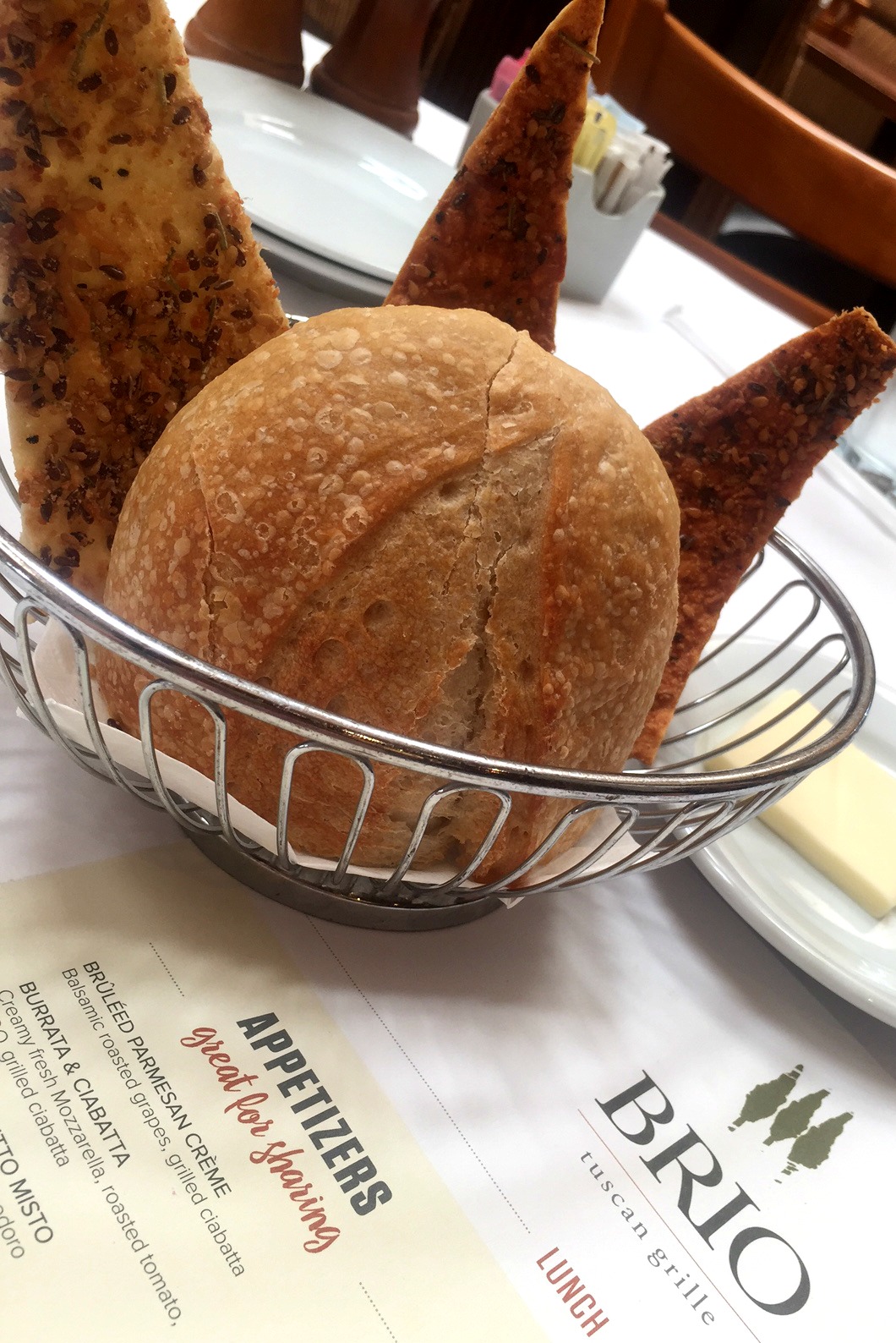 We started out with fresh bread and softened butter – always a good thing for me. The bread was great – crunch on the outside and soft on the inside.
We decided to just order their new items and share – first up was the Chef's Seasonal Bruschetta ($11.95). Today it was proscuitto, carmelized onion and asparagus – it was also delicious! There was a guy behind us that immediately ordered it after seeing our plate! This was very very good but I would say it's a sharable item – it's very rich.
The next item we HAD to try – because it was super fun to say – was Burrata & Ciabatta ($10.95). This was perfection from the get-go – with toasted ciabatta bread, roasted tomato marinara and creamy fresh Mozzarella Burrata.
For those of you that aren't familiar with Burrata – here's the difference: Fresh mozzarella is a semi-soft Italian cheese made from cow or buffalo milk. Burrata cheese takes the mozzarella one step further – it's mozzarella that's formed into a pouch and then filled with soft, stringy curd and cream.
What that means – when you cut into this – an ooey gooey deliciousness falls out!
Layer that up – ciabatta, soft & creamy burrata and then topped with roasted tomato marinara. The acidity of the tomato with the soft melty creamy cheese – oh man. It was delicious and I mean that. I really wish I had some of that in front of me right now cuz I'm starving!
After the appetizers, we decided to share the Short Rib & White Cheddar Sandwich ($13.95). The sandwich is served open face with carmelized onions, arugula and a side of house-made chips. I'm a huge fan of short ribs – pretty much if it's on the menu – I'm ordering it. They split this into two plates for us – which was nice.
We also got a couple of sides to try – the first was Creamed Spinach & Kale. I'm not a huge spinach fan and I can't stand kale but this stuff was delicious! Of course when you add cream and cheese – it pretty much always makes things better. We killed this side between the two of us – I could go back for that every day! I can't believe I LIKED KALE!?!
On the other hand – I love Brussels Sprouts – so I thought the Maple Balsamic Brussels Sprouts would be a slam dunk – with applewood bacon, capers, pecans and Parmesano Reggiano. Unfortunately the sprouts were a little too raw for our tastes and the bacon was overdone – it just didn't do it for us.
We decided to share a dessert – and ended with a Flourless Chocolate Torte ($6.95). This was served with Marcona almonds, EVOO and a side of olive oil gelato. This fell short for both of us – the torte was good but the olive oil gelato and EVOO sprinkling – just didn't work. I normally like a little savory with a little sweet but I didn't dig this one.
Why Should You Go?
There were some highlights that were truly amazing – that Burrata & Ciabatta was so good – I could just have that all day long – with a side of the creamed spinach and kale – so delicious. I would definitely go back and enjoy it all over again!