Oh how the masses flock when a new chain restaurant opens!
Cheddar's
opened up a location at Northgate Mall in August and it's been PACKED ever since! There is also a Cheddar's in Florence – but that's way to far for us NorthWest siders!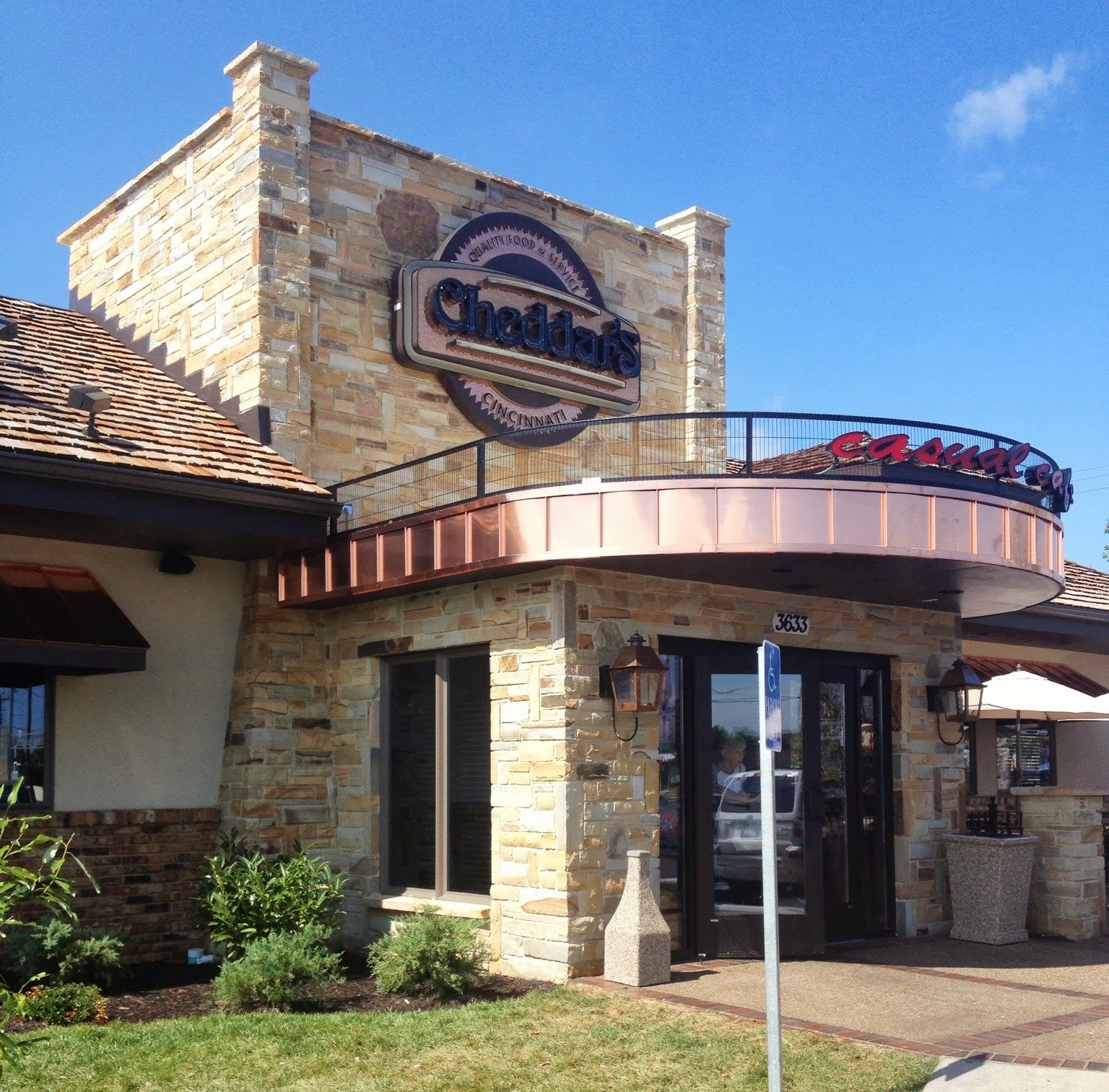 It's separate from the mall but in the parking lot next to Fridays. There is also a newly opened Longhorn Steakhouse about 30 seconds away.
Larry was pretty hungry – so the amount of food here is going to seem ridiculous! First up was their honey butter croissants (3 for $2.49). These are freshly baked and very flaky. I didn't love the honey butter – they were too sticky – I would have preferred just regular old butter.
Larry also decided he needed mozzarella sticks ($6.79). After ordering and having two bites – we're pretty sure there was some egg in these – but it was a small amount that Larry decided he could tolerate. The ranch at Cheddars is awesome – I didn't even bother trying the marinara. 🙂 I do prefer batter on my sticks to breading but for breading – these were good.
I also (for some craziness) decided I wanted a cup of soup??!! I got a cup of baked potato soup ($2.99) – which I'm a bit of a nit-picky connoisseur of. I like it to be white – not brown – basically made with milk not broth. This was not good. It was made with cream of chicken soup (I'm guessing) and just tasted bad!!! I freely admit – I'm super picky about my baked potato soup – but I definitely would not reco this.
Then I decided to have a salad (bizarro world apparently) and got the "New" BBQ Chicken Salad ($8.29) with lettuce, bbq chicken, roasted corn, grape tomatoes, two cheeses, bacon and onion straws. It's also tossed with BBQ Ranch. I have mixed feelings about this salad…
The Good: the onion straws are really unique in their shape/texture and the "bbq chicken" is almost roasted chicken that's been shaved and then bbq sauce drizzled on top. I really like the way they cut up the chicken – very different than shredded or diced. It's also HUGE.
The Bad: I don't like getting a salad with dressing tossed in – I had to really dig into the salad to even figure out if there was dressing on it. The chicken was cold and a little dry – so while I liked the way it was cut – it would have been better warm.
The Net-Net: I wouldn't order it again.
Larry got Baby Back Ribs & Shrimp ($13.79) which also came with two sides – he got broccoli and red beans & rice (below). The shrimp was well-seasoned and really tasty! I tried one bite of the ribs and they were tender and the sauce was thick but still a little sweet. Good choice.
The red beans & rice were really good. I would definitely order these again – a slight kick to them but really just the flavor was spot on. I liked this a lot. Although – after the amount of food we had – we didn't finish them…Oye – we were full!
Why Should You Go:
I think Cheddar's is pretty much in the same bucket with Fridays, Applebees and the rest. It's fine and I'm sure we'll go back because it's so close to the house – but definitely not until it calms down a bit. I'm not waiting 45 minutes for it.