Recently I got an email asking if I would visit the brand new
Cheddars
in Cedar Rapids, IA. Well I would love to – if I lived in Cedar Rapids! How did they get to me? Well – I visit there a lot and am on Urbanspoon in both Cedar Rapids and Cincinnati. 🙂
Luckily – I have friends in Cedar Rapids – so I sent out my freelance staff (my buddy Tanner – a very persnickety 11 year old – and his mom) to check it out for me!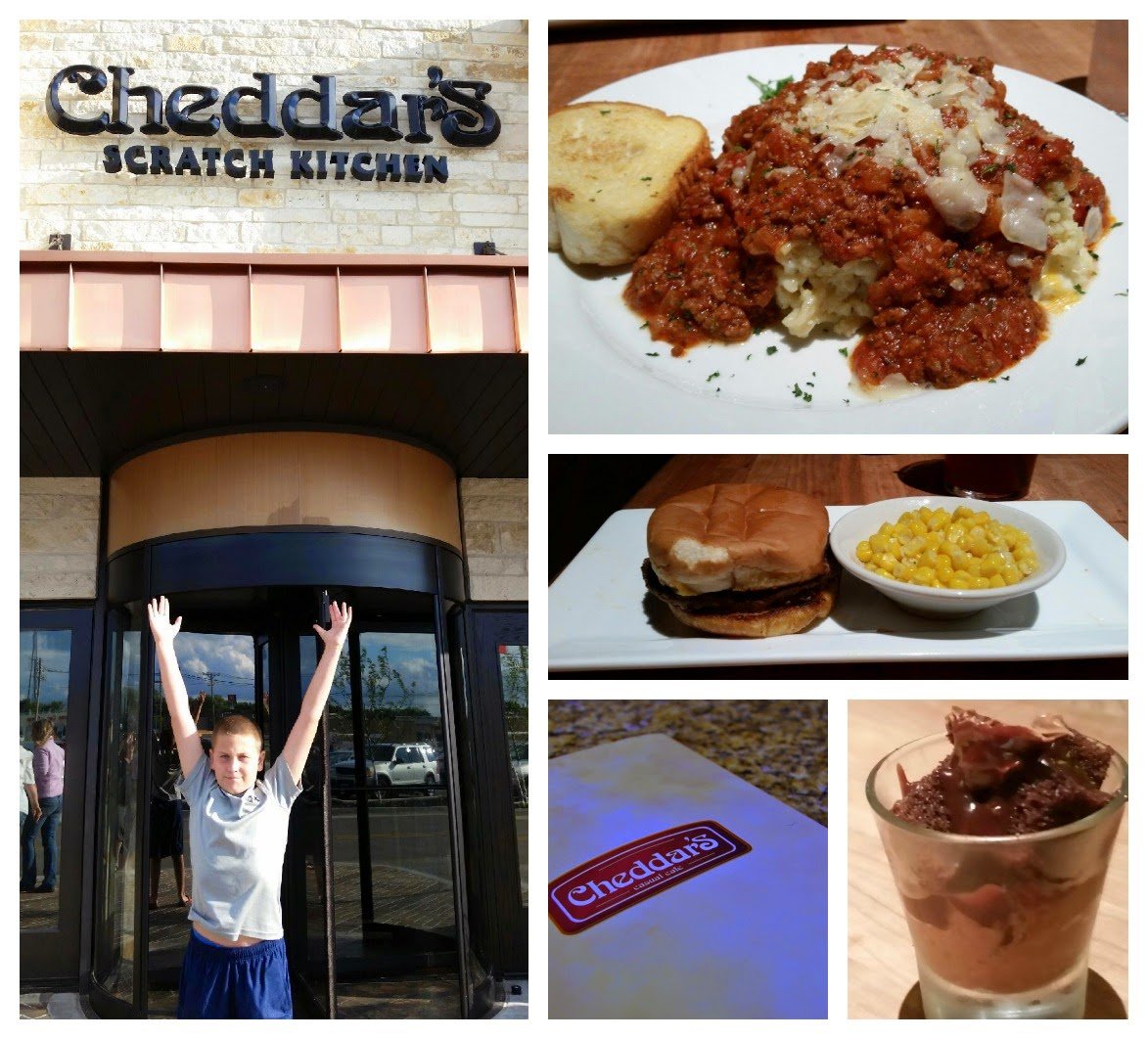 The new Cheddars is in the Lindale Mall – and yes – that's my freelancer in front of the building 🙂
Tanner had a burger and off-the-cob buttered corn ($5.29) – which he texted me a pic and said, "YUM!" After he finished that – he went for the Chocolate Trifle Dessert Mini ($1.49). He had a good dinner! (I wish I'd noticed the Dessert Minis!) Here's the full menu for Cedar Rapids.
Now Amy's dinner was what interested me – how have I not seen this on the menu before?! It's called Baked Spasagna® ($8.99) and consists of spaghetti layered with cheeses and spices then baked. Topped with choice of meat or marinara sauce. Served with garlic bread. Uh – yum! Amy said it was DELICIOUS! I guess I know what I'm getting on my next visit. :-)All in all – Amy & Tanner really enjoyed their visit to Cheddar's and said they'll definitely be back. Any new place in CR gets a lot of attention – so the lines are a bit long right now – so if you're wanting to go – check it out at an off time or a week night for a shorter wait.
The generous folks at Cheddar's allowed me a return visit to their newest Cincinnati location as well, It's actually just up the street from me outside Northgate Mall on Colerain.
I really like the feel of the restaurant – it's upscale but not too fancy. We actually sat in the bar area because – like Cedar Rapids – the wait can be hefty. That said – so many people don't even think to sit in the bar – and there were plenty of seats there! So we bellied up next to their big fish tank and had dinner.
Larry had the lunch portion of freshwater catfish ($7.99) which was plenty for a light dinner. He liked it – and he's not usually one to order catfish. It came with rice & two sides. He also said the carrots were the best he'd had (he ate vegetables – wha????)
I went for the lunch portion of the bourbon glazed salmon (lunch – $8.79, dinner – $11.49). This also came with rice & two sides. The mac & cheese was really good but the broccoli wasn't cooked enough for me – it was barely more than raw. The salmon was REALLY good.
We've been to Cheddar's before and will definitely be back – my husband loves it. I think it's on par with the other restaurants of its kind.
Disclosure: Both meals were provided by Cheddars in exchange for this post. All opinions are my own.