Oh
Gold Star Chili
– I love you so. Yeah – that's right – in the great Skyline vs Gold Star debate – I'm a Gold Star girl. I used to not care – but then my husband started getting me to eat Gold Star and now – it's by far my favorite.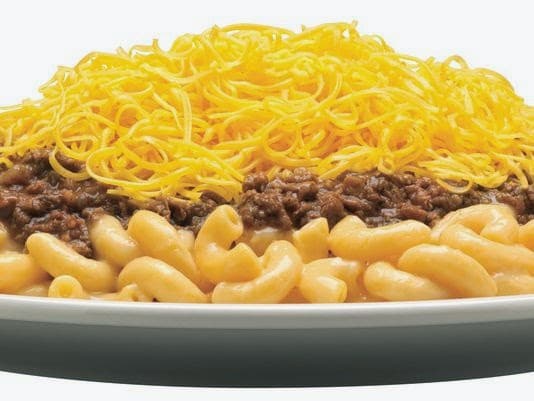 They just came out with their Gold Star Chili Mac & Cheese. I was pretty excited to try it. I love the coneys (the hot dogs are far superior to Skyline), love 3 ways and love love love the Gold Star Chili Nachos. Now alternatively – I love mac & cheese. So of course I should love the Gold Star Mac & Cheese! The photo above is their marketing photo of the delectable treat.
Well – this is what I got. Now it doesn't QUITE look like the picture. But in the end – the taste is what I care about. It tasted pretty good. I have to say the Mac & Cheese wasn't quite as good as what I was hoping for. It wasn't very thick and cheesy – it was almost a little watery. It was more like a 3-way over macaroni instead of spaghetti. I did like the flavor of the chili with the macaroni though.
I love Gold Star and will always choose it over Skyline. 🙂