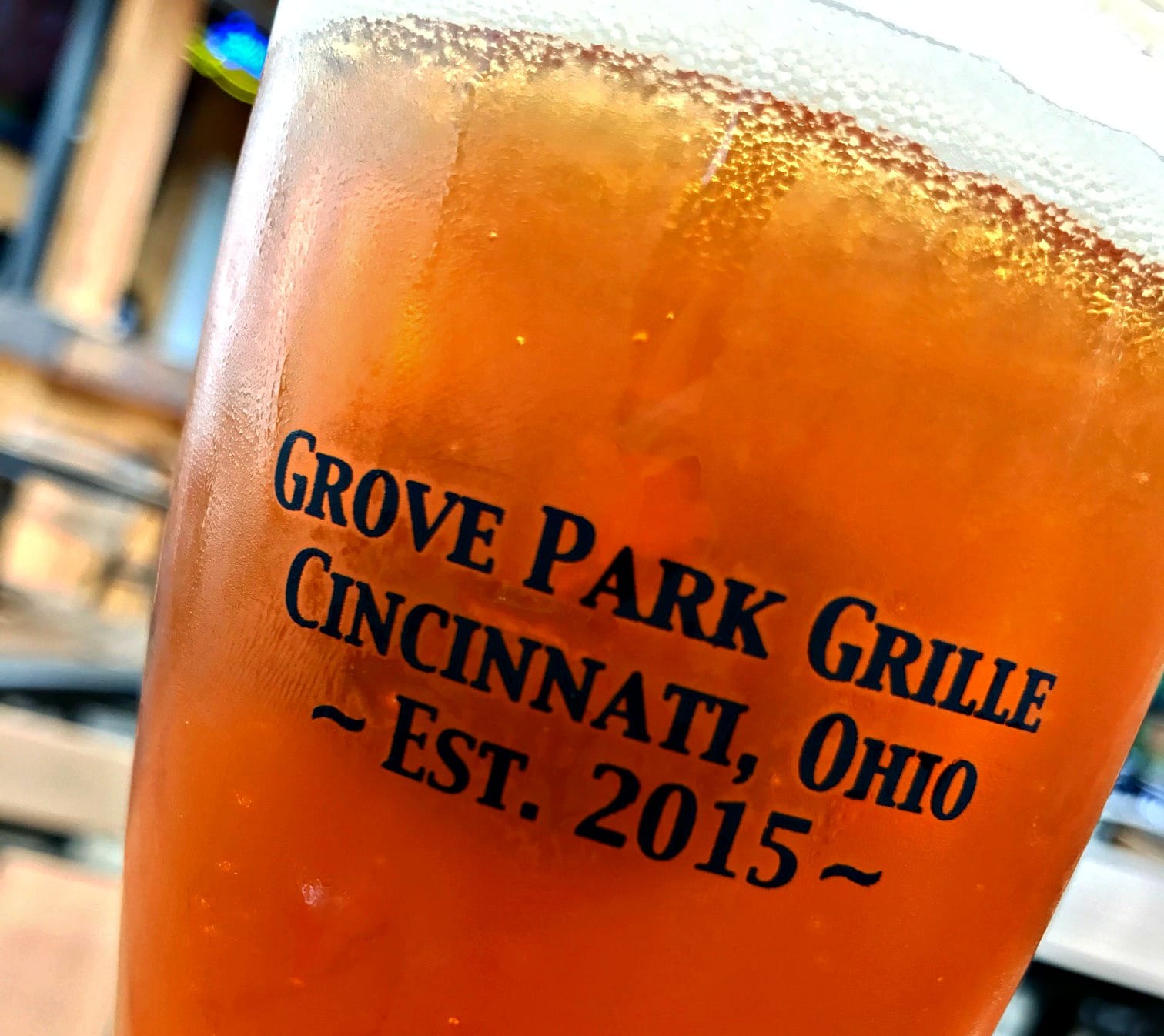 Grove Park Grille
on Kellogg has been a few things since my time in Cinci – when I first moved here there was a hotel in the back. There's also a dog park next door that I keep meaning to check out.
It's got a big parking lot and is near Coney Island. They've added on a deck to the side. Inside was pretty nice with a large bar area.
It was a nice day so we went for the deck. Admittedly though – once we got out there – it was a bit warm and there were a LOT of bugs. I'm not sure if it's because you're near the water – but it was annoying – tons of gnats. I would not sit on the deck again unless it was cooler weather.
I understand bugs outside are normal but I've sat on many patios/decks at restaurants on many a summer day and this was far worse. I've been to Ludlow Bromley Yacht Club and Pirates Cove dozens of times with nothing more than an errant fly.
Larry got the Reuben ($12.95) with House-made corned beef, sauerkraut, marble rye. He has to go sans sauce because of his egg allergy. It looked good and was filling. The corned beef wasn't too fatty and the bread was good. Grove Park states that everything is from scratch and I could believe that from our visit.
I got the Coleman's Farm Chicken Salad ($11.95/$8.95) – beer braised organic chicken salad with candied pecans, grilled romaine hearts, cherry tomatoes, roasted sweet corn relish, avocado, crisp crostini and apple cider vinaigrette.
I'm going to go on a limb and say this was the weirdest salad I've ever had. It's somewhat deconstructed and has a lot going on. I was thinking it was a salad with chicken – but once it showed up – realized it was chicken salad on a salad – so that's fine. But the extras like the dressing, tomatoes and avocado were just sitting around the plate. The grilled romaine went from completely cooked to raw from one end to the other. The dressing – while homemade – really wasn't necessary. I tried a bite and didn't love it so I just left it. The crostini was really my only real gripe – they were not at all crisp – it was like soggy day old bread. The chicken salad itself tasted really good and I liked it. It was creamy and savory and nothing wacky like grapes and apples.
All in all it wasn't a bad salad – the flavors were good – it was just a very odd presentation.
I'm pretty sure that was the half salad – because I decided to get the Parmesan Fingerling Potatoes ($5.95) as a side. These were fine but nothing amazing. They were crispy with a dash of salt and parm – they were fine – a little dry – but fine. I think these would be well served to have a sauce served with them.
Why Should You Go?
The food was pretty good and I like that they pride themselves on scratch cooking. I wouldn't recommend sitting on the deck until fall. It was fine but nothing I'm rushing back to.