My husband has been craving salad all the time lately – which is very unusual for him – he doesn't even like vegetables! But if he's asking for them – I'm good with it! So we headed to the
Panera
near our house to check it out…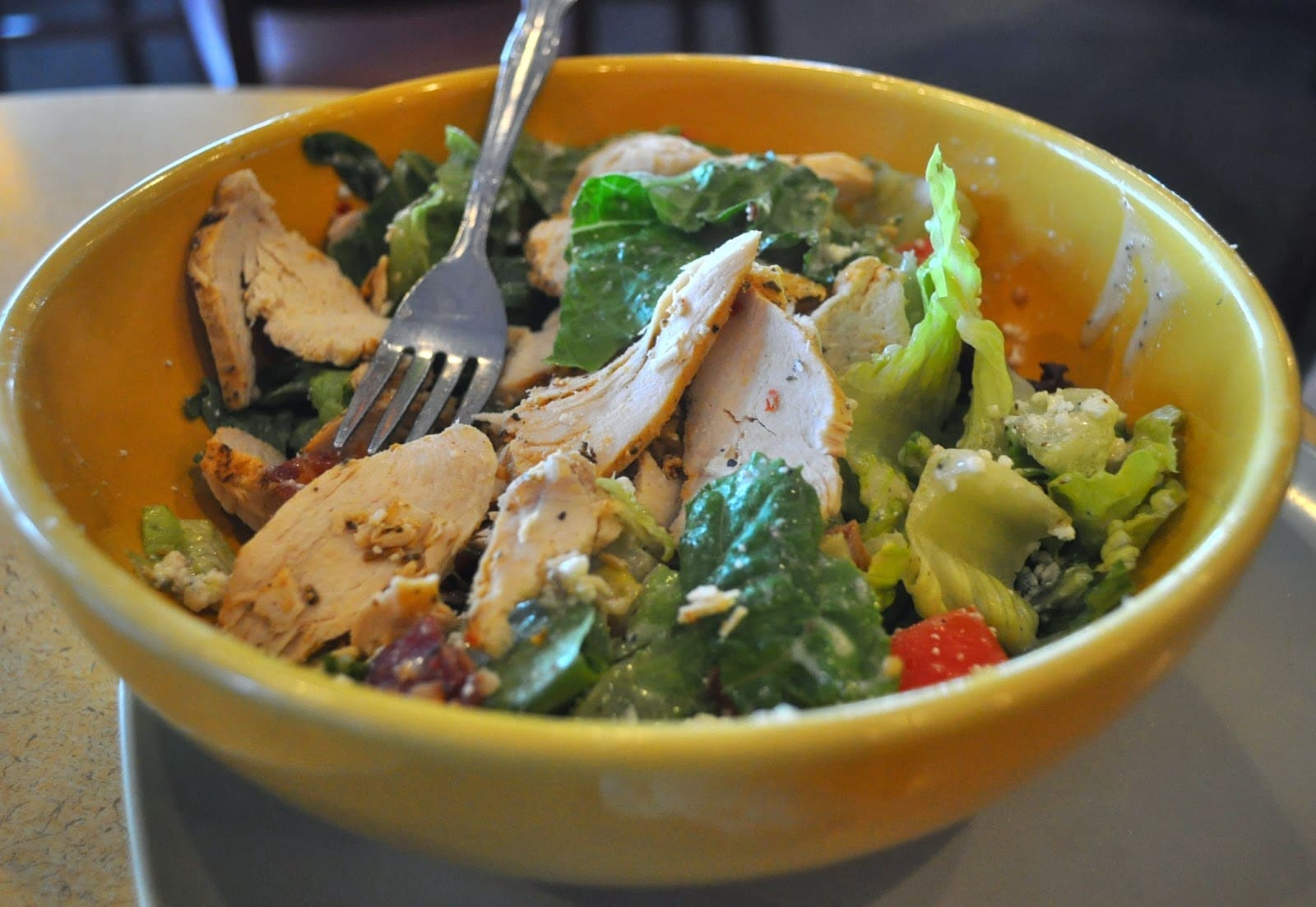 Larry got the Chicken Cobb Salad (minus egg). It was a good-lookin salad with all natural, antibiotic-free chicken, romaine, applewood-smoked bacon, Gorgonzola cheese and vine-ripened tomatoes tossed with their herb vinaigrette dressing.
He really liked this salad and commented how he liked that the chicken was lean and cooked well and not dry. Once he was finished – there were a few bites left and I tried it – and loved it! I'm not too big of a fan of Gorgonzola but it was really good. I would love it with the hard boiled egg and avocado.
I decided to go for soup and sandwich – for the soup I bucked tradition (broccoli cheese) and went for the Vegetarian Summer Corn Chowder with a side of bread. The chowder was packed with roasted corn, skin-on red potatoes in a sweet cream, poblano pepper and fresh cilantro soup.
The soup was okay – I like a soup with chunks of things – so it was good on that front but other than that – meh – I don't think I would get it again. I do like that they have multiple vegetarian options.
For my sandwich – I decided to try their new BBQ Chicken Flatbread. I always like to try new things and they have a few flatbread sandwiches (Mediterranean, Thai Chicken and Southwestern are the others) – so of course – I went for it.The BBQ Chicken Flatbread had antibiotic-free, smoked, pulled chicken, fried onions, mozzarella, smoked gouda, fresh spinach, cilantro & bbq sauce on a fresh baked flatbread.
This sandwich was DELICIOUS! I loved it and would get it again in a hot minute! It was just the right balance of everything – so good – of course now I'm hungry for it again! If you're there – give this one a shot for sure!
Why Should You Go? Panera is a pretty standard option for folks any more – my favorites are the breakfast souffles, the cinnamon crunch bagel, broccoli cheese soup and now – the BBQ Chicken Flatbread!
Disclosure: I was provided a gift card to Panera but all opinions are my own.
Around The Web
'); script.type = 'text/javascript'; script.src = 'http://widget.crowdignite.com/widgets/31877?v=2&_ci_wid=_CI_widget_'+_CI.counter; script.async = true; ref.parentNode.insertBefore(script, ref); })();