Sometimes I just get a hankering for junk food. Really really bad junk food. And then you throw a Cherry Limeade on top and I'm in heaven.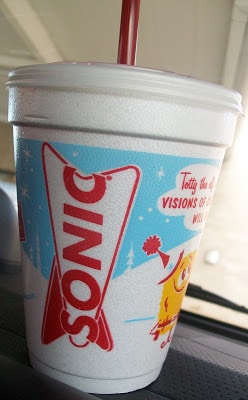 Welcome to Sonic Drive-In! It's like the old drive-in style – you pull up, order and then young hussies on roller skates (not roller blades – actual 4 wheeled skates!) bring your food with a smile!
When you pull up there is a massive menu board with all sorts of junk food to choose from. Combos, drinks, etc… It's cheap too…
The onion rings were just okay – there was an after taste that I think made me sick later…so I probably wouldn't get them again.
Corn dog – how I love thee! This was a good one – with a touch of sweetness to the batter. Made me wanna go buy some for home!
This tater tot – chili – cheese mess was delicious – although it could also be the culprit for my upset stomach later on. Larry said "That looks like a hot mess!" And yes it was!
He got a burger and I must say – it was damn good – especially for a fast food burger. I stole a couple of bites and it was HUGE! Like – holy cow this thing has got to weigh 2 pounds – huge!!!! Definitely on par (better if you ask me) than anything from McD or BK.
I love the Cherry Limeade – it's like Cherry juice and Sprite with lime – nothing fancy – but it's so good!
Any Sonic fans out there???
p.s. only giving 2.5 cuz I was sick to my stomach after a couple of hours…chili cheese tots or onion rings – had to be it. couldn't be my beloved corn dog!