This post is sponsored by the Ohio Pork Council. All opinions are my own.
21 Meals You Can Make in 30 Minutes or Less!
This week's meal plan is a little different – it's dedicated to my favorite and most delicious friend – the pig! Pork is such a great option for quick meals with lots of flavor! I've got 21 Meals you can make in 30 minutes or less!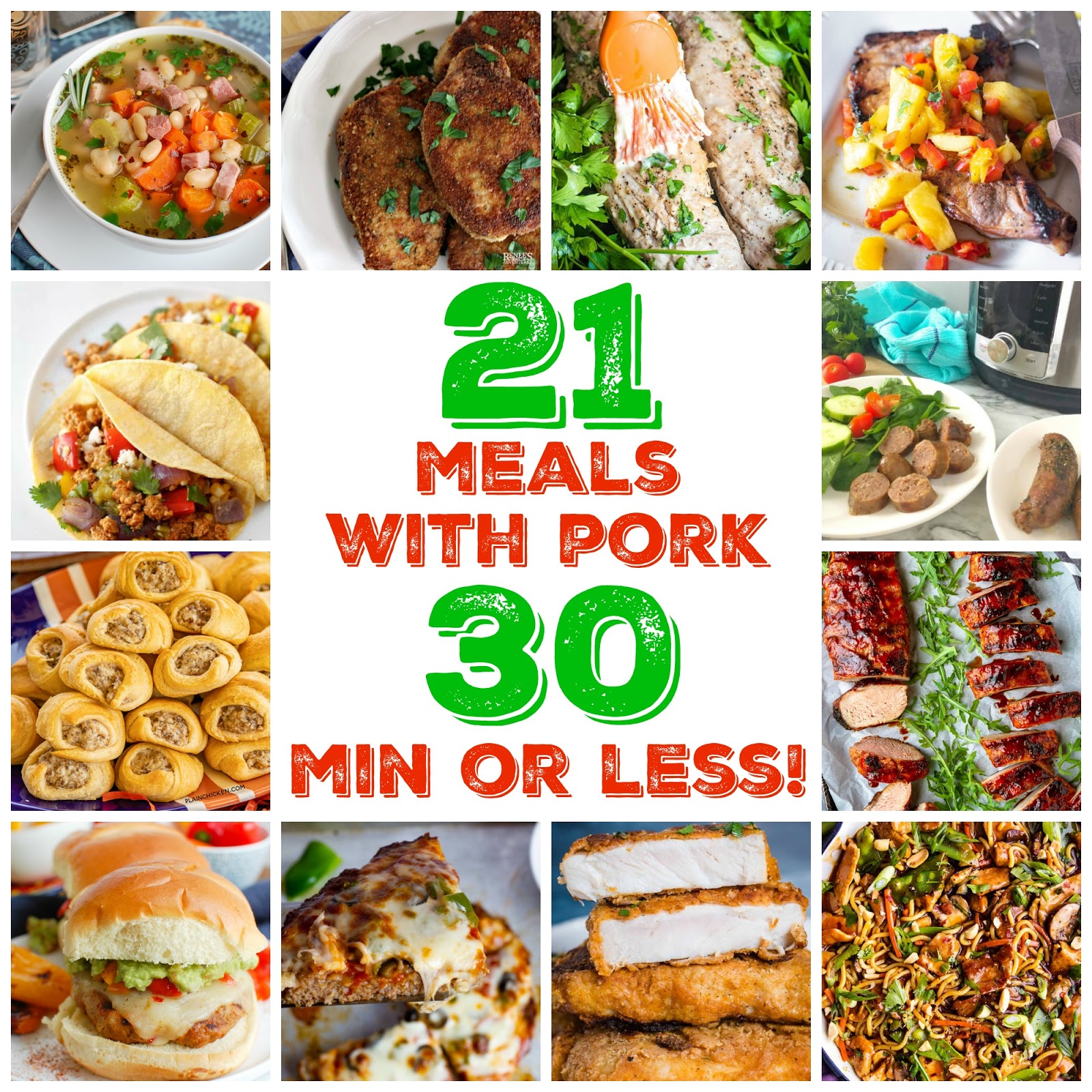 Click in for these delicious recipes and be sure to tell me your favorites! This is more than enough for your week of meals!
Earlier this week, I hosted a dinner for some of my favorite bloggers and we were treated to tons of delicious pork from Sweets & Meats – a local barbecue restaurant here in Cincinnati. (I have a copycat of their Sweet Potato Casserole on my site too!)


We had pulled pork, dry rubbed ribs (I prefer them without sauce – so amazing!), pork loin and pork chops! All of these are available at their restaurant in Mt. Washington. It's a takeout spot – so perfect to stop by on your way home after work – or on a weekend!


All of these delicious ways to serve pork got me thinking – how many ways can I find to share with you!
Quick & Easy Pork Chop Recipes
The key to cooking pork chops correctly is using a meat thermometer! Pork chops are safe at 145 – I like to take them off between 135-140 degrees and let them rest a few minutes and they'll come up to 145 and then you're assured they're perfect!
Quick & Easy Pork Loin Recipes
Did you know that Pork Loin (especially the tenderloin) is like the Ribeye of the Pig? Best part is – it's also one of the most affordable cuts of pork! You can often buy it for just $1.49 a pound!!! What the what???
Instant Pot Pork Tenderloin with Pan Sauce
Quick & Easy Ground Pork & Sausage Recipes
Ground Pork and Sausage are far more versatile than you think! If you have a recipe that you use hamburger or ground turkey in – you can use ground pork or pork sausage! Try it sometime – I bet you'll love the recipe even more!
Quick & Easy Bacon & Ham Recipes
Now – who doesn't love Bacon and Ham? Did you also know that pork belly is just really bacon that isn't sliced?! Now you love pork belly too!
We really enjoyed our blogger dinner. Thanks so much to everyone for attending and sharing in their love of pork! And thanks to Sweets & Meats for the amazing food!!! (I now love Collard Greens – who knew?!)