Sometimes I need a quick and easy dinner – whether I got home later – or just forgot to take something out – I just need food in my belly quick! These air fryer chicken burritos are in for the clutch any night of the week!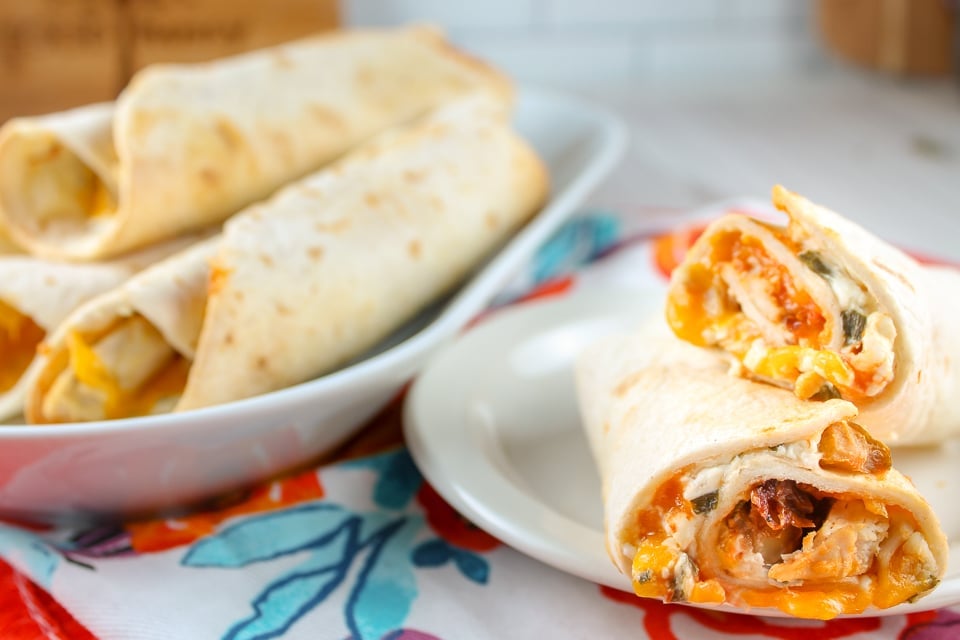 You'll have dinner on the table in 10 minutes with these burritos! And the best part is – everybody can customize them! If you like chicken but your kids don't – let them have just cheese & salsa! Let's get started!
How do you make burritos in the air fryer?
Anybody can pop a frozen burrito in the air fryer – but let's make our own! They'll be healthier and taste better. I lay out the small tortilla and spread on cream cheese (that's the glue to hold them shut). Then top with chicken, cheese and salsa! Roll and air fry.
There are a few tips to making a burrito that will stay together:
– Spread the cream cheese on the whole tortilla
– Put your toppings on 2/3 of the tortilla – leave one edge with cream cheese. That way when you roll it – the cream cheese edge serves as the glue to hold the burrito together
– Go light on the toppings – if you fill it too much – it's too hard to roll
– Don't forget the sauce! You want your burritos to be juicy and cheesy – be sure to put a little salsa in them too
How do you make an easy dipping sauce?
The easiest sauce I make is salsa & sour cream! Just mix them together in a bowl – it's the best dip you'll have! It's great on chips, nachos and these air fryer burritos!
I love these Air Fryer Chicken Burritos – they're quick and easy and tasty! Don't miss these other tasty air fryer recipes I've created – here are a few of my faves:


– Air Fryer Sausage & Peppers
– Air Fryer Breaded Pork Tenderloin Sandwich
– Air Fryer Bacon Wrapped Jalapeno Popper Shrimp

You can find all of them in my Air Fryer Recipes section or in my Air Fryer Facebook group!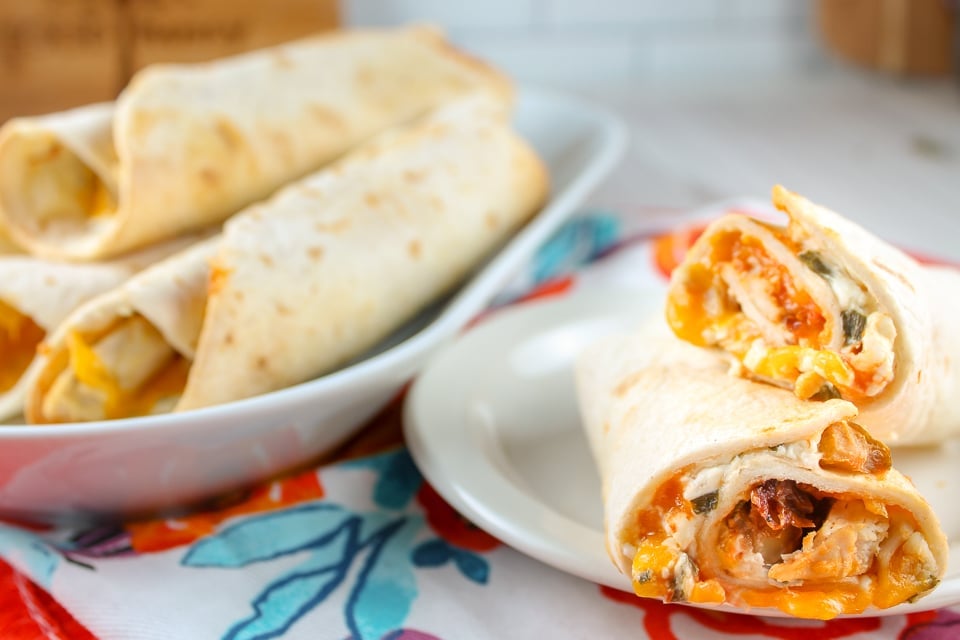 Air Fryer Chicken Burritos
Yield:
4 rolls (2 per person)
prep time: 5 M
cook time: 5 M
total time: 10 M
Whenever I'm at a lack for what to make for dinner, my air fryer is my go-to choice. These air fryer chicken burritos are so easy to make! And if you don't have chicken – you can swap another meat, add veggies or just have them with cheese & salsa! They're quick, easy and tasty no matter what your choice!
ingredients:
4 small 6" tortilla
1/2 cup cream cheese
1 cup shredded rotisserie chicken
1/2 cup shredded cheese
1/2 cup salsa
1/4 cup sour cream
1/4 cup salsa
instructions:
How to cook Air Fryer Chicken Burritos
Lay out tortilla
Spread 1-2 tbsp cream cheese across entire tortilla
Spread out 1-2 tbsp salsa across 2/3 of tortilla – leave the cream cheese edge
Spread out 1-2 tbsp chicken on salsa
Top with 1-2 tbsp shredded cheese
Roll tortilla and use cream cheese as a "glue" to seal the burrito
Spritz with cooking spray
Air fry at 350 for 5 minutes
i can do 2 at a time in my square air fryer basket – do not stack
While rolls are air frying, mix together salsa & sour cream for dipping sauce