Recently I was at the Holiday Market in town and came across a jelly company from right here in Ohio. I tasted a few of their jams and jellies and, surprisingly, the pepper jelly was my favorite! I didn't realize I liked it!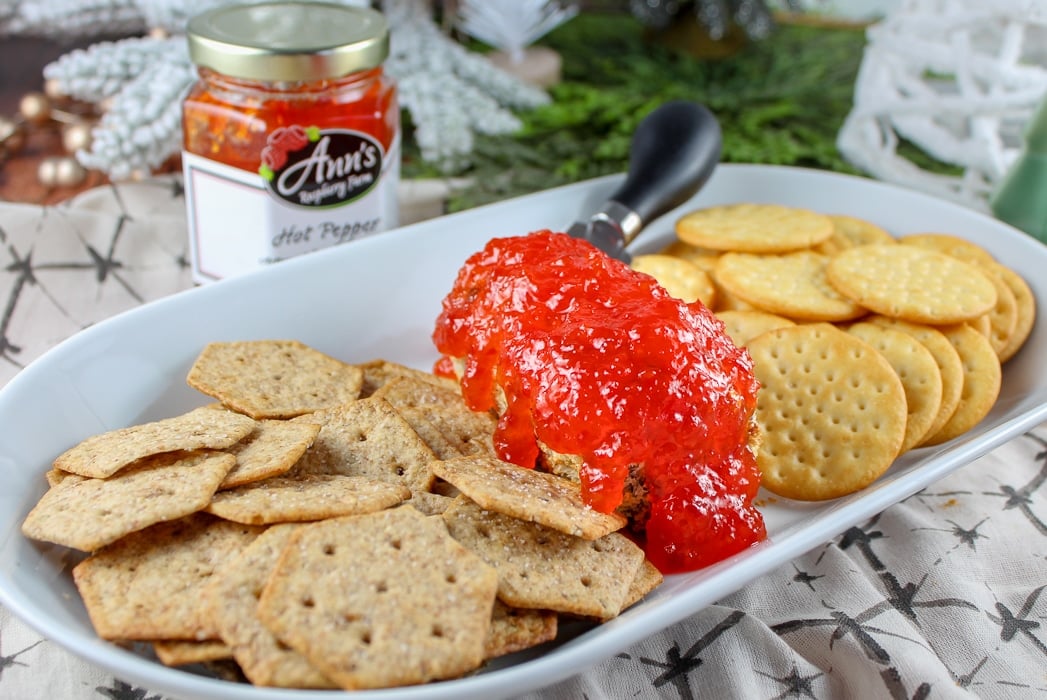 After tasting it – I bought a jar and then a light bulb went off – I KNEW what I was going to make! I've had those
pepper jelly appetizers at parties – but I wanted to change it up! And wow was it a tasty decision!
Instead of the traditional cream cheese – I went for goat cheese! And I wanted it warm so I knew I had to get my favorite appliance – the air fryer – involved! The nice thing is – this doesn't use the whole jar – so now I need to find more recipes using pepper jelly!


The booth I found was Ann's Raspberry Farm in Fredericktown, OH! They're north of Columbus towards Mansfield. They grow all their own fruit and vegetables for their products and they take them from seed to jar – pretty cool!
How do you air fry goat cheese?
So making deep fried goat cheese for a simple party dip is just that – SIMPLE! I did some regular cheese curds in the air fryer and they were super tricky! But I learned a bit and goat cheese actually stays together and doesn't get too melty!


First though – freeze your goat cheese for about 20 minutes – if you can. If you have a pop-in guest – it's fine – to go from the fridge – but I like to freeze it just to make sure it's solid. Then you dip in flour, egg and panko! Then right into the air fryer!


I used a cranberry cinnamon goat cheese I found at Meijer (my love for Shipt) but you can easily use the plain goat cheese.
I loved this crispy goat cheese recipe because it added a whole other layer of texture to this dish! You've got the creaminess of the goat cheese, the fruitiness of the cranberry coating, the crunch from the panko then the sweet & spicy of the pepper jelly.


This dip is really tasty and you can serve it with any crackers or baguettes. I used Wheat Thins and Toasteds and have to say – I think I liked the wheat things better!
Easy Air Fryer Appetizers
I have other delicious air fryer appetizer recipes that you and your friends & family are sure love. My favorite is the Bacon Wrapped Jalapeno Popper Shrimp – man oh man – let me tell you – there you want to make a ton of the them – because you're going to eat half before anybody shows up! My Air Fryer Avocado Fries are another popular one – and they have a secret ingredient! My Air Fryer Fried Deviled Eggs are pretty fantastic as well.
You can find all of them in my Air Fryer Recipes section or in my Air Fryer Facebook group!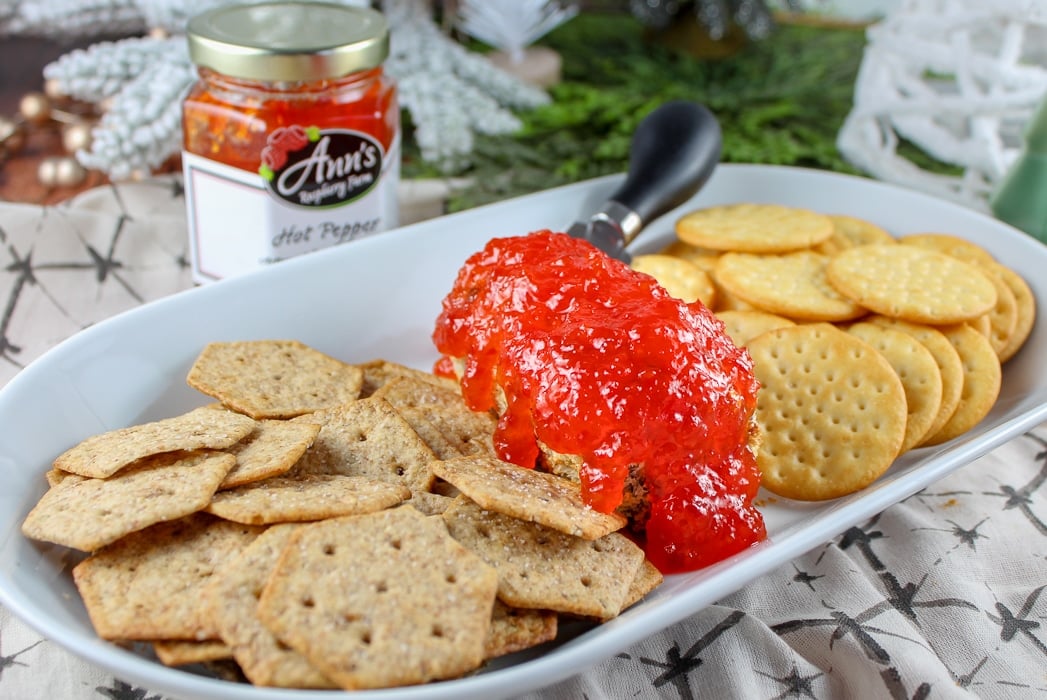 Air Fryer Goat Cheese & Pepper Jelly Appetizer
prep time: 30 M
cook time: 6 M
total time: 36 M
Last minute quick holiday appetizers are the best! You never know when someone is going to pop in. Just keep some goat cheese and pepper jelly in the house and you'll always be ready! The goat cheese is warm and creamy and the pepper jelly is fruity and zingy! You and your friends will love it!
ingredients:
4 ounces of goat cheese
1 egg – beaten
3 TBS flour
1/3 cup panko bread crumbs
1/2 jar of Pepper Jelly
instructions:
How to cook Air Fryer Goat Cheese & Pepper Jelly Appetizer
Note: You're going to want to air fry this right before your guests arrive. It's a great quick appetizer that everyone will love!
Place your log of goat cheese into the freezer for 20-30 minutes.
Make a dredging station by setting up three flat bowls: one with the flour, one with the egg (beaten), and one with the panko bread crumbs – in that order.
Remove the goat cheese from the freezer and dip into the flour, then the egg and then in the bread crumbs.
Cook the breaded goat cheese log for 6 minutes at 375°.
Remove the log of goat of goat cheese and lay on a plate
Spoon Pepper Jelly over the goat cheese and surround with crackers
Note: If you have a pop-in guest – you can skip the freezing – just air fry for 3-4 minutes
Recommended Products:
Philips XL Air Fryer
Cheese Knife Set
Cheese Board Set
Did you make this recipe?
Tag
@foodhussy
on instagram and hashtag it #foodhussyrecipe