Everybody knows I'm pretty air fryer obsessed – I do a new easy air fryer recipe every Friday. This week I got a good deal on a pound of green beans and decided to air fry them along with some steak! Sounds like a good dinner – right?!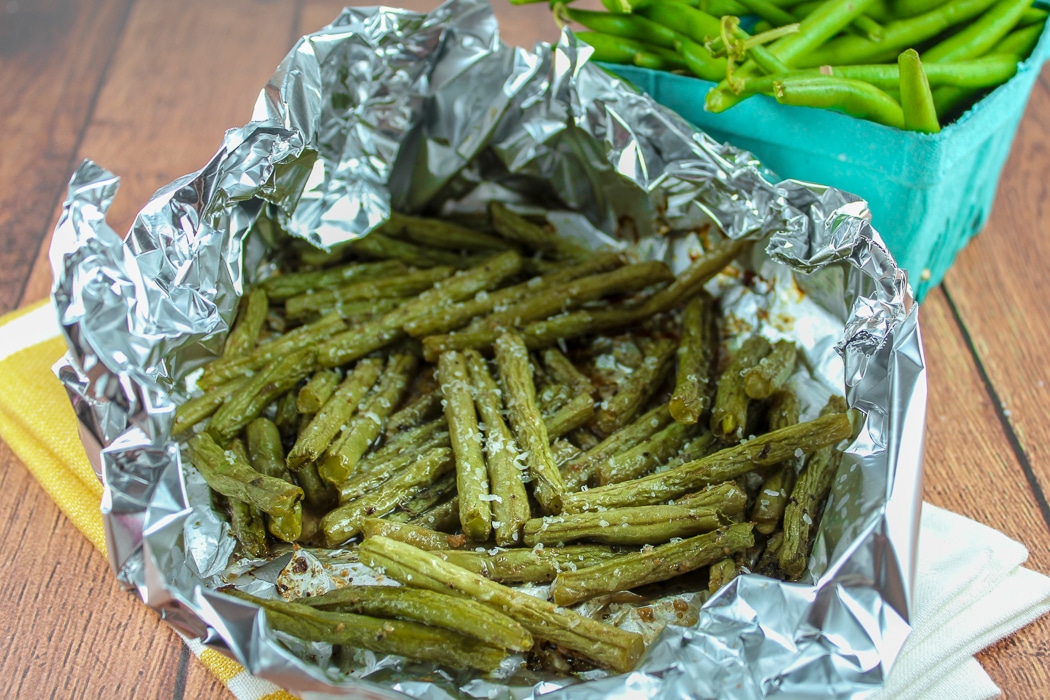 These green beans are great – they only take a few minutes to prep and ten minutes to cook. They're crunchy and a perfect quick side dish.
Can you air fry green beans?
Yes! There's actually a lot of ways to air fry them – you can bread them like I did these air fryer spicy zucchini fries. But I decided to just let the green beans shine and added a bit of Greek vinaigrette dressing and parmesan cheese to them and that's it.
How long to air fry green beans?
In this method, I made a bowl out of aluminum foil in the air fryer. Then i just added the green beans and Greek dressing. I air fried them for 10 minutes and they were definitely still crunchy and tasty! You can also then just pop your foil bowl out of the air fryer and take it right to the table.
Once the green beans were done – I pulled the "bowl" out of the air fryer and took it to the table. Then I grated a little parmesan cheese over top of the green beans just for a little smoky cheesy flavor.
Easy Air Fryer Recipes
I love my air fryer and have created quite a few super easy air fryer recipes that I hope you'll try! For veggies, my favorite is the Air Fryer Spicy Zucchini Fries! They're crunchy with a little spice to them. I also love easy and healthy main dishes – these Air Fryer Fish Tacos are the best!!! They're so quick and healthy – I make them all the time! And after eating healthy, you need a little dessert – so I created Air Fryer Sugar Donuts – oh man – they're my favorite!
Y

ou can find all of them in my Air Fryer Recipes section or in my Air Fryer Facebook group!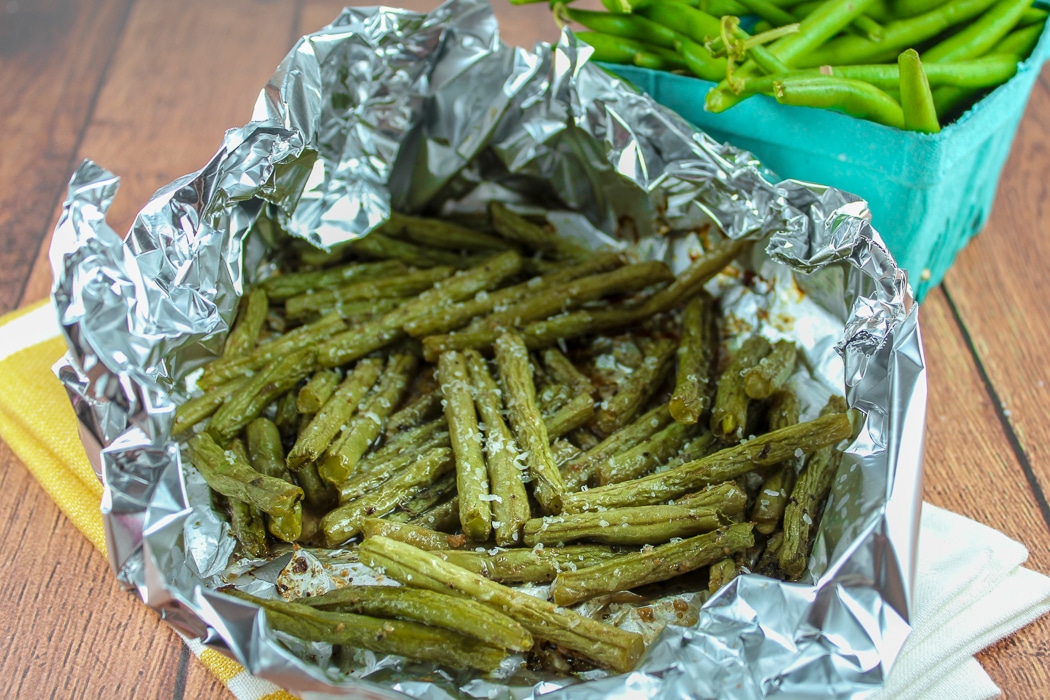 Air Fryer Italian Green Beans
prep time: 5 M
cook time: 10 M
total time: 15 M
Green Beans are a favorite vegetable in my house – they're crunchy and so easy! I like making as many things in my air fryer as I can and this was no exception – it made them even easier. I added just a couple of ingredients to zing them up. 😉
ingredients:
1/2 pound green beans, trimmed and halved
1/4 cup favorite balsamic or Italian dressing
parmesan cheese
coarse sea salt
instructions:
How to cook Air Fryer Italian Green Beans
create aluminum foil bowl in air fryer, poke a few holes around the "bowl" so the air can get through
place beans in foil bowl
pour dressing over top
air fry 10 minutes at 350, stirring halfway through
remove bowl and lightly grate fresh parmesan over beans and sprinkle with salt
Recommended Products:
Phillips XL Air Fryer
Serving Platter
Serving Forks
Did you make this recipe?
Tag
@foodhussy
on instagram and hashtag it #foodhussyrecipe