Air fryer hamburgers are super simple to make and there's absolutely no mess! I like simple burgers and these have just two ingredients to make a delicious burger every time.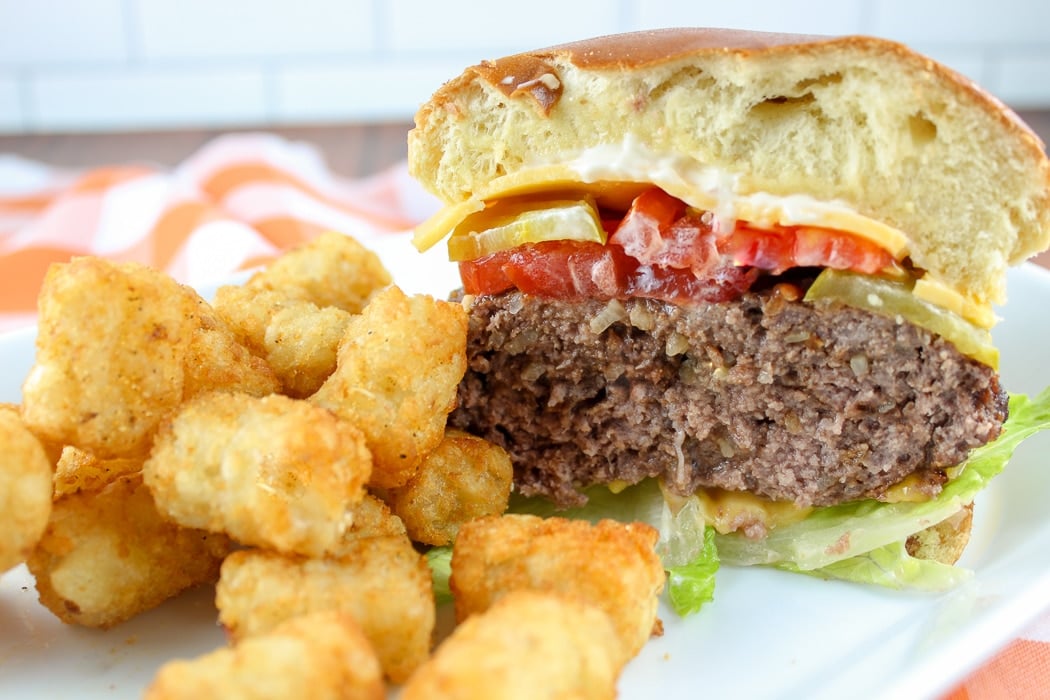 You'll be surprised how easy hamburgers in the air fryer are. The reason I use the air fryer is that it cooks EVENLY and doesn't make a mess at all! The stovetop has grease splattering and just making a mess – no mess here! Woohoo!
Can I air fry hamburgers?
Yes! Hamburgers in the air fryer are so easy and you definitely can make them. Just make your favorite hamburger recipe – whether you're simple with just salt and pepper or get a little adventurous with seasonings – you make your patties and pop them in!
How long do you cooking hamburger patties in the air fryer?
The time and temp for hamburgers in the air fryer is 375 for 8-12 minutes. You might notice a couple of different burgers in this post – I did a half-pound burger and that took 12 minutes to get to medium. A few days later I tried out 1/4 pound burgers and those took just 8 minutes at 375. You definitely need to flip them half-way through as well.
I popped the tater tots in the air fryer with my burgers – since they took about the same time- when you flip the burger – you shake the tots and they're all done together!
How do you cook hamburgers in the air fryer
Cooking hamburgers in the air fryer is easy – you just form your patties and place them in your air fryer basket or oven style air fryer and go! Turn them half-way through the cooking time. I always use an instant read meat thermometer to check the temp – so much easier than guessing!
You can take any hamburger recipe and make it in an air fryer. So here are some of my favorite hamburger recipes – besides my own – that I make in my air fryer! Plain Chicken is always my go-to – and her Best Burgers Ever definitely are! She's also the queen of "crack" – bacon, cheddar, ranch that is – and these Crack Burgers are delish!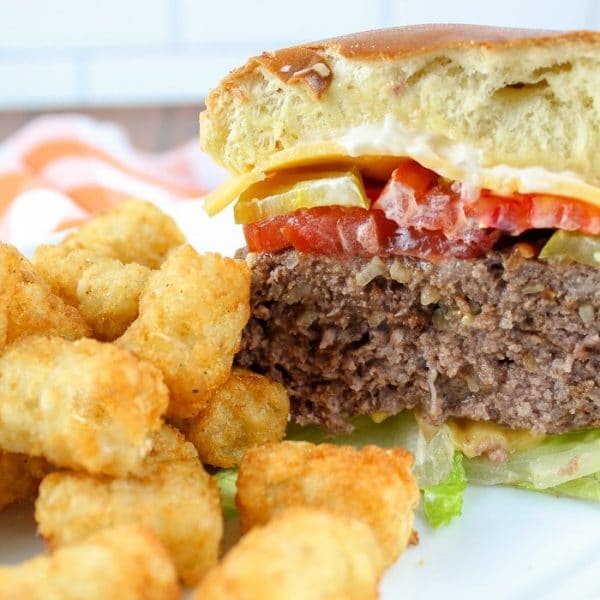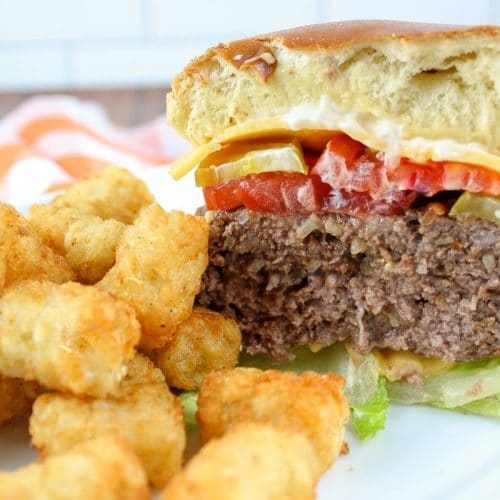 Air Fryer Hamburgers
Hamburgers are so easy to make in the air fryer and there's no mess! I like simple burgers and just have two ingredients for a delicious hamburger every time.
Instructions
In a bowl, mix together hamburger and onion soup mix.

1 lb hamburger,

1 packet Lipton Onion soup mix

Create hamburger patties of your desired size.

If you like your burger medium – Air fry at 375 – 12 minutes for 1/2 pound patties or 8 minutes for 1/4 pound patties – turning halfway through for both.

If you're not sure if the burgers are done, use a meat thermometer and temp to desired doneness.

– Medium Rare – 135

– Medium – 145

– Medium Well – 155

– Well – 165
Nutrition
Serving:
1
patty
Calories:
300
kcal
Carbohydrates:
2.3
g
Protein:
31.8
g
Fat:
18
g
Saturated Fat:
7.5
g
Cholesterol:
110
mg
Sodium:
386
mg
Potassium:
26
mg
Fiber:
0.2
g
Sugar:
0.2
g
Calcium:
28
mg
Iron:
3
mg