This post is sponsored by Smithfield. All opinions are my own.
I'm so excited for the holidays! The thing is I really don't have much family – but I have lots of friends! So I like to get together with friends as much as possible and a great way to do that is to invite them over for dinner –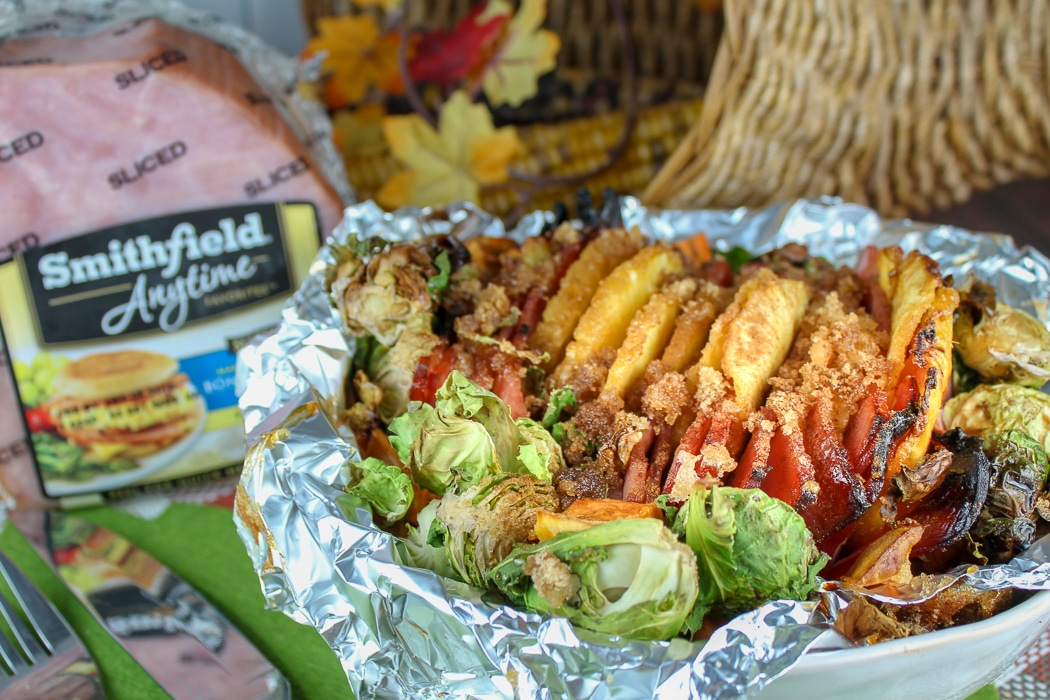 But let's get real – I work 45 minutes from home – so cooking a big fancy dinner on a weeknight is not fun! Thankfully I have my trust air fryer and Smithfield Anytime Favorites Sliced Ham and that means a quick and easy dinner!
Can you air fry ham?
Yes! Smithfield Anytime Favorites Quarter Ham is pre-cooked so all you have to do is reheat and the air fryer is perfect for that! I made a foil "bowl" in my air fryer basket and loaded it with ham, pineapple, Brussels sprouts and sweet potatoes. Air fry at a lower heat for 30 minutes and you're good to go! I did start the veggies & potatoes a little early because they take longer than the ham.



It was so easy to air fry this sliced quarter ham because the Smithfield Anytime Favorites are ready-to-eat so I just had to heat it up. I did fancy it up a bit by giving it a Hasselback treatment – you know those fun Hasselback potatoes where they put fun stuff between each slice of potato? Well I did that with the Smithfield Ham! I put pineapple and brown sugar between each slice! Yum!



The thing I like about Smithfield Anytime Favorites are that they're pre-cooked and ready to eat or heat up in things like this great air fryer ham dinner or even things like omelettes, pizzas and more. Plus they come in a variety of cuts like this Quarter Ham as well as diced, cubed and ham steaks!


And – if you're wondering – you can find Smithfield Anytime Favorites in the packaged meat section of the store (you know – near where the bacon is!!).



I added sweet potato and Brussels sprouts to this air fryer ham to round out the meal – but you can always grab some of my other super simple holiday side dishes! Some of my favorites are fresh creamed corn – omg – so much better than canned and I also love these cheesy bacon pullaparts – they are rolls but better!! And you can't have a holiday meal without my Mom's secret ingredient pumpkin pie!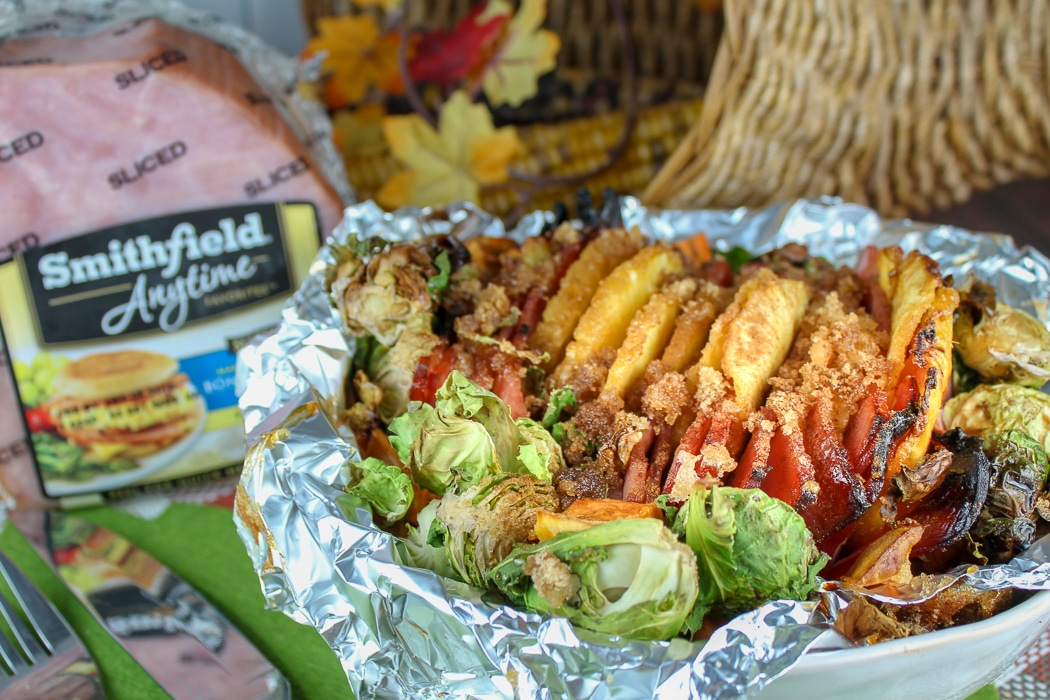 Air Fryer Hasselback Ham for Friendsgiving
prep time: 10 M
cook time: 40 M
total time: 50 M
I love making a cozy and healthy meal for my girlfriends during the holidays! This Air Fryer Hasselback Ham made it so easy! I could spend my time with my friends instead of in the kitchen! It was even made easier with my Smithfield Anytime Favorites Boneless Sliced Ham – pop it in the air fryer, "stuff it" with goodies and you're done!
ingredients:
1-2 sweet potatoes, peeled and diced to 1" cubes
8 oz Brussels sprouts, halved
Balsamic vinegar
Soy Sauce
1 Smithfield

®

Anytime Favorites

®

Maple Quarter Boneless Sliced Ham
1/2 pineapple, sliced THIN
1/2 cup brown sugar
8 oz apple juice
instructions:
How to cook Air Fryer Hasselback Ham for Friendsgiving
Create "bowl" of aluminum foil in basket of air fryer and poke a few holes in the bottom and around the sides
Place diced sweet potatoes and Brussels sprouts in bottom of foil bowl
Sprinkle with Balsamic vinegar and soy sauce
Air Fry at 320 for 10 minutes
Remove basket and move potatoes & sprouts around edges leaving a space in the center of the foil bowl.
Place Smithfield Anytime Favorites Sliced Ham in the center of the foil bowl. Depending on size of air fryer, you may not be able to have entire ham in basket.
Place thinly sliced pineapple slices between every 1-2 slices of Smithfield Ham
Spoon brown sugar (and any remaining pineapple juice) over top of ham & pineapple
Air fry at 325 for 15 minutes
Open air fryer and pour apple juice into the bottom of the air fryer to keep the ham juicy
Drizzle a little soy sauce around the sides over the Brussels sprouts and sweet potatoes
Make a square of aluminum foil and cover ham with foil and tuck into sides
Air fry at 325 for additional 15 minutes
Recommended Products:
Philips XL Air Fryer
Tongs
Serving Bowl
Did you make this recipe?
Tag
@foodhussy
on instagram and hashtag it #foodhussyrecipe