In these hot summer months – I love having quick and easy dinners that are also light and refreshing! This shrimp taco salad is perfect for any night of the week.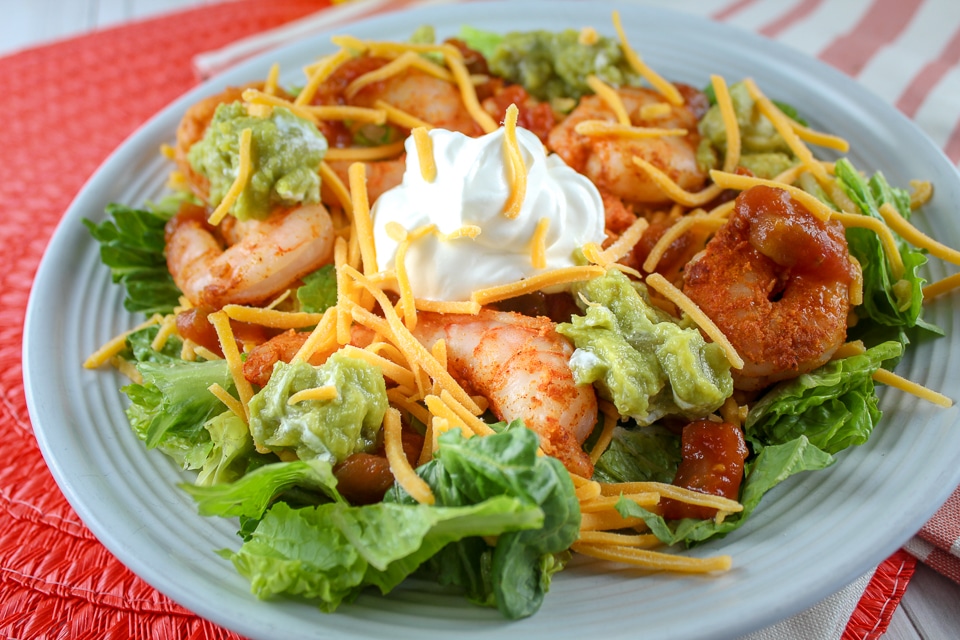 Can you air fryer shrimp?
Of course! I love my air fryer to make the shrimp – it cooks up so quick – and doesn't heat the stove up or make a mess! I sprinkle the shrimp with seasoning and it's done in 5 minutes (flip halfway through). That's it!!!




Throwing together a taco salad is one of the easiest meals for me to make – I've always got a bag of lettuce on hand (romaine is my favorite) and then I just add avocado or guacamole, cheese, salsa and sour cream!
Shrimp is so easy in the air fryer – and don't overcook it! It just needs a few minutes. I always pop the tails off too before I cook them so they're easy to eat.


You can find more ideas in my Air Fryer Recipes section or in my Air Fryer Facebook group!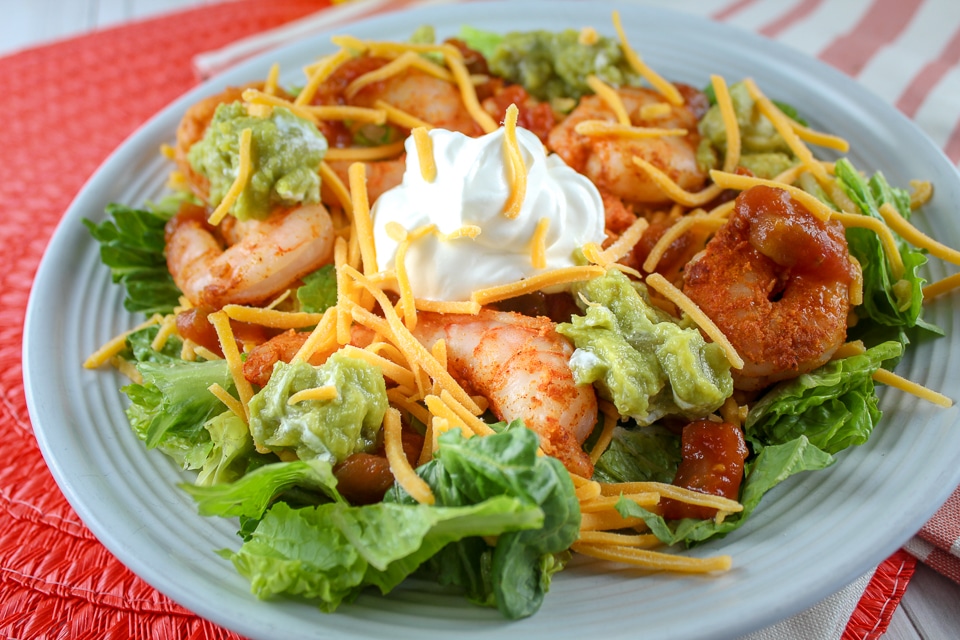 Air Fryer Shrimp Taco Salad
prep time: 5 M
cook time: 5 M
total time: 10 M
Some nights you want to eat a nice healthy salad – but you are also tired! This salad goes together in 5 minutes and that's with shrimp! So yummy!
ingredients:
12 raw large shrimp
1 head romaine lettuce
Shredded cheese
Salsa
Sour cream
Guacamole
instructions:
How to cook Air Fryer Shrimp Taco Salad
Drain, rinse and pat dry raw shrimp
Toss in Taco Johns seasoning
Air fry shrimp at 350 for 3 minutes
Flip shrimp and air fry for 2 minutes more
Place lettuce in bowl
Top with cheese, salsa, sour cream, guacamole and shrimp
Recommended Products:
Air Fryer