Last year I had avocado fries when I was on a trip in Texas – I knew I had to make them when I got home! Avocado fries are crispy and a great way to nosh on avocados – other than making guacamole!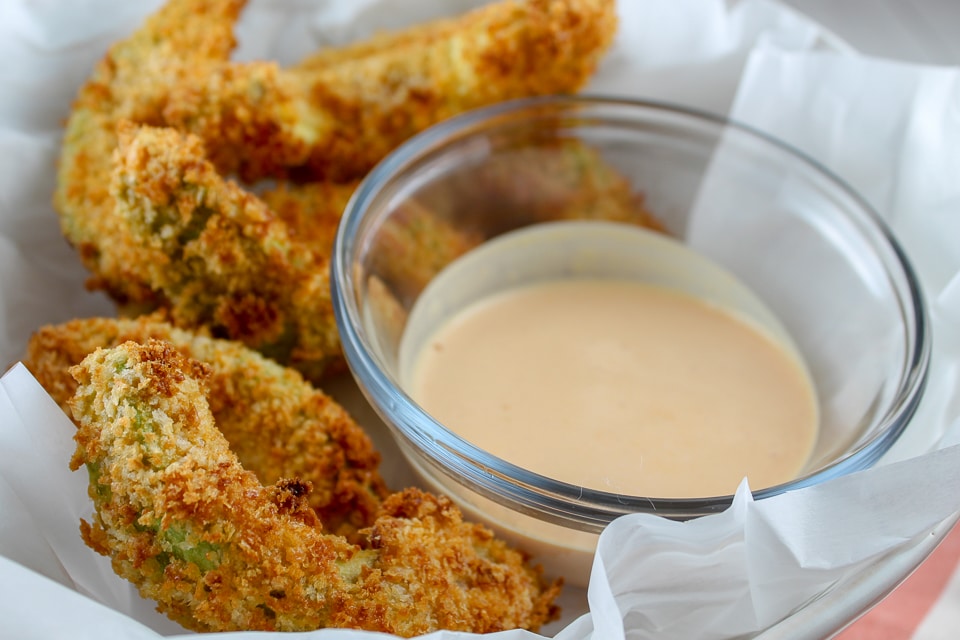 I knew I wanted to make the a
vocado fries in the air fryer! Making these were so easy! I breaded them and popped them in the air fryer – it was so easy!
How to make avocado fries in the air fryer
It could not be easier! You slice up an avocado into wedges and then you get your breading set up. I used Hooter's Wing Breading (but you could easily use flour) – then eggs & hot sauce – then panko bread crumbs. I like the hot sauce – it doesn't make them overly spicy but just adds a little zip to them! After breading – then spritz with olive oil and into the air fryer for 8 minutes!



What to dip avocado fries in?
You can dip your avocado fries in any sort of dip you like – ranch or salsa would be great! I made my own creamy jalapeno dip. I added the recipe below – it's really easy.


These avocado fries would also be great in tacos!! If you're looking for a fun vegetarian taco – you could use these instead of meat – or in addition!



Are avocado fries good?
Uh – yeah! They're delicious! I have to say – these air fryer avocado fries were much better than the ones I had in the restaurant! And be sure you spray them with olive oil – if you don't have an olive oil sprayer – just use a little non-stick cooking spray. This really gets them crispy and you're still using so much less oil than traditional frying!



What are other great air fryer appetizer recipes?
– Air Fryer Bacon Wrapped Jalapeno Popper Shrimp
– Air Fryer Pimento Cheese Wontons
– Air Fryer Wonton Mozzarella Sticks
You can find all of them in my Air Fryer Recipes section or in my Air Fryer Facebook group!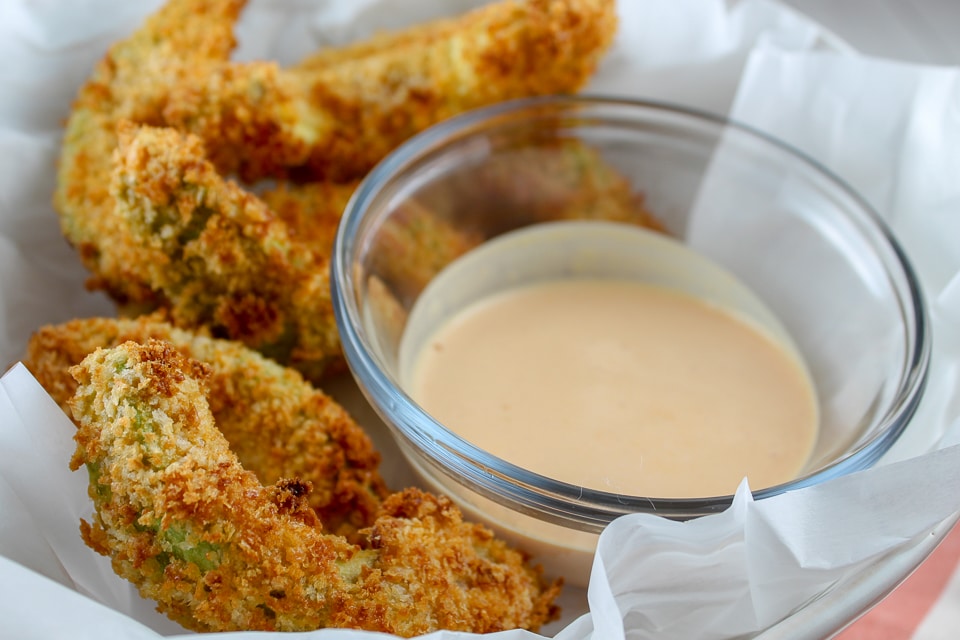 Air Fryer Spicy Avocado Fries
prep time: 5 M
cook time: 8 M
total time: 13 M
I've been dying to make avocado fries after having them at a restaurant and I LOVE THEM! These are so easy – especially in the air fryer! I added some zing to them as well to spice them up a bit! It's a great healthy appetizer you can make in minutes! #airfryer #avocadofries
ingredients:
Creamy Jalapeno Dip
1/3 c. sour cream
Juice of 1/2 lime
1 Tbsp pickled jalapeno juice (just the juice from a jar of pickled jalapenos)
1/4 tsp. paprika
1/4 tsp garlic powder
kosher salt
Freshly ground black pepper
instructions:
How to cook Air Fryer Spicy Avocado Fries
Avocado Fries
Slice avocado in half, remove pit and then slice each half into 4 wedges
Place wing breading on a plate and panko crumbs on another plate.
In a bowl beat eggs and add Franks Red Hot Sauce – the more you add, the spicier it will be – leave it out if you don't want to add any spice
Coat avocado in wing breading
Transfer with fork to egg mixture and toss in egg and be sure to roll it around multiple times to coat all breading flour
Transfer with fork to panko and coat all sides with panko
Place wedges in air fryer and spritz with olive oil spray (or non-stick cooking spray)
Air fry at 400 for 4 minutes
Flip all wedges and air fry for additional 4 minutes
Place wedges in bowl and squeeze juice from half lime over wedges and sprinkle with coarse sea salt.
Serve with dipping sauce (or spicy ranch!)
Creamy Jalapeno Dip
mix together all ingredients for creamy jalapeño sauce (or just use your favorite dressing like a spicy ranch)
NOTES:
– You can use regular flour instead of Hooters Wing Breading if you like
– You can leave out the hot sauce if you don't want to have any spice
– You can use any sort of ranch dressing for the dip as well if you don't want to make one – or even salsa!
– You can swap with regular breadcrumbs but I think Panko are much crunchier
Recommended Products:
Phillips XXL Air Fryer
Olive Oil Sprayer
Hooters Wing Breading