Air Fryer Stuffed Tomatoes are an easy dish you can have as a fancy appetizer or a main dish for any night. They go together quick and are filling and delicious!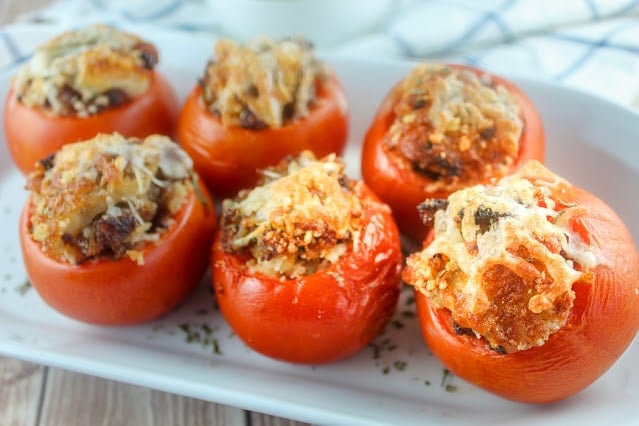 You can really stuff these little beauties with whatever you like – but you probably want to start with meat, cheese and some kind of carb (rice, panko, etc) – that's a good start for any meal.
How do you make stuffed tomatoes in an air fryer?
Stuffed tomatoes with sausage and cheese are super simple to make and the air fryer just makes it even easier. I started by making little mini-bowls with the tomatoes (see below) and then making the filling. For the filling, heat onion, garlic and sausage until cooked. Then you stir in cheese, breadcrumbs and seasonings. Then, using a spoon, stuff the tomatoes with your filling and put them in air fryer. Air fry at 350 for 10 minutes and you're done!
For stuffed tomatoes – you want to core tomato with a paring knife and then using a sharp spoon scoop the insides from the tomatoes. You can actually take the insides of the tomatoes and mix into your filling!
TIP: After scooping the inside of the tomato – sprinkle a little salt inside the tomato and set upside down on a paper towel. This will suck out a little of the juices in tomato so they don't get soggy.
Can you make stuffed tomatoes ahead of time?
Sure! You can do a couple of different things – you can make the filling separately and keep it for when you're ready to air fry the tomatoes – or if you've cored and scooped out your tomatoes – you can refrigerate them until you're ready to air fry.
Can you freeze stuffed tomatoes?
You could freeze the filling but I wouldn't freeze the tomatoes.
What to serve with Air Fryer Stuffed Tomatoes?