I love tacos – I mean who doesn't? But I like to mix it up a little and try new recipes with my favorite ingredients so here we have a Taco Bomb!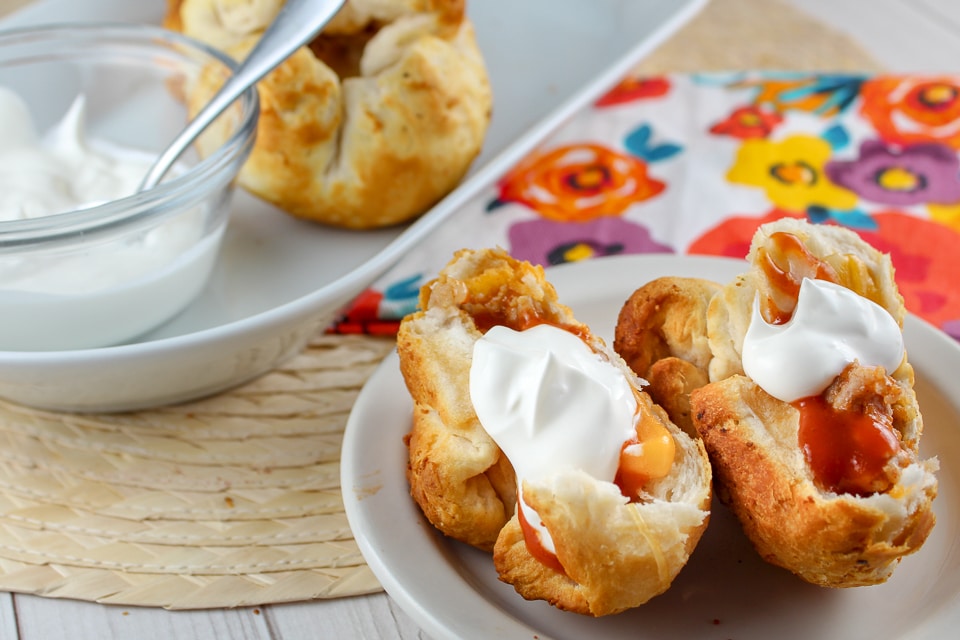 These little bombs are full of yum! It's a super easy meal that is on the table in less than 30 minutes (great for weeknight meals!). Top with your favorite taco toppings like sour cream and hot sauce and enjoy!
What is a Taco Bomb?
It's a taco in a ball! They're super easy to make and it's all the things you love about tacos – ground pork (or beef) and cheese wrapped in a biscuit and rolled into a ball!
How do you make Taco Bombs with Biscuits?
It's super easy! You take a package of buttermilk biscuits (not the flaky ones) and roll them out with a rolling pin or even a pint glass. Add a couple spoonfuls of taco meat and a cube of your favorite cheese. Then pull the sides up around the filling and pinch it together. Lastly roll it around into a ball. You really want to try and seal it as best you can – but make sure you know which side is the "top". Then you pop them in the air fryer! I brushed them with a little seasoned butter too. 🙂
Can you freeze taco bombs?
Yup – I would freeze them after you've baked them – so your left overs. Pop them in a ziploc freezer bag and you're good.
How do you reheat taco bombs?
You can reheat them however is easiest for you – oven, microwave or air fryer. If you do the air fryer – you might cut them open and leave them filling side up. I would say 350 for 15 minutes in the oven, 1-2 min in the microwave and 350 for 5 minutes in the air fryer.



What are other recipes with Taco Meat?
These don't all "call" for taco meat – but you could easily sub it in any of them!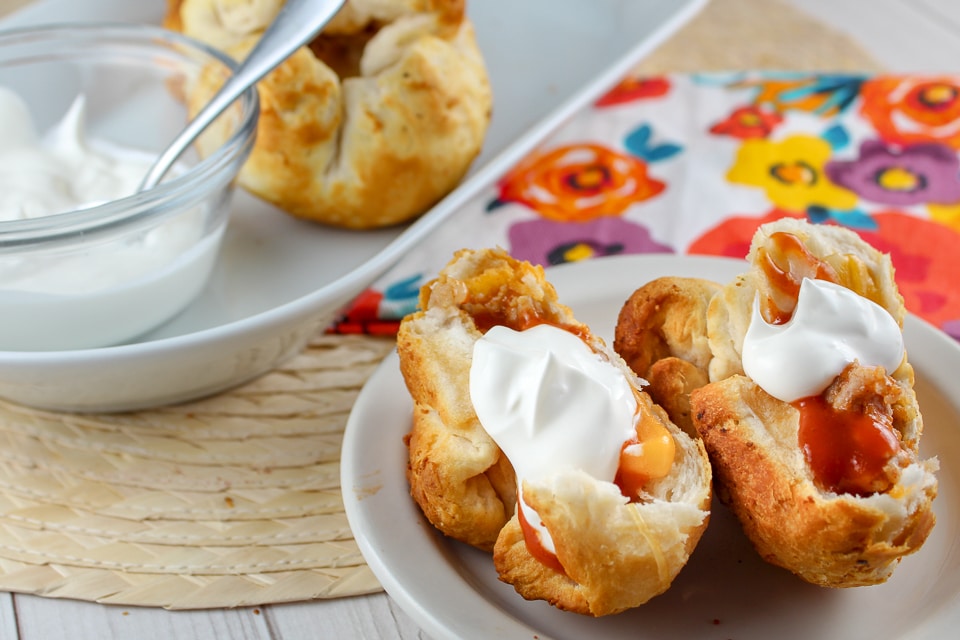 Air Fryer Taco Bombs
Yield: 8 bombs – serves 2-4
prep time:
cook time: 15 M
total time: 15 M
The Air Fryer is my favorite kitchen appliance and these taco bombs will be your family's favorite dinner! You can customize them but I went simple – taco meat and cheese wrapped in a biscuit! Yum!
ingredients:
1/2 lb. ground pork (or beef or turkey)
1/2 packet taco seasoning mix
1 can BIG buttermilk biscuits (8 ct)
2 colby jack cheese sticks cut into 4 pieces each stick
4 tbsp butter, melted
1 tsp garlic & herb seasoning
instructions:
How to cook Air Fryer Taco Bombs
Cook the ground pork in a skillet, breaking up with a wooden spoon until fully browned and crumbled. Drain any fat and return skillet to stove top. Mix in the taco seasoning packet with 1/2 cup water, and stir until fully coated. Remove from heat.
Place butter and garlic seasoning into a mason jar and top with microwave safe lid. Heat for 40 seconds until butter is melted.
Use a glass to roll out each biscuit and flatten it.
Place 2 tablespoons of the taco meat in the center of each biscuit and top with a cheese cube.
Pull the sides of the biscuit up and pinch tightly. Roll biscuit lightly to tighten the seams.
Place taco bombs in air fryer. Brush butter on the tops of the taco bombs.
Air fry at 350 for 6 minutes or until golden brown on top. Depending on basket size – you will need to make these in batches. My square basket holds 3 at a time.
Serve with sour cream and taco sauce