Short Ribs are decadent morsels of melt-in-your-mouth beef when done right. This recipe, inspired by Bon Appetit, is simple and delicious! Short ribs take time but they're worth it!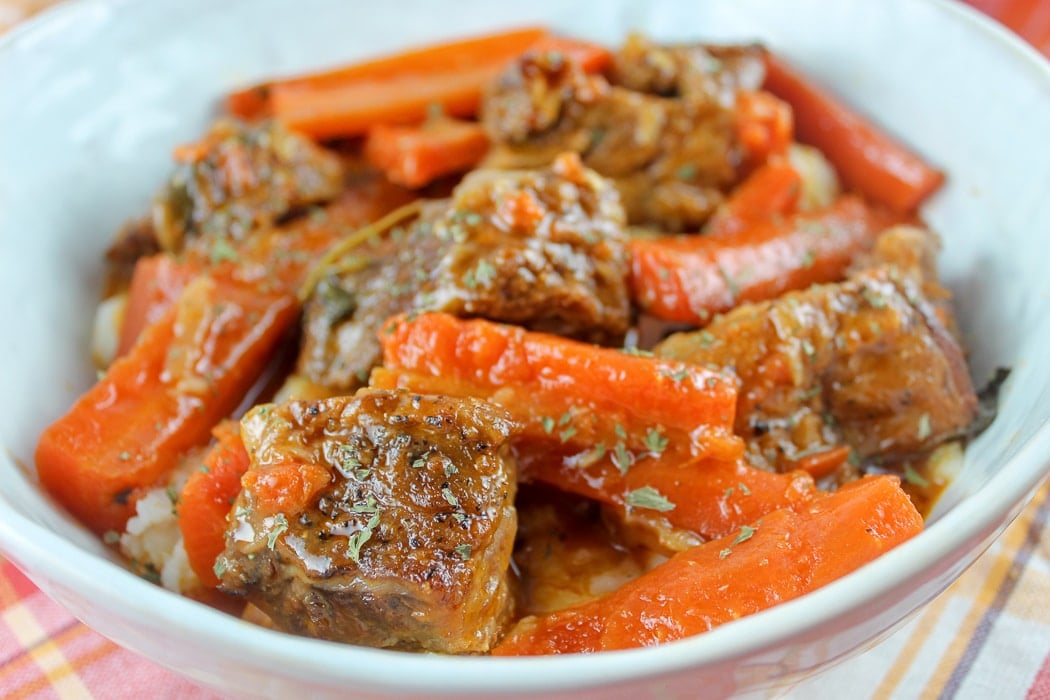 I've had short ribs at various restaurants and the meat just melts in your mouth! I've tried a couple of times and haven't been able to recreate it – so I decided to look to some experts for help!
Bon Appetit magazine is known for fancy recipes but also – delicious recipes – so I found a few recipes for short ribs there and took the tips and put them together for my own version.


To start with – you probably need 1/2-1 pound of short ribs PER person. They'll come in a larger piece and you need to cut them along the bones into chunks.


The first step to a successful short rib dinner is to season them with salt & pepper and then sear them in olive oil so they're browned on both sides. Remove them from the pan and set aside.
Next step is the mirepoix! That's just a fancy French way of saying carrots, celery and onion. hahaha. I use the onion and celery for flavor but cut the carrots into slices so I could eat them with the short ribs. Keep the carrots in fairly thick chunks because they're going to cook a long time so you want them to hold up.


I also bought some fresh herb plans to sit in the window sill for summer use. I've tried growing herbs a lot of times and just went the lazy route by buying plans – we'll see how they do. I was excited to use them in this recipe!
After the mirepoix is sauteed – then you put the ribs back in the pan and add more goodies like beef stock (or red wine), tomato paste and your fresh herbs.


Let me tell you a funny story about me TRYING to use red wine in this. I'm not a drinker – so I have the mini-bottles of wine to use solely for recipes. But this time – I thought – I'm going to get an actual bottle of red wine. I chose a Barefoot Cabernet Sauvignon. Had it ready to go. As I grab the bottle to put in the recipe – I realize – I DON'T OWN A CORKSCREW. FML. Beef Stock it is!


So you can use red wine if you have some – they recommend using a dry red wine – they're all dry AF to me – or if you're a non-drinker – beef stock is fine too. Use stock vs broth – it's got more flavor.


After that – it goes into the oven. So this recipe is a braised short rib recipe – all it means to braise is that you fry it lightly and then stew it in a closed container. Boom – braising is done! I use a Dutch oven for this – I found one at a yard sale years ago for $3! Be sure you have it covered in the oven.


Out of the oven is a magical thick pot of delicious! I whipped up some mashed potatoes and spooned the short ribs, carrots and sauce over the top. With the short ribs -you'll want to pull them out – pull out the bones (they fall out) and trim off the fat. Then add the meat back to the carrots and gravy. (Don't eat the celery and onions unless you really love big chunks of it – which I don't!)


If you're looking to use your Ninja Foodie for Short Ribs – here's a delicious recipe!
If you're looking for other fancy-made-easy recipes – I've got you covered!
– Copycat Otto's Shrimp & Grits – cheesy grits and a delicious shrimp & tomato topping – it's the best I've ever had!
– Cheesecake Factory Chicken Piccata – sounds so fancy – but so easy to make!!!
– And fancy dinner – also means fancy dessert! Chocolate Melting Cake is perfect to show off with and nobody has to know how darned easy it is!!!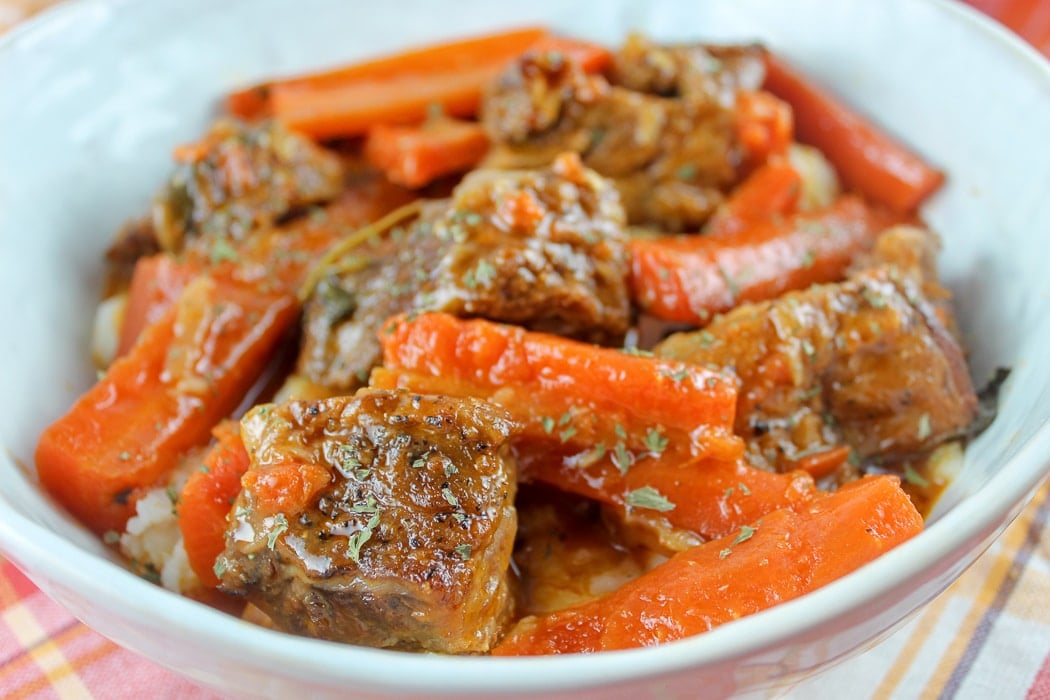 Bon Appetit Short Ribs
Yield: 2
Prep time: 10 M
Cook time: 2 H & 30 M
Total time: 2 H & 40 M
Short Ribs are decadent morsels of melt-in-your-mouth beef when done right. This recipe, inspired by Bon Appetit, is simple and delicious! Short ribs take time but they're worth it!
Ingredients:
1 pounds bone-in beef short ribs, cut crosswise into 2-inch pieces
Kosher salt and freshly ground black pepper
1 tablespoons vegetable oil
1 medium onions, large chop
1 medium carrots, peeled, large sticks
1 celery stalks, large chopped
1 tablespoon all-purpose flour
1 Tablespoon tomato paste
2 cups beef stock (or dry red wine)
3 sprigs flat-leaf parsley
2 sprigs thyme
1 sprigs oregano
1 fresh or dried bay leaves
1 head of garlic, halved crosswise
1 cup beef stock
Instructions:
How to cook Bon Appetit Short Ribs
Preheat oven to 350°. Season short ribs with salt and pepper. Heat oil in a Dutch oven over medium-high. Brown short ribs on all sides, about 6 minutes. Transfer short ribs to a plate.
Add onions, carrots, and celery to pot and cook over medium-high heat, stirring often, until onions are browned, about 5 minutes.
Add flour and tomato paste; cook, stirring constantly, until well combined – about 1 minute.
Stir in beef stock (or wine), then add short ribs with any accumulated juices. Bring to a boil; lower heat to medium and simmer until wine is reduced by half, about 25 minutes.
Add all herbs to pot along with garlic. Stir in additional stock. Bring to a boil, cover, and transfer to oven.
Cook until short ribs are tender, 2 hours – checking them every 30-45 min. If they start to have less liquid/sauce – add a little more stock.
Transfer short ribs to a platter. Remove bones and trim fat.
Serve in shallow bowls over mashed potatoes.
Recommended Products: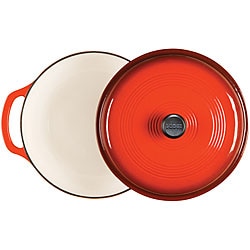 Lodge Dutch Oven
Tomato Paste in a Tube
Beef Stock
Did you make this recipe?
Tag
@foodhussy
on instagram and hashtag it ##foodhussyrecipe